Sundance Photo Preview: Buried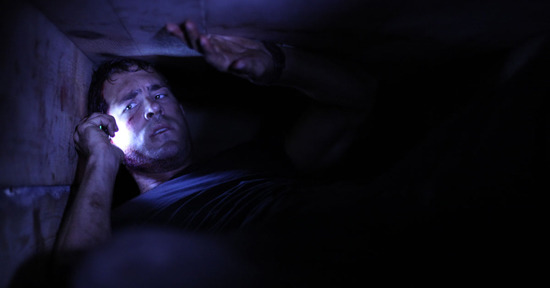 Rodrigo Cortes' Buried will premiere at the 2010 Sundance Film Festival in the Park City at Midnight category, one of eight films selected from over 3724 titles from all over the world.
I've been following this project since it was announced. For those of you who don't know, the story is about a U.S. contractor working in Iraq who awakes to find he is buried alive inside a coffin. With only a lighter and a cell phone it's a race against time to escape this claustrophobic death trap. Ryan Reynolds stars in this one-man show, which is shot completely inside the coffin.
I love minimalistic single-room thrillers that force a bunch of characters to clash, because they seem the hardest to write. Chris Sparling's indie screenplay is a single-room thriller with only one actor. How does that even work? More photos and posters after the jump.
Sundance describes the 94-minute film as follows:
Paul Conroy (Ryan Reynolds) is a U.S. citizen working as a contract driver in Iraq. After a swift and sudden attack on his convoy, he awakens to find himself buried alive inside a coffin with nothing more than a lighter, a cell phone, and little memory of how he ended up there. Faced with limited oxygen and unlimited panic, Paul finds himself in a tension-filled race against time to escape this claustrophobic deathtrap before it's too late. If the sheer logistics of this premise are enough to make your head hurt, rest assured that director Rodrigo Cortés tackles these issues with relative ease, aided a great deal by a superbly convincing performance by Reynolds, the lone onscreen actor in the film. The result is a gripping and suspenseful thriller that will leave you gasping for air until the very end.
Apparently Paul is in a "death race against time" and only has 90 minutes to escape before he runs out of oxygen.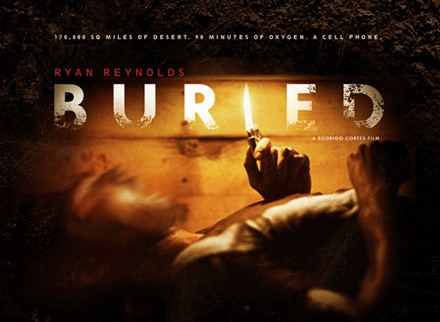 Thanks to Bloody disgusting for one of the photos.