Total Film's Shaun Of The Dead Reunion Photo Shoot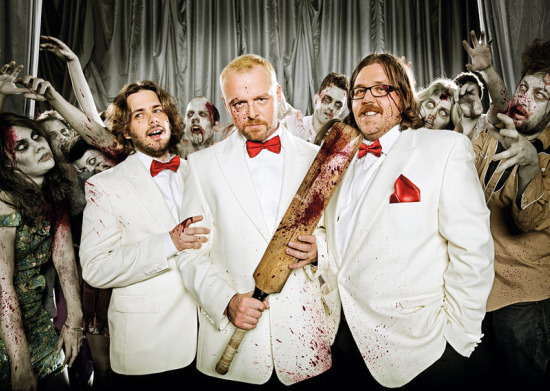 In November, UK movie magazine Total Film assembled a Shaun of the Dead reunion of sorts. They wrangled together director Edgar Wright, along with leads Simon Pegg, and Nick Frost for the fanciest zombie photo shoot you'll ever see. These are the results.
A few more pics after the break, and some reminders on where we can see this crew next.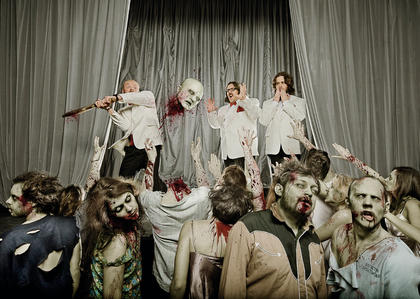 You can check out the high resolution versions of these pics over at Total Film.
I'm not sure about you, but these images make me want to start (yet another) Shaun of the Dead/Hot Fuzz marathon. It's also a great reminder that we should be on the lookout for information on the trio's next project, The World's End, sometime soon. We've covered a mention of the film previously, in which Pegg described the basic crux of the film:
If Shaun of the Dead was about leaving your 30s and taking responsibility and Hot Fuzz was about being a man, then the next one will be about being an old man, being f*cking 40, which I am approaching. Edgar isn't, the little bastard.
Judging from the title, I wouldn't be surprised if it ends up being the trio's take on disaster films. Unfortunately, that doesn't seem to be the next project for Wright. In July, he mentioned that he wanted to go silent and make his action/crime film Baby Driver:
I'd like to make Baby Driver next if possible. On this film and other things I've been blogging furiously and putting up a photo every day, but I think when I do that one I'd like to go completely silent for once. Probably because it's not an adaptation or anything, or a sequel to anything else. I'd like to just make it in private, basically.
Simon's not involved in Pilgrim. And I was kind of involved with Paul as a producer at the start, but basically I can't be in two places at once. I'm not one of those people who can do three things at the same time, even though I try to be. So once I'm doing one thing, like this, I'm only doing this. Other things – like Ant-Man and me and Simon's next film – have all gone away until I'm done with this.
It's just as well. We'll be seeing Pegg and Frost together in Greg Motolla's Paul in 2010 anyway, and I'd rather Wright tackle World's End after making a smaller film to recharge himself from all the Scott Pilgrim insanity.