Interview: Producer Alfred Spellman On His New, Hit Sports Documentary The U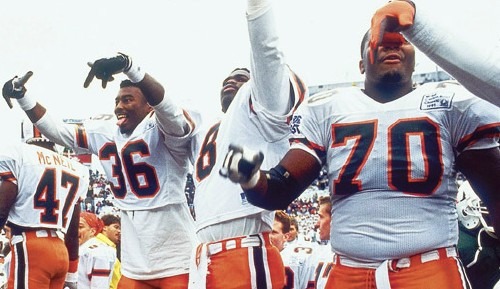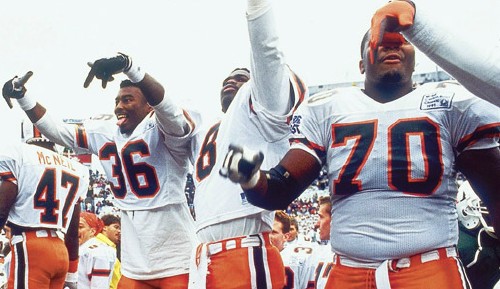 In this day and age, it's difficult for men to agree on much of anything, but we all feel that the Miami Hurricanes are the greatest college football team of all time. Yeah? A new feature-length doc entitled The U about the University of Miami's equal parts legendary and notorious football program more than upholds this notion. As the latest entry in ESPN's 30 for 30 showcase, The U joins other sports documentaries made by reputable and well known filmmakers the likes of Peter Berg, Barry Levinson and forthcoming ones by Morgan Freeman and Jeff Tremaine of Jackass.
After the jump is a choice clip from The U and an interview with its producer, Alfred Spellman, who has made a name for himself alongside pal and U director, Billy Corben, with their Miami-based production company rakontur. Spellman discusses his doc, and the team itself within a historical and cultural context. He also updates on other projects including rakontur's Cocaine Cowboys franchise, which is soon to be a major HBO series from Michael Bay.
ESPN has just announced that the ratings for the premiere of The U make it the number one documentary in the network's 30-year history. Fitting, since, as seen in the doc, it was only 30-years ago that a new, pipe-toting head coach named, Howard Schnellenberger, arrived at "The U" and presciently decided to recruit students and players/z from some of Miami's toughest and poorest neighborhoods. As we see, in its mission to become "The Harvard of the South," the Univ. of Miami had considered ditching its fledgling football program altogether; Schnellenberger's passionate stint was the start of a championship dynasty that would become synonymous with take-no-prisoners competitiveness and a controversial, flashy team spirit.In the '80s, the team became a media sensation for dressing in military fatigues, baring gold teeth, and giving in to ridiculous spurts of dancing that have long since been regulated. Off the field they would crank call an opponent before a game and loudly quote The Warriors. On the field their cocksure mascot, Sebastian the Ibis, packed a fake semi-automatic firearm and set off a fire extinguisher to create the fog of "war." Where The U excels is in illustrating with candid interviews and archival footage how the Miami Hurricanes lessened the troublesome, sometimes explosive fissures of class and race in their young city. And at the same time, the Hurricanes ironically brought a loud half-gangsta half-Joe populism off the streets and injected it (and millions of dollars) into the image of their young, private and not so "dark" university. The Hurricanes' dominance in the early aughts and the program's minor struggles in the years since are footnotes here; the guys at rakontur stick to reveling in the fun and rebellion that was team's adolescence. The U is like the black Bart Simpson of sports history docs.Hunter Stephenson: Hi Alfred. Would you compare The Miami Hurricanes under head coaches Jimmy Johnson and Dennis Erickson—as far as attitude and notoriety but on a collegiate level—to John Madden's Oakland Raiders? What did the Hurricanes bring to the game in that era?Alfred Spellman: The Canes were certainly the Raiders of college football, the Alis of team sports, as Bennie Blades says. I think you can certainly point to those two examples as the best predecessors for what the Canes did in the '80s.You and Billy seem to really dig the "Paradise Lost" cover story from TIME magazine in 1981 that documented South Florida's perils. That cover memorably showed up in Cocaine Cowboys and again here. What is that cover story's relevance in The U?Alfred Spellman: The cover really encapsulates everything that was going wrong in Miami in '80 and '81. It was truly a perfect storm: the cocaine cowboys violence, the Mariel Boatlift, and the McDuffie riots all happened in the same period in 1980 and the tension in the city really boiled over in 1981. The city was really a powder keg—the forced integration of 125,000 Cuban refugees, approx 20,000 or so who were hardened criminals or mentally insane, the black community who for years was marginalized by the white majority, now having to compete with a huge wave of Cubans for jobs and affordable housing. It was a dangerous time to be living in Miami.The University of Miami, as a private university, is known for being highly image conscious. Was there any worry expressed by the administration concerning  the doc?Alfred Spellman: They refused to cooperate, ordered Randy Shannon and others who were employed by the University to not cooperate, and even called former players and former coach [Dennis] Erickson and told him not to cooperate. There is a post on the rakontur site about this.Going in, what did rakontur hope to accomplish in examining the controversy between Miami rapper Luke (Luther Campbell of 2 Live Crew) and U of M football? As far as college sports, no rapper has been this synonymous with a team on a public level before or since. In your opinion, what is Luke's legacy in this regard?Alfred Spellman: At the time, Luke was struggling with the same negative press that the UM players were dealing with, so I think there was a sense of "we're in this together." A lot of these kids knew Luke from growing up in Miami and playing football. Luke has been tremendously supportive of youth football in Dade County. That often gets overlooked. But Luke was a part of the program—he was welcomed. Now when you see Snoop at USC practices catching passes and roaming the sidelines, it's not a big deal. That's because Luke paved the way.Did you not feel any need to show the "Ice Ice Baby" video, in which Vanilla Ice famously rocks a white UM sweatshirt? I guess including raps by [Florida State's] Deion Sanders and Vanilla might have been too much...Alfred Spellman: [laughs] I think we made our point with Luke and 2 Live Crew.Billy has mentioned that there will be loads of special features on the upcoming DVD. Can /Film get any specifics? Is there a deleted scene or feature that is particularly awesome?Alfred Spellman: The QB contest between [Bernie] Kosar and [Vinny] Testaverde before the '83 season is really great. Vinny was the better athlete, the safer choice, but Schnellenberger went with his gut. There's tons of other great stuff.What can Florida State fans learn from watching this?Alfred Spellman: To keep their mouths shut.[laughs] What's next for Rakontur and where does the Cocaine Cowboys series for HBO and a possible feature film stand?Alfred Spellman: The 2010 slate for rakontur includes a Cocaine Cowboys dramatic series for HBO, with executive producers Jerry Bruckheimer and Michael Bay, and a new installment of in the documentary series: Cocaine Cowboys: Los Muchachos. We also have two feature documentaries: Square Grouper, which examines the free-wheeling pot smuggling era of South Florida in the 1970s, and Dawg Fight, which is a brutal expose on underground backyard MMA fighting in one of Miami's toughest neighborhoods.For upcoming showings of The U on ESPN, click here.Hunter Stephenson can be reached at h.attila/gmail and on Twitter.