First Look: Edgar Wright's Scott Pilgrim Vs The World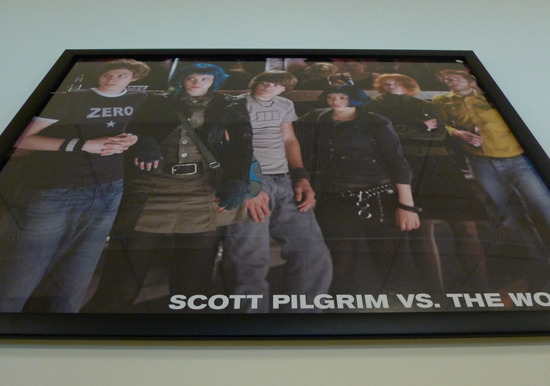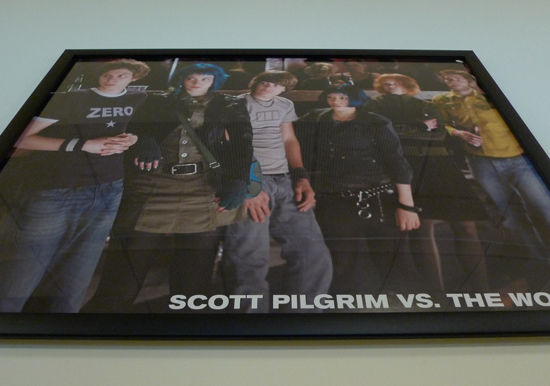 We've seen a lot of candid cast photos for Edgar Wright's upcoming Scott Pilgrim vs. the World, but until now we haven't seen any actual stills from the film. Edgar Wright just blogged what appears to be the first official still blown up and framed.  But the wily director didn't just throw the shot out to the world; he took the photo at an extreme angle that seeks to obscure it somewhat. Thanks to the magic of this photo reconstructing program I have on loan from the FBI (ok, it's just Photoshop) you can get a great look at Michael Cera, Mary Elizabeth Winstead, Johnny Simmons, Ellen Wong, Allison Pill and Mark Webber as they (I think) look disdainfully at a performance by a rival band.
Check the original photo and our 'fixed' version in embiggened size after the break.
The photo seems to be set in Lee's Palace, one of the venues where some of the bands in the story play. Left to right we've got Scott Pilgrim (Cera), Ramona Flowers (Winstead), Young Neil (Simmons), Knives Chau (Wong), Kim Pine (Pill) and Stephen Stills (Webber). Ramona and Kim are costumed as we see them in the first of Bryan Lee O'Malley's graphic novels, when the characters are all watching the band Crash and the Boys before Scott's battle with Matthew Patel, the first of Ramona's evil exes he must fight. But I don't think that goes down at Lee's Palace.
Another scene, where the group is at Lee's to see The Clash at Demonhead, could be the setting for this photo. If you're more of a Scott Pilgrim expert than anyone else, chime in below with your thoughts.
Meantime, while the recent screening of Kick-Ass has many people aflutter over that movie, this is the comic book adaptation I really want to see. We'll have to wait until next year.
Here are the 'fixed' and original photos. Click each for larger sizes.