Apparition Picks Up US Rights To The Runaways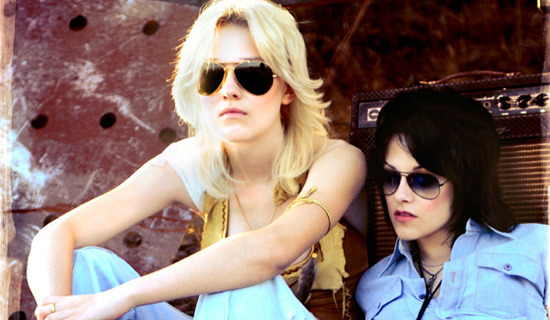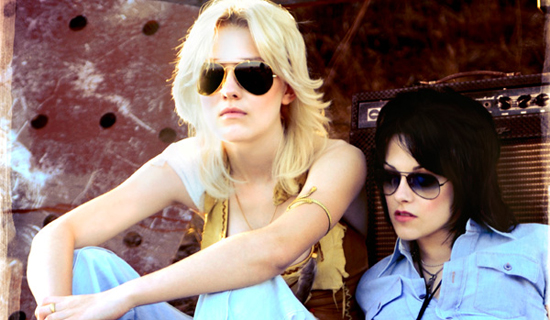 New distributor Apparition has quickly built quite a varied little slate. Black Dynamite and The Boondock Saints II: All Saints Day are balanced out by Bright Star and The Young Victoria, and waiting in the wings sometime for 2010 (please!) is Terrence Malick's The Tree of Life.
Now Apparition has added another intriguing film to its collection: Floria Sigsimondi's biopic The Runaways, starring Kristen Stewart and Dakota Fanning. Is this a fait accompli, given that The Runaways was made by Apparition co-founder Bill Pohlad's company River Road? Probably, but why make a point of it as long as we get to see the film? 
The film follows the travails of Joan Jett and Lita Ford's first band, The Runaways. Kristen Stewart plays Jett and Dakota Fanning plays singer Cherie Currie; Scout Taylor-Compton is Lita Ford. Apparition chief Bob Berney told THR the film is "really a story of the two girls, Joan and Cherie. [Floria] did it really stylized, and it's done in a real indie spirit, which I think is the spirit of the original group and Joan's group. It fit with how we wanted to market it."
Apparition sounds like they're ready to go into Sundance will all guns blazing to get people to know about the movie.  "...with that cast," Berney says, "we'll get so much interest and publicity that I think it's better to have the plan and be ready to go and utilize the launch in a way that really helps the ultimate film launch."
The Twilight factor isn't lost on Berney.
Obviously, there's a huge base of fans for [Stewart] from the Twilight movies, and although this is a different film and it's R-rated and edgier, it gives you a great fanbase to start with. You just gotta be careful how you market it. I think her fans are interested in her doing something very different, and stretching, and that's probably why she wanted to make the film. So it's great as long as we try to be really truthful about what the film is and what it's going to be about. I think her fans will really like it.
Here's the first full, official look at Stewart and Fanning in character. The film debuts next month at Sundance (possibly with an accompanying Joan Jett performance) and will be released in March 2010.