Big Daddy Revealed In New Kick-Ass Poster And Red Band Clip
Lionsgate has released a new character poster for Matthew Vaughn's big screen adaptation of Kick-Ass, revealing our first real look at Nicolas Cage in costume as Big Daddy. I wonder how mainstream audiences will respond to Big Daddy, especially cince the character's design is a kinda a knock off of Batman. I noticed that they tried to keep the costumed Big Daddy out of the first movie trailer, likely for this reason. Also embedded after the jump is a hilarious red band clip featuring Big Daddy (sans costume) trying to teach his daughter, Hit Girl, what it feels like to get shot with a gun.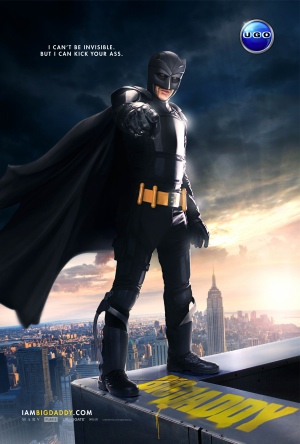 Click on over to UGO to see the poster in High Resolution. Watch the clip below:
Official Plot Synopsis:
A twisted, funny, high-octane adventure, director Matthew Vaughn brings KICK-ASS to the big screen. KICK-ASS tells the story of average teenager Dave Lizewski (Aaron Johnson), a comic-book fanboy who decides to take his obsession as inspiration to become a real-life superhero.  As any good superhero would, he chooses a new name — Kick-Ass — assembles a suit and mask to wear, and gets to work fighting crime.  There's only one problem standing in his way:  Kick-Ass has absolutely no superpowers. His life is forever changed as he inspires a subculture of copy cats, meets up with a pair of crazed vigilantes – including an 11-year-old sword-wielding dynamo, Hit Girl (Chloë Moretz) and her father, Big Daddy (Nicolas Cage) – and forges a friendship with another fledgling superhero, Red Mist (Christopher Mintz-Plasse).   But thanks to the scheming of a local mob boss Frank D'Amico (Mark Strong), that new alliance will be put to the test.
Kick-Ass hits theaters on April 16th 2010.