Casting Notes: Jennifer Carpenter Joins Nic Cage; Krysten Ritter Wants To Kill Bono; MTV's Teen Wolf Cast Announced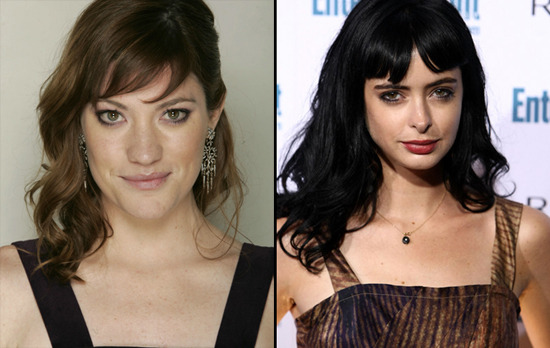 If you were eying your Twitter and/or Facebook feeds last night, you probably saw nothing but comments about how crazy the Dexter finale was. Being a bit behind on this season, I've just shut out all that chatter. But it makes this morning a good time to announce that Jennifer Carpenter has joined the cast of Hungry Rabbit Jumps, alongside Nicolas Cage, Guy Pearce and January Jones.
The film follows a teacher (Cage) who "joins an underground vigilante organization" after his wife (Jones) is brutalized. Carpenter will play the best friend of Cage's wife. The Roger Donaldson-directed film is in production now. [Variety]
After the break, news on Killing Bono, Black Swan and the new MTV version of Teen Wolf.
Krysten Ritter (Breaking Bad, Gilmore Girls, Veronica Mars) and Narnia's Ben Barnes will star in Killing Bono, a Nick Hamm film based on the book Killing Bono: I Was Bono's Doppleganger, about "the early days of U2 from a rival band's perspective." As not much of a U2 fan, this sounds like it could be entertaining. Anyone read the book, by Neil McCormick?
Publisher's Weekly describes it like so: "The author of this exuberant rock memoir went to school with the members of super-group U2 and stayed friends with Bono (ne Paul Hewson) as he rose from garage-band front-man to rock colossus to world dignitary...But the book is less about the distant figure of Bono than about McCormick's feverish quest to emulate his success in a series of bands; he spent 10 thrilling, agonizing years on the brink of making it. The result is a funny, jaundiced celebration of rock 'n' roll fantasy and reality." [Variety]
Janet Montgomery (Wrong Turn 3, The Hills Run Red) has joined the cast of Darren Aronofsky's Black Swan, which is currently shooting in New York City. Montgomery plays a dancer who is jealous of the abilities and opportunities of the film's lead, played by Natalie Portman. [STYD]
Finally the cast of MTV's series based on Teen Wolf has been revealed. The new series features Tyler Posey (Lincoln Heights, Brothers & Sisters) as Scott McCall, "a dorky high-school student who gets a rush of new powers, including the ability to attract girls, after a wolf attack."
Dylan O'Brien will be his best friend, who initially calls foul on McCall's claim that he was bitten by a wolf, then jumps into researching lycanthropy. Crystal Reed will be the series' Bella — the new girl at school who falls for McCall. Tyler Hoechlin will be a good-looking kid who is actually a "a vicious and predatory werewolf capable of great harm." Ah, a popularity metaphor. If I remember correctly, many of the popular kids in my high school were too drunk to be werewolves. [Bloody  Disgusting]