First Avatar Reactions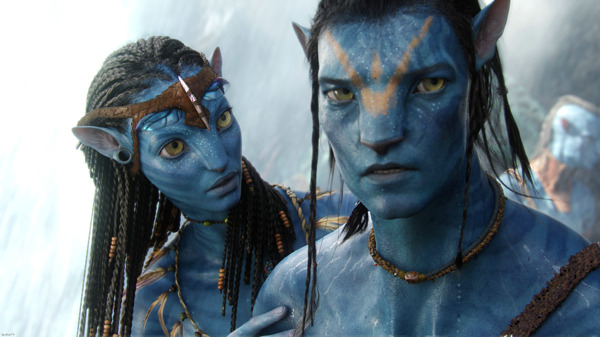 Avatar screened last night in London for members of the press and US screenings started this morning. I saw the film first thing today, and embargo keeps me from saying anything about it. Twitter has been fairly quiet, with those who've seen it abiding by the embargo so far.
But some UK outlets don't care as much about the embargo, and there is already a full-fledged review in The Sun and some useful comments in The Guardian.
The Sun's 'review' is typical for the paper — thin and shallow. But it is quite exuberant. "The final battle scene is 20 minutes long and absolutely mind-blowing," the paper says. "It is overwhelming, and that is because you are emotionally tied up in the characters and the story."
Currently, the review embargo isn't set to lift until the film's opening day (Friday, the 18th) which, in this case may be counter-productive. Judging by what I overheard after the screening, you can expect to see reviews that run from cautiously positive to rather enthusiastic. One would think that might provide a little boost to the movie.
Here are some more Twitter reactions:
@petershall: "The AVATAR buzz is an understatement. That movie was unbelievable."
@chasewhale: "Just finished AVATAR. Special effects were top notch. The movie ran a little long for my likings but I liked it!"
@comingsoonnet" "Okay, about Avatar?.... WOWOWOWOWOWOWOWOWOWOW! Unbelievable... amazing."
@MikePereira21: Was blown away by Avatar! For 150 minutes, I was a kid again. Thank you James Cameron! BTW, the groundbreaking 3D was mindblowing."
@rejects: "I'm not supposed to talk about Avatar... That said, it was a spectacular experience. Like nothing I've seen before."
@markwalters74: "Just saw AVATAR. Not allowed to talk about it yet. Not allowed to say how it's an amazing visual feast, or that Jimmy C's still got the gift."
@dmann11: "Holy effing crap!!! Avatar was FREAKING AWESOME KICK ASS SWEET!!!!!"
@TheGate: "For the record 'Avatar' was worth the $400 million, and no it is not even remotely "vomit inducing".