Amazon Introduces Disc+ On Demand, Offering Free Digital Copies When You Buy Certain DVDs Or Blurays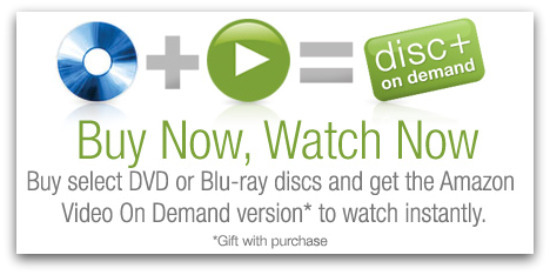 We may receive a commission on purchases made from links.
Amazon has launched an interesting new promotion, entitled Disc+ On Demand, that will offer free access to on demand versions of certain films when you buy them on DVD or Blu-ray. The digital versions come courtesy of Amazon's Video On Demand service, and can be streamed from their website, or downloaded to a PC, certain portable devices, or Tivo. You can find a full listing of the eligible titles here.
It's also a very sly way for Amazon to make new users familiar with their On Demand service. I could easily see many users giving it a shot who would otherwise never think to pay for On Demand content. And since they're still getting a physical disc of the film, they probably won't be too concerned about not being able to watch the On Demand content on their television very easily. The On Demand content would be something you could enjoy streaming in the background of your PC, or something you'd take along on a car ride with your laptop—instead of a living room experience.
It'll be interesting to see how this all pans out for Amazon, and if other retailers like Best Buy (who recently announced streaming media plans of their own) follow suit. Many Blu-rays already come with portable digital versions of films, and I wonder if consumers would still prefer Amazon's streaming content in those cases.
Discuss: Would a free On Demand version of a film tempt you more to get the disc from Amazon?
[Source: NewTeevee]