Cool Stuff: Adidas Originals Star Wars Collection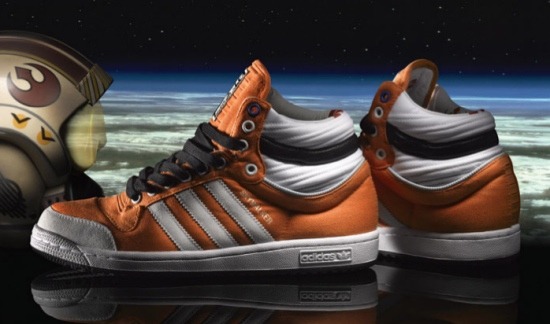 In November, it was revealed that Adidas Originals were going to team up with LucasFilm for their Spring/Summer season line, which will include a special Star Wars collection of footwear and apparel. At the time, we only had a glimpse at some of the shirts and sneakers — but now we have a much better look at the whole line. Check out the photos after the jump.
According to StarWars.com, the first season collection will be split into three packs:
Characters Pack: This pack takes the most iconic moments and characters from the Star Wars saga and brings them to life across five sneakers, two short sleeve T-shirts and the Superstar Track Top.
Vehicles Pack: For this pack, we have taken inspiration from the well known vehicles and crafts from the Star Wars saga and translated them to our five most iconic adidas Originals sneakers and two key adidas Originals apparel models. Across these models we have paid homage to the distinguished features of airborne crafts and land based vehicles from both sides of the Force and executed them to appeal to both adidas and Star Wars fans alike.
Direct Pack: Darth Vader and the Stormtroopers appear in this pack as well as in the Characters pack. Also, the Women's Game Mid silhouette that appears here is inspired by Princess Leia, featuring gold detailing paired with a modern high-top silhouette with matching apparel.
You will begin to see some of these pieces hit Adidas Originals stores and other select retailers in January 2010.
Cool Stuff is a daily feature of slashfilm.com. Know of any geekarific creations or cool products which should be featured on Cool Stuff? E-Mail us at orfilms@gmail.com.