Movie Trailer: Chris Rock's Death At A Funeral Remake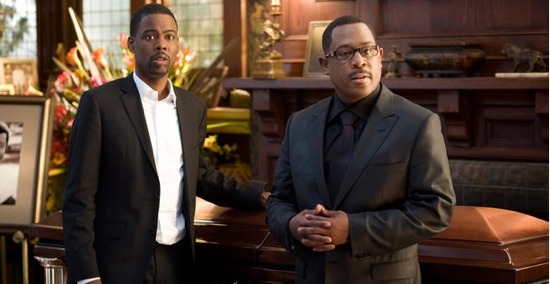 Screen Gems has released the first trailer for Chris Rock-produced re-imagining of Frank Oz's 2007 British comedy Death at a Funeral. Although Oz's original was well-received by many critics, it didn't get very much traction with theatergoers, drawing only a niche audience. The new film has a primarily African-American cast and focuses on a funeral that "devolves into a debacle of misplaced cadavers, indecent exposure and family secrets." Basically, they have decided to remake an English-language film, dumbing down the jokes, in an effort to attract a more black audience (and to clarify: this comment is a statement on Hollywood chooses to treat ticket-buying African-Americans, and not a statement on the intelligence of that audience). It seems completely unnecessary. If you think that sounds horrible, watch the trailer — it's much worse.
The remake was directed by Neil LaBute (In The Company of Men, The Wicker Man, Lakeview Terrace), was written by Dean Craig (Caffeine), and stars Chris Rock, Martin Lawrence, Tracy Morgan, Danny Glover, Regina Hall, James Marsden, Zoe Saldana, and Columbus Short. Watch the trailer now embedded after the jump. Leave your thoughts in the comments below.
Watch the trailer in High Definition on Yahoo. Death at a Funeral hits theaters on April 16th 2010.