LOL: The Increasingly Poor Decisions Of Todd Margaret With David Cross, Spike Jonze, And Will Arnett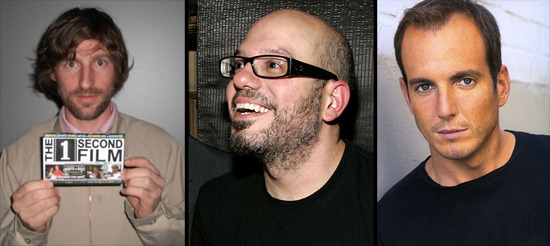 Just when you thought there was nothing more outta-left-field this week than a Mickey Rourke rap anthem: here is the first clip from David Cross's new TV pilot, The Increasingly Poor Decisions of Todd Margaret. Back in June, we first reported on Cross's hopeful series about corporate hell co-starring Spike Jonze and Will Arnett, but we had since chalked it off to wet dream delirium. Cross, who directed and wrote the pilot, had taken note as well, referring to the mediocre cast as a "crazy dream team." Unfortunately, only dear readers in Blighty (and /Film's dearest Brendon) are privy to the entire pilot via the UK's Channel 4. For the rest of us law-abiding denizens, the three minute expletive-blizzard found after the jump ranks with the dwarf in In Bruges as pretty damn funny.
Official Synopsis:
US comedian David Cross plays Todd Margaret, a hapless office drone who flukes his way into a top management job heading up the British division of a US multinational. All he has to do is sell a dozen container loads of dodgy Korean energy drinks before his psychotic boss, played by Will Arnett, visits in a week's time. It doesn't help that he knows nothing about the UK or selling things.
What's more, he only has one very unhelpful employee, played by Russell Tovey, to assist him. Needless to say, it doesn't go well and Todd's spectacular failure to impress beautiful café owner Alice, played by Sharon Horgan, only makes things worse.
So, the first half of the synopsis is depicted in the clip, and basically serves as Todd Margaret's origin tale. Jonze plays Margaret's fey and fired supervisor and Will Arnett plays an uber-exfoliated Darth Vader in a suit. Thanks to Erik Davis at Cinematical for the heads up about this. Not shown are Brits Horgan and Tovey, both of whom are rising comedic talents. Channel 4 doesn't offer any info on its website per plans for further episodes, but how fucking insane/cheap do they have to be not to give Cross the go-ahead with this diamond studded chariot? We'll update accordingly.
Cross's use of a telephone to illustrate the inanity of corporate hierarchy reminded me of a classic sketch from his days creating Mr. Show with Bob and David...
What did you think of your first look at The Increasingly Poor Decisions of Todd Margaret's skull candle?