Johnny Depp Will Be Pancho Villa For Director Emir Kusturica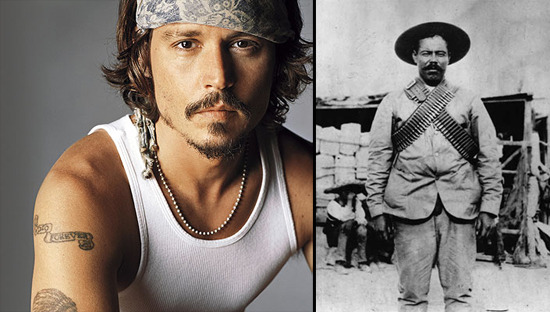 When I see that Johnny Depp is in talks to play Pancho Villa in Seven Friends of Pancho Villa and the Woman With Six Fingers, I don't get terribly interested. Then I see that the film is planned as a Spanish language production, and that Depp would act in Spanish. Finally, there's the director: Emir Kusturica, who directed Depp in Arizona Dream, one of the actor's early feature starring roles. (An odd piece of film that, I think, has never had a proper DVD release in North America.)
With all those details in place, the project is a lot more interesting.
Too bad we're not likely to see it for two years. Due to Depp's packed schedule, 2011 is likely the earliest the picture can shoot, says Variety. But Kusturica and Depp seem to be planning on making it happen, potentially with Salma Hayek to co-star. The film would loosely adapt the historical novel The Friends of Pancho Villa, by James Carlos Blake.(Synopsis at end of article.)
I'm shamefully behind on seeing some of Kusturica's recent films, but When Father Was Away on Business, Underground (both Palm d'Or winners) and to a lesser extent Black Cat, White Cat are films I've enjoyed watching more than once. The Serbian director has some of the same 'fantastic realism' sensibility of Jean-Pierre Jeunet, and he's got a great musical sense as well. There's a scene in Black Cat, White Cat where a gypsy-folk band is playing while tied to the boughs of a large tree; it's a wonderful little image. Kusturica would go on to join the band that did much of that film's music. (He also does a bit of acting; love his brief turn in Neil Jordan's The Good Thief.)
Before getting the Pancho Villa movie together, Kusturica is planning to shoot Cool Water, a black comedy about "a Palestinian stripper working in Germany who returns to her homeland to bury her dead father."
Here's a synopsis of The Friends of Pancho Villa, from Publisher's Weekly via Amazon.
During the roughly 10 years the Mexican Revolution tore across the land, it unleashed a human catastrophe unparalleled in that country since the Conquest. Rodolfo Fierro teams up early on in the action with Pancho Villa the bandit/revolutionary, one of the few who seem to revel in love as much as in death. He, for example, dislikes torturing prisoners, because it takes too long. "The time you spend torturing a man is time you could spend dancing and making love," he tells Fierro, who has just witnessed fellow revolutionary Emiliano Zapata's followers roasting an old man to death. [Author James Carlos] Blake blends fact and fiction into one of the few novels that risk political incorrectness by frankly describing the murder, betrayal and deceit that turned a revolution against dictatorship into a civil war that cost the country nearly a third of its population and left psychological scars that last to this day.