Weekend Weirdness: Final Flesh, Dirty: The Official Ol' Dirty Bastard Documentary, And Adult Swim's Aqua Teen Hunger Force Christmas Album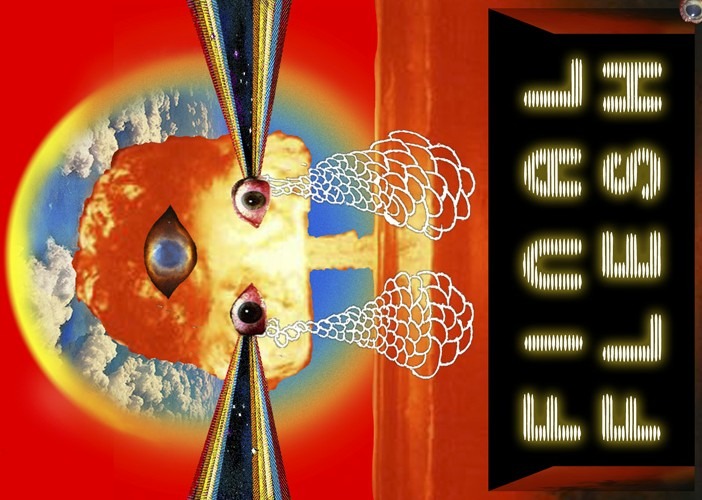 It's a crazy, mixed up world and we are thankful for movies, sans New Moon, that offer proof. Weekend Weirdness cocks its disoriented, nappy head to examine such flicks, whether it's a new trailer for a provocative indie, a review, or news of an excavated cult classic. The works discussed herein tend to make cinema a little more interesting, and in the best and worst cases do the same for life. In this installment: Final Flesh is a real life Videodrome with porn actors from the co-creator of Wonder Showzen; Dirty is the forthcoming, surprisingly solid doc on the late Wu-Tang Clan rapper Ol' Dirty Bastard; [adult swim]'s Aqua Teen Hunger Force plops out a spicy Meatwad of a Xmas album, and more, G. The "G" is courtesy Nic Cage's bad lieutenant.
Nearly a decade after he worked as a writer for Late Night with Conan O'Brien, the career of Vernon Chatman continues its fascinating flush-parade down and around comedy's perverse bowels. With a new film, Final Flesh, he subverts the acting prowess of real life porno D-listers to match the success of his respected twists on tween teevee (MTV's Wonder Showzen) and low-rent, fantasy animation (Xavier: Renegade Angel). The irony is that even though the DVD for Final Flesh arrived at my door with a tie-in golden condom packet filled with antibacterial lotion, Chatman ostensibly kept his hands clean of the filth. Flesh is what resulted after he commissioned four online companies that produce adult movies from scripts submitted by paying customers. Instead of sending the companies various scenarios too obscene for Roller Girl, Chatman's screenplays mostly ditch sex in favor of a murky end days subplot complete with an Atomic Bomb.
Each of the four acts scripted by Chatman star a male and two female sex pros. The paternal and maternal roles fulfilled by these non-actors are addled by familial and mental disturbance not to mention supernatural encounters. After viewing Final Flesh in its entirety, I'm more or less convinced that it was a conscious decision by Chatman to edit the acts so that they become consecutively more intense and—to a degree befitting tweezers for an in-grown pube—more competently acted. Here comes the trailer...
The first two acts of Final Flesh play out like a perverted community college art school project. During these segments I mostly contemplated how several personal acquaintances would react if he/she entered a friend's empty home with this shit playing on TV. In fact, I plan on finding out. In the first act, the chosen production company uses African American performers. Chatman's bizarre lines are delivered by them with dumb casualness and the occasional baffled smirk. We watch as the two women performers separately experience mock-births of fruit and raw meat in non-graphic, PG-13 fashion. Near the first act's conclusion, we also see a large male, who resembles Deebo from Friday, hypnotized by the women until he thinks he's a baby. Later, he reaches a more deranged epiphany: he is not a man, he is divine. The women agree and reach similarly brainwashed realizations. Here is a line of dialogue written and submitted by Chatman that is recited by one of the first act's female performers. I'll admit, in the unfamiliar context of the film, the last sentences made me a tad paranoid.
Oh my god. I just realized somethin'. I threw my whole life away. I never wanted a family. My dream was to murder the president. I wanted to use his blood to oil the machine of capitalism.
Each act begins with three hired porn people face down and still at a kitchen table. As repetition sets in, the acts begin to conjure a string of inexplicably linked cult suicides acted in reverse. Looming group think and claustrophobia figures in as well, with none of the performers ever leaving their domestic spaces to venture outside. If you're wondering, no scenes here are unethical or harmful to the participants. The overall purpose is that of a puppet-like game orchestrated by Chatman for the sake of WTFun. I could see some viewers entertaining artier notions regarding free will and much of the film, including its title, seems designed for comparisons to the exploitative TV programming in David Cronenberg's Videodrome and its enigmatic "New Flesh." As a whole, the film illustrates the kind of modern junk-food entertainment that might be (and can be) ordered by a schizophrenic for home delivery. "I'll have 200 sentence salads from Pizza Slut." (Not a line from the film.)
If this sounds too dark, there are several genuinely funny, stoner-like non sequiturs like, "The entire universe has been killed in a Spanish boating accident. ...But it's okay because the universe is being reincarnated into its own protective shell." Later, a female performer places her ear to a conch shell. The conch "tells" her that a murder has been committed and fake blood (ketchup) begins to ooze out. The scene then becomes ridiculously suggestive, as all three performers begin emitting phony sounds of carnal pleasure. One performer inserts a turkey baster into the shell blood; I wondered here if this was actually scripted or if the performers were succumbing to work-day sex habits. Joe Francis, take note (from jail?).
In editing, Chatman added a handful of delightfully cheesy special effects e.g. a demented twinkle in a female performer's eye, and his foreboding use of an instrumental track from start to finish is a nice touch. Final Flesh ultimately flows together like Public Access TV from the '90s, but purposely aspires to dampen the brain cave like so much reality TV (Jersey Shore) at aughts' end, or the so-called "Naughties." In a year that saw Steven Soderbergh team with a major star of extreme porn, Sasha Grey, for a feature film, The Girlfriend Experience, that realistically examined the elite call girl business (just in time for Tiger Woods to stick his wedge in escort quick sand), there's perhaps more relevance still. And given the god-like complexes displayed by many Hollywood screenwriters, I wouldn't be surprised if a few notables submit scripts to create their own Final Flesh. For more info, here.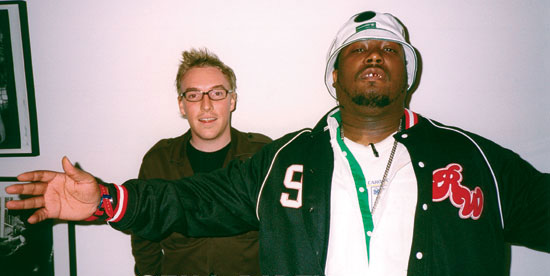 Dirty: One Word Can Change the World aka The Wu-Approved Ol' Dirty Bastard Documentary
If you're a fan of Wu-Tang Clan, chances are you will check out this forthcoming, official documentary regardless. But the main point I'd like to make is that Dirty: One Word Can Change the World does its late subject justice and then some. It's on par with this year's The Carter as a rap documentary that should be seen by anyone with even a casual interest in the genre and its history. This level of praise is startlingly rare for a hip hop film released in the aughts.
Enter the chambers of the Ol' Dirty Bastard. His name alone makes the idea of a doc-as-glossover laughable; covering the life in full of this controversial and cherished American rap artist makes it fucking impossible. There is a highly impressive variety of exclusive and candid interviews in the film with the fam of Russell Jones (aka ODB), including his cousins RZA and GZA, not to mention Popa Wu (!), other Wu-Tang affiliates, and an impressive bench of young and old acquaintances alike offering plenty of insight.
Yeah. ODB had a mom and a dad. They're still together, and watching their joint interviews—filmed outside their home on a Brooklyn sidewalk at night—you sense the love they had for their son, but also the pain caused by his image and lifestyle. Reminiscing, his mom recites all of the nearby street names and then the number of times he was shot on them (and/or fired at). Hearing her discuss the night when ODB lost his spleen to gunshots is sobering; hearing firsthand how she personally helped take care of his "13 or 15 babies," a few of whom now tour with Wu-Tang, is crazy. This trailer gives a proper idea...
The doc is directed by Raison Allah, another of ODB's rapping cousins, who occasionally appears in front of the camera. With a doc on another artist, a blood relation between director and subject would be cause for alarm and open to charges of nepotism. Here, Allah nicely uses his ties to access all of the aforementioned interviewees, as well as privy video of ODB performing in concert and at home. The doc fills in a chronological history that, until now, was reduced to a fading shuffle of MTV and BET news alerts inside fans' heads. Most impressive to me is how Allah takes us to the places where ODB grew up (and never grew out), including the Bed-Stuy projects.
This is not a VH-1 talking head affair, as interviews are conducted on the street outside of bodegas, in the apartment of ODB's grandmother, and so forth. Several interviews are conducted during a large Wu-family gathering, and the emphasis and importance of family gives insight on how the core Wu-Tang Clan sticked together amidst untold drama over the years. When we see photos of the deceased grandfathers of ODB as the camera goes on a tour of where they first arrived in New York circa slavery days—damn—I was reminded of how little humanizing info we are given about living rappers compared to artists in other top-selling genres.
The film also provides a look at how ODB became involved in the Five Percent Nation branch of Islam. Wu-Tang member, Cappadonna, offers a funny aside about how ODB went on The Arsenio Hall Show and announced, "The black man is God." He chuckles and then with a dash of seriousness adds that Arsenio's show ended soon thereafter. Most shocking is how the members of the Wu-Tang Tang and ODB's family individually address conspiracies involving the NYPD and other government agencies in targeting ODB and "making an example of him."
They describe ODB's love of surveillance and spy equipment that spawned from the authorities' crackdown —RZA bought him $50,000 worth—until ODB seems like a hip hop version of Gene Hackman in The Conversation. We are also shown a strange video interview with a young ODB and Method Man, in which the former claims that the government is subliminally programming young black men. I had never seen this footage, and the fact that Method Man eventually chimes in—in agreement—is kinda awesome.
When discussions move on to how ODB was locked up at decade's start for two years for countless charges—proclaimed here to be minor ones—there is a lot of collective anger. Concern is expressed left and right over the medications he was forced to take while incarcerated. Shutter Fuckin' Island. If the accusations consisted only of words, one might chalk them off to regret and mourning. But we are then shown coinciding pictures of ODB's ballooning weight and a video of him getting his hair done, apparently in prison. Sedated, defeated—his face abnormally puffy—he's on the verge of a breakdown. In an interview that follows, GZA calmly appears on the verge of tears, reciting lyrics that say more than enough about where he stands...
I said the cooks in the kitchen had laced his drinks, and wild ass physicians they was off the brinks. He got visits from shrinks who came in with inkblots moving with their own plot but the Dirt he think not. [pause to reflect] Yeah.
For a doc about an artist with ties to the street, the accusations therein are mighty strong coming from established, best selling artists—some of the greatest and smartest rappers of all time—and are now immortalized. If there's a quibble to be had, it's that in the days after ODB was released in 2003, he expressed a lot of distress that none of the members of Wu-Tang had come to see him in prison. (Fans might recall that, in an unexpected move, ODB immediately signed to The Roc record label after his release while publicly shunning many Wu members.) How much truth was behind those sentiments, I do not know, but the dissonance should have been cleared up either way. Perhaps it will be. RZA has mentioned a planned feature film/biopic on ODB that is currently in early planning stages. (Paging Tracy Morgan.)
New Albums From [adult swim] More Entertaining Than Watching Christmas Vacation 40 Times on AMC
Now that Jason Lee, David Cross and Co. have forever ruined Christmas albums by the Chipmunks—because they were so classic to begin with—it's a relief that the Aqua Teen Hunger Force have parachuted down a chimney made of marijuana with their yuletide debut. Maybe it's the Bushmills and egg nogg talking, but I find a few of the tracks on Have Yourself a Meaty Little Christmas to be worthy of annual holiday tradition, if too fucking short. The exception being Carl Brutananadilewski's "I'll Be Home for Christmas," a Roseanne-like butchering of a classic and the aural equivalent of STD pustules leaking off mistletoe and dripping into Santa's eyeballs. Opener, "Feliz Navidad" is my fave, complete with endearing mariachis strumming and reading a Taco Bell menu. The album also offers Scott Stapp references, Neko Case crooning about boogers alongside Meatwad, and arguments over racism on this release from Williams Street. Stream tracks here.

Another new music release from the Cartoon Network programming block, and available for free download in partnership with Rockstar Games, is ATL RMX. A platter of remixed Atlanta, duh, hip hop curated by Jason DeMarco—who oversees all the music at [adult swim]—the album offers sixteen inspired collabs. Tracks by Rich Kids and Gucci Mane are given gunmetal-polished remixes by the likes of Mad Decent's DJA and Flying Lotus, respectively. Pep pep. As is Young Dro by Michna, a fellow alum known as Egg Foo Young during my days at University of Miami, where he deejayed a nightly radio show. However, my personal favorite? Memory Tapes times Dem Getaway Boyz's "Imma G" which offers lysergic window pane swagger for days. Download the entire album or stream here.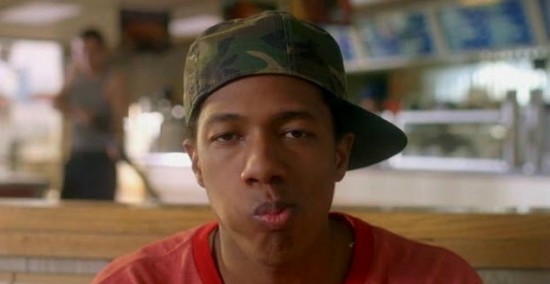 This is an Awesome Way to Open a Movie...Too Bad It Was Mopped Up on the Cutting Room Floor
The esteemed Michael Tully, who runs the fantastic indie news site Hammer to Nail, recommended the following alternative opening from the movie Weapons, starring Nick Cannon (above) and Paul Dano (There Will Be Blood).  I've yet to see Weapons—out now on DVD—having only become familiar with director Adam Bougha Lough a few weeks ago due to his work on The Carter.
Lough has admitted that Weapons hit a few bumps along the way; the reason why this killer opening wasn't used is due to a failed music clearance for the UGK track, "One Day (DJ Screw Mix)." The song's captions should be a hint that it's delightfully sizzurped, and that molasses-heavy style is used to optimal effect here. But the song alone is not why I'm including it.  Stick with the non-embeddable clip is all I'll say. It's worth it.
We've Reached the End: A Show of Hands
If you made it to the bottom, you're in for a treat. Above is an animated, mildly-NSFW short film from 1983 entitled Malice in Wonderland by artist Vince Collins. Is it weird that the short makes me want to sit in the back row at The Princess and the Frog and get a bigger hand-drawn fix? Rightly so.
For previous installments of Weekend Weirdness, click here.
If you're a filmmaker and have a weird new film that Hunter might be interested in, you can contact him per a screener, screening, or info at h.attila/gmail or on Twitter.