Summit Invests In More Genre Stuff: Adaptation Of Comic Book Alibi And Eli Roth-Produced Invasion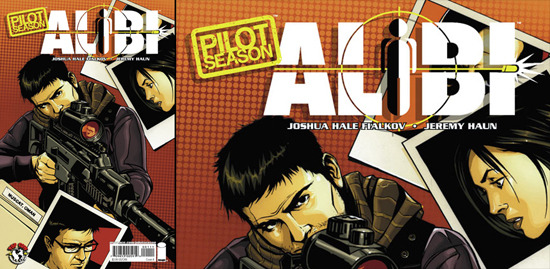 Summit is best known for Twilight, but the company has put weight behind other genre-ish stuff that has, let's say, a more masculine appeal. As recent examples, there was the semi-superhero film Push, and the Nic Cage film Knowing. Now the studio is getting behind an adaptation of the Top Cow comic series Alibi and an alien invasion film called, er, Invasion.
Variety reports on Alibi, which was optioned by the same outfit behind the Bruce Willis film Surrogates, and will be written by John Hlavin. The original comic, created by Top Cow's Matt Hawkins and Michael Renegar, written by Joshua Hale Fialkov and illustrated by Jeremy Haun, "centers on a well-known socialite whose public presence establishes a perfect cover for the covert activity of his secret twin brother, a government assassin." If the twin brother's existence is a secret, I don't know why he needs the alibi; I'm sure there's more to the story. (Get more info here if you're really curious.)
The fun tidbit here is that Alibi was part of Top Cow's neat Pilot Season system, where readers vote on a series of one-shot comics; the story with the most votes theoretically gets spun off into a series. Alibi was in the 2008 block of one-shots, and it got the least votes: 3%.
Meanwhile, the trades are also confirming a story that came out yesterday via Shock Till You Drop, which reported that Summit Entertainment has picked up the rights to Invasion. Eli Roth will be producing the alien-themed film (not to be confused with The Invasion, the 2007 Invasion of the Body Snatchers remake starring Nicole Kidman), with a script by Ben Magid. Eric Newman will also be on board as producer (Keep in mind that the latter has his own alien movie Endangered Species in the works, too.)
The plot of Invasion is being held close to the chest, but Shock reports that it "opens with a wicked subway accident in Los Angeles in which the survivors (the film's protagonists) climb from the wreckage to find the, now snowy, city in ruins. What they encounter topside is bodies, mobs of people in a state of panic and acidic goo."