Crazy On The Outside Movie Trailer; Tim Allen's Directorial Debut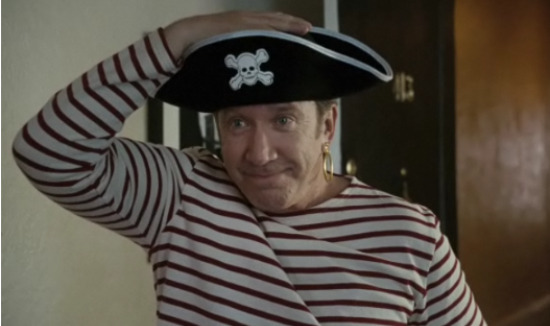 Tim Allen must have a lot of friends in Hollywood. Otherwise, I have no idea how he could convince so many great actors to show up in his atrocious looking directorial debut, Crazy on the Outside. Allen stars as a man who spent three years in jail, and is now out trying to reconnect with his family and piece his life back together. Truly, the plot is a work of sheer originality. The film is written by writing team Judd Pillot and John Peaslee, who've both worked together on sitcoms like According to Jim and 8 Simple Rules.
The film's cast also includes Sigourney Weaver, J.K. Simmons, Ray Liotta, Kelsey Grammer, and Julie Bowen. Again, I have no idea what they're doing in this thing.
Just watch the trailer already (if you're brave, check out the HD version over at Yahoo):
It's not as if I hate Tim Allen either. I loved the guy in Toy Story, Redbelt, and Galaxy Quest, but there's not much to love about this trailer at all. You've got the obnoxious narrator and trailer music, tons of obvious humor that just falls flat, and very little else that's redeeming.  It doesn't look like it will end up being an Old Dogs-level disaster, but I don't think anybody is going to come out of this film looking good (or smart).
At least we also have Toy Story 3 to look forward to next year. And we'll need to cherish that—in 2011 we're getting Wild Hogs 2: Bachelor Ride.
Allen's career was never really about great comedy for me, he just did a very good job at playing personable guys, and we eventually came to learn that he's not that bad of a dramatic actor either. I take no pleasure in seeing him attached to a movie like this, let alone directing it.