Takeshi Kitano Reveals Outrage, His Return To Gangster Pictures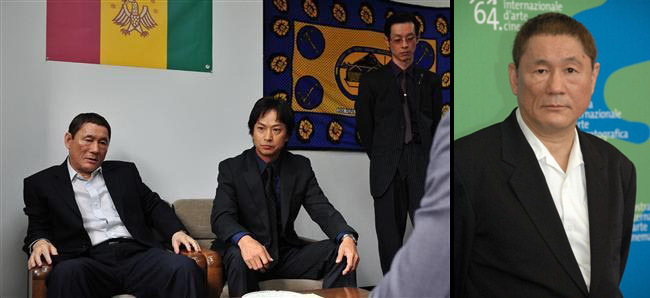 Here's some great news about a film that, just by virtue of existence, is now high on my 'to watch' list for 2010. I knew that Takeshi Kitano had been shooting a new film (mentioned it in passing here, while talking about Ryo Kase working with Gus Van Sant) but we haven't had any details about it. And while he's talked about going back to gangster pictures, we didn't know for certain that's what this new film would be.
Now the details are out: the film is called Outrage and it is indeed a film about Japanese criminals. Will it stack up against Sonatine? If it even comes close, I'll be happy.
Variety reports on some of the info. Kitano scripted, directed and stars in the film, which is in post-production now. Movie "depicts power struggles among Tokyo gangsters," which really doesn't tell us much, even when augmented with the fact that Kitano plays "a low-ranking gang boss charged with doing the dirty work of his superiors."
In addition to Kitano and Kase, the cast includes Tomokazu Miura, Kippei Shiina, Jun Kunimura, Tetta Sugimoto, Renji Ishibashi, Fumiyo Kohinata and Takashi Tsukamoto.
At this point, all I really need is to see Kitano's name in the credits to get interested. Hana-bi and especially Sonatine (the lesser seen of the two) are stone classics, and I'm a serious fan of the director's take on Zatoichi, too. That film is to samurai movies what Death Proof is to grindhouse pictures — as much exploration and commentary as recreation.
Kitano has been going way out in left field with his recent films — Takeshis' was an oddball look into the filmmaker's own career, while Glory to the Filmmaker! was a whacked-out, absurdist piece of cinema. The latter isn't really recommendable as a whole, but has some great segments, as when a childish couple of women take a break in a diner run by pro wrestlers. But he's remained grounded in some efforts — his contribution to Chacun son cinema was quite beautiful. I'm hoping for the best here.