Office Writers Pen The Low Self Esteem Of Lizzie Gillespie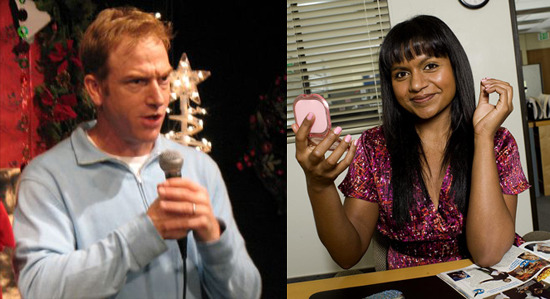 Brent Forrester, who got his start on The Ben Stiller Show and has been working on The Office for some time, is teaming with fellow Office writer Mindy Kaling (who also plays Kelly Kapoor to great effect) on The Low Self Esteem of Lizzie Gillespie, which they've set up at Mandate Pictures. Mandate was the home of breakout hit Juno, so could also be a great starting gate for this story of a woman with disastrously low self-confidence.Variety reports on the deal, and describes Forrester and Kaling's script as following "a woman whose lack of self-worth has limited her choice in men to losers. Just as she is about to hit the bottom of the barrel, her life takes an unexpected turn when she is pursued by the hottest guy ever."
Both writers have solid comedy backgrounds. Forrester, as I mentioned, started with Ben Stiller, and has worked as a writer on Mr. Show, The Simpsons and King of the Hill; no light resume there. And while Kaling is much younger, she's already built up a reliable CV around her work on The Office. In addition to writing for the show and acting in it, she's put together the 'Subtle Sexuality' web shorts revolving around her character's musical aspirations. She's also got a series deal with NBC for her own show.
So, not a lot of info to go on with respect to the new script, but there are two reliable creators. Enough for now, though I'm fairly neutral on the logline. We'll keep an eye on this one, see who gets cast and hopefully pull a little more info here and there. Two great leads will make all the difference.