Hangover 2 Script Half-Finished, Moving Out Of Vegas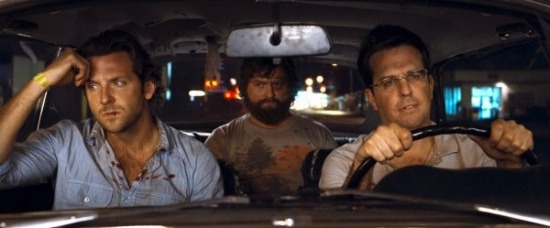 Talking to EW, The Hangover director Todd Phillips gave the low down on the status of a sequel. He's currently midway through the script, although no plot details are known yet.  Phillips mentioned that he was thinking of ideas for a sequel while they were filming, and that Warner Brothers asked for a sequel as soon as they saw how well the film tested. He also promises that Bradley Cooper, Ed Helms, and Zach Galifianakis will definitely be returning for another adventure.
What people loved about The Hangover was not Las Vegas or the bachelor party but these three characters. I think you can take those characters and put them in other situations, and you don't need the sell of Vegas and a bachelor party and all that other stuff.
Changing locations was definitely the first thought that popped into my head when we first started hearing talk of a sequel, and I won't be surprised if they end up focusing on another party-capital location. Hangover in the Big City? Big Hangover in Little China (with a Kurt Russell cameo, of course)? Something Something Hangover Miami? Surely, the possibilities are endless.
We can most likely expect yet another random celebrity cameo, and I'm also hoping that Ken Jeong returns, because he was one of my favorite elements of the first film. I'm not too concerned that Phillips is scripting the sequel instead of original writers Jon Lucas and Scott Moore—the man gave us Road Trip and Old School after all.
Phillips is currently working on his next project, Due Date, starring Robert Downey Jr., Galifianakis, Michelle Monaghan, and Jaime Foxx, which reunites him with the college-slacker genre.