First Batch Of Evil Dead Rerelease Dates Announced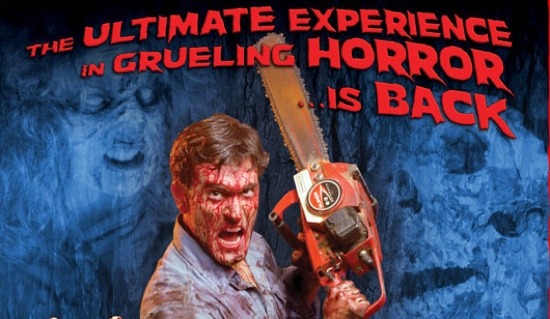 Last month we told you that Sam Raimi's The Evil Dead would be returning to movie theaters with a limited rerelease thanks to Grindhouse Releasing. We now have new details on the cult horror film's new theatrical bow.
Landmark Theatres will present the director's 35mm print at special midnight shows in Minneapolis, Denver, Seattle, New York, Houston, Dallas, and Los Angeles in the first quarter of 2010. The first dates and venues are listed after the jump, along with a new theatrical one-sheet, which is being used to promote the new release.
Here are the initial dates:
Uptown Theatre, Minneapolis
Esquire Theatre, Denver
Sunshine Cinema, New York
February 5-6:
Egyptian Theatre, Seattle
River Oaks Theatre, Houston
Inwood, Dallas
March 5: Nuart Theatre,
Los Angeles
May 22
Hudson Horrorshow
Poughkipsie, NY
More cities will be announced as they are confirmed.