Warner Bros To Release 35-Film Clint Eastwood DVD Box Set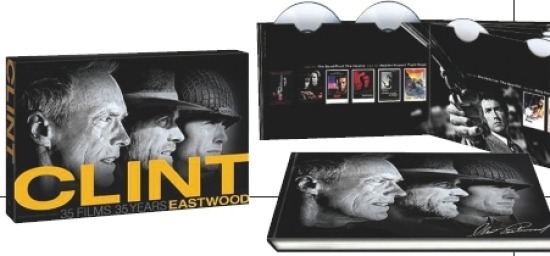 Warner Home Video will be releasing an ultimate 35-film Clint Eastwood retrospective touted as the largest* ever DVD box set featuring a single artist.
Clint Eastwood: 35 Films, 35 Years at Warner Bros. will feature 19-discs containing 34 Warner Bros films that the star either headlined and/or directed. The 35th "film" included is Eastwood Factor, a feature documentary film by critic/historian Richard Schickel. The box set also includes a 24-page extract of Schickel's upcoming book Clint: A Retrospective. The collection contains Eastwood films from 1968's Where Eagles Dare through last year's Gran Torino.
The set will be released on February 16th 2010, in an effort to take advantage of likely Oscar attention of Eastwood's latest movie Invictus. The set will have a suggested retail price of $179.98, but expect discount retailers to sell it for much less. No word on if the set will also be made available in Blu-ray, although since it isn't mentioned in the announcement, we don't think so.
* The claim might be true, but the collection isn't even close to being the biggest box set ever released. We previously profiled a massive 110-disc dvd set in Cool Stuff.
via: THR