Jason Reitman Talks Up In The Air And The Film's Ending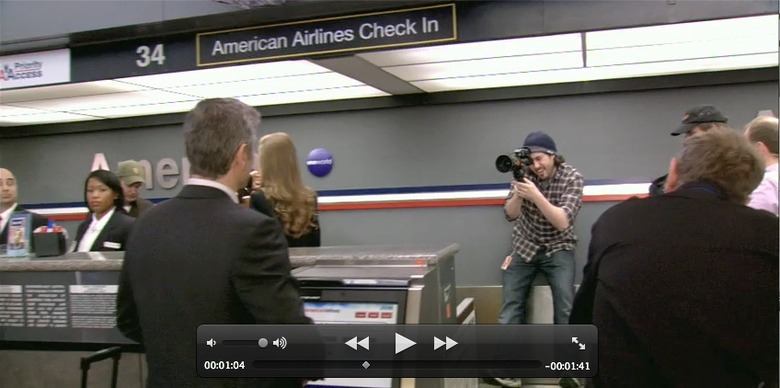 Paramount Pictures has released a new featurette for Jason Reitman's Up in the Air focusing on the filmmaker's vision. In the video, Jason explains that he aims for authenticity, not comedy, in the performances and stories of his films... and if he achieves that, the comedy will follow:
"Everywhere I look, I see comedy... often where it is inappropriate. For me that's the best way to talk about things. If we can open up and laugh about things, then we can have a honest conversation."
You can watch the video now on Apple.com. Also, Anne Thompson has a wonderful 20 question interview with Reitman on indiewire. I've excerpted one of the answers after the jump, because it is the only time I've ever seen Jason talk in detail about the ending of the film, and what his intentions were. If you haven't seen the movie, do not read that question and answer below. Again, don't — experience it first, check back later. But if you have seen the movie, I recommend you hit after the jump.
SPOILER WARNING!!!!!Question: The ending of the movie has produced some debate. Why did you not give everybody a happy, romantic ending?Jason Reitman: There are millions available on DVD if you want to feel good. No, honestly, look; there are plenty of movies that inspire companionship through romance on screen. You see two people in love and you go, you know what, I want that too. I did not want to make that movie. I wanted a film that inspired companionship through loss. It's not when George and Vera are dancing at the wedding that you go 'oh, this man is truly in need of somebody in his life,' it's right after he shows up at her door in Chicago and realizes that she's unavailable, that's the moment you go: 'Oh, this man actually wants something else.' And hopefully it's the moment that the audience feels it so hard, you get hit so hard in the gut that you want it yourself as well. So I thought somehow that would actually be more impactful than simply watching two people in love. Then the ending of the movie, it's a movie about an epiphany rather than a decision. We get to the end of the movie, we know that he's come to some sort of realization, and from there he can do anything. He can get on a plane and live the same way for the rest of his life, he can get a plane and settle down somewhere and meet someone and share his life with somebody. That actually doesn't matter. I'll tell you why; he's a fictitious character. He doesn't exist. However, the movie doesn't end there, and then just cut to clouds and sit on clouds for a few seconds. And I don't mean to be pretentious, but I hope that moment is a moment of silence for the audience to think about what they want in their life, because in reality that's much more important than whatever Ryan Bingham decides to do.