Christopher Eccleston To Play John Lennon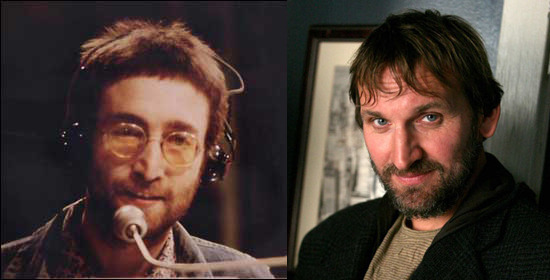 While Nowhere Boy, the account of John Lennon's teen years, is drawing tepid to good reviews after a recent London festival debut, I'm still seeing voices of dissent and disinterest aimed at the film, which stars Aaron Johnson as the young Lennon. I'm curious to see how the same people will react to Naked Lennon, an upcoming BBC Four production written by Robert Jones that has just cast Christopher Eccleston as Lennon circa '67-'71.
This is the opposite end of the Beatles' timespan. While Nowhere Boy tackles the years in which Lennon became a songwriter, Naked Lennon will look at the years "when the Beatle was ending his first marriage to Cynthia as Yoko Ono entered his life, coping with the death of manager Brian Epstein and the group's own messy and acrimonious disintegration."
Variety reports on the casting, and adds that Claudine Blakely will play the singer's first wife Cynthia, Andrew Scott will be Paul McCartney, Naoko Mori will be Yoko, and Rory Kinnear will be manager Brian Epstein. The time period was turbulent, obviously, which should make for ample on-screen fireworks.
As an aside, hopefully the film will recreate the appearance of Lennon and Yoko as part of the short-lived supergroup The Diry Mac (which also featured Keith Richards, Eric Clapton and Mitch Mitchell) when they performed on The Rolling Stones Rock and Roll Circus. If you need a reason to look askance at Yoko, just listen to her caterwaul in the clip embedded below. Beware. But I'd love to see Eccleston play the stoned-out Lennon from the Dirty Mac's introduction.
It's been a big year for the Beatles on screen; with the album reissues and Beatles Rock Band plus Nowhere Boy, the plans for a new animated version of Yellow Submarine and now this, there's ample proof that the fascination with the band never fades. It's a fascination I don't share, but of all these projects seeing Eccleston play Lennon is among the most interesting possibilities.