Cool Stuff: Serenity Scaled Ship Prop Replica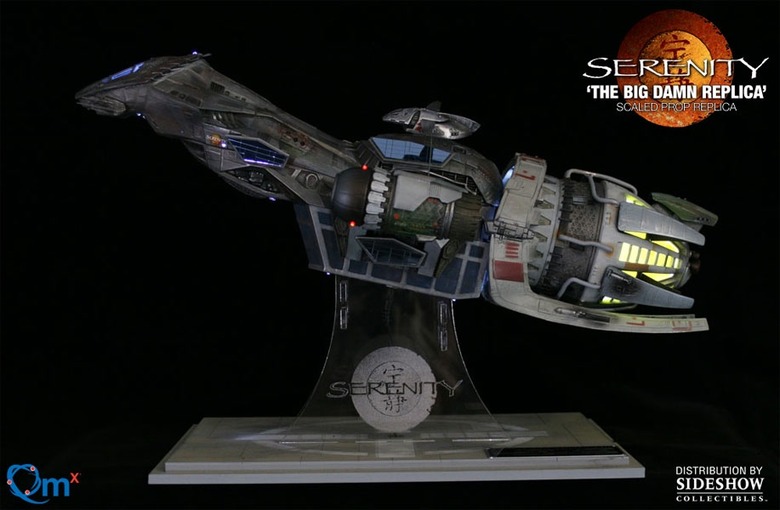 Sideshow Collectibles have teamed with Quantum Mechanix to produce a Serenity – 'The Big Damn Replica' Scaled Prop Replica. The titular ship of Joss Whedon's sci-fi western television series/movie has existed only in digital form only – until now.
More than three years in the making, Serenity – The Big Damn Replica, has been painstakingly crafted to be absolutely screen-accurate in every aspect. Unlike most ships from science fiction, Serenity was designed from the ground up to be as realistic as possible, from her floor plan to her construction, using real-world components and manufacturing processes. As one of her creators observed, the idea was to make Serenity so real, fans could see themselves walking her decks. With such a sense of place and familiarity, viewers would never feel lost in this Firefly-Class Transport.
Now for the bad news: This highly detailed scaled prop replica is limited to 1,000 pieces worldwide, and made to order for $2699.99. Yeah... it ain't cheap. More information and photos after the jump.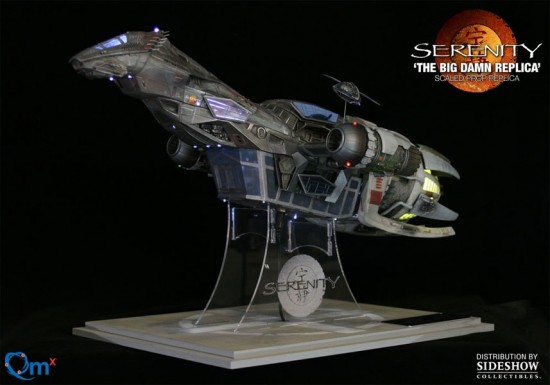 When it came time to develop this replica, wevery seam and every asymmetrical plate has been recreated with exacting attention to detail in this first and only screen-accurate replica of Serenity. Years of intense effort have gone into all aspects of this model, from the model sculpture built from the movie special effects master files to the paint job created to match not just the colors of the ship, but the materials as well.
The Serenity – The Big Damn Replica Prop Replica features:
One big boat. Our Serenity measures 19"x12"x7", or 1:180 scale. (display stand adds 4.5")
Incredible complexity.The kit used to build Serenity consists of more than 250 parts, including resin, brass, aluminum and laser-cut acrylic. Many of the parts are custom-cut by hand, just for your replica.
Film-quality build. Some 30 different colors, including flat and metallic paint, are used in the ship's multilayer paint job.
Spitting image. Weathering, wear and other painting effects are used to exactly mirror the movie version of ship.
Superior components. Surfaces are crafted to simulate real-world materials – metal, ceramic, even the mirrored surfaces of the solar panels.
No decals. All graphics on Serenity are painted on by hand, even Serenity's logo.
SFX Edition. Serenity – The Big Damn Replica incorporates some 32 lighting effects, including static, flashing, strobe and chase lights.
Signature Edition. Nathan Fillion, Captain Mal himself, will be signing the builder's plaque that comes with each Big Damn Replica.
Wireless remote. The SFX Edition replica includes a wireless remote control to operate lights with a special button for activating "hard burn." Lighting system automatically shuts down after 15 minutes to help protect the both the lights and model.
Cool display. Serenity's display base/diorama looks like a landing pad straight out of The Verse. It comes with an acrylic cradle that shows Serenity in flight.
Big Damn Heroes. Crew members can be seen on the bridge.
Pro Prop Crate. Each Serenity is shipped in custom-cut foam and stored in a hand-built wooden apple crate, just like what the pros use to safeguard their props.
Jason Palmer Exclusive Art Print. Jason Palmer, one of the premier portrait artists working in entertainment today, was so taken with our girl that he's creating an special art print of Serenity only available with the Big Damn Replica.
The Build. The Big Damn Replica is offered for order built as shown in the attached photos.
The Edition Size. limited to 1,000 pieces worldwide.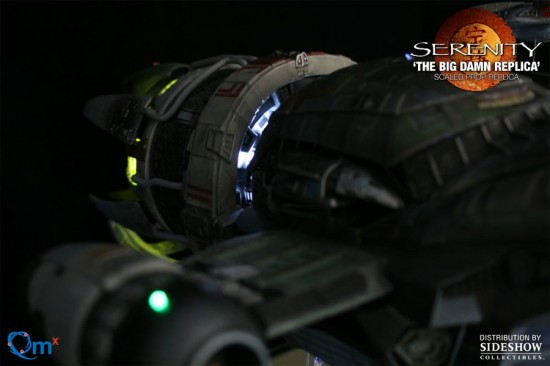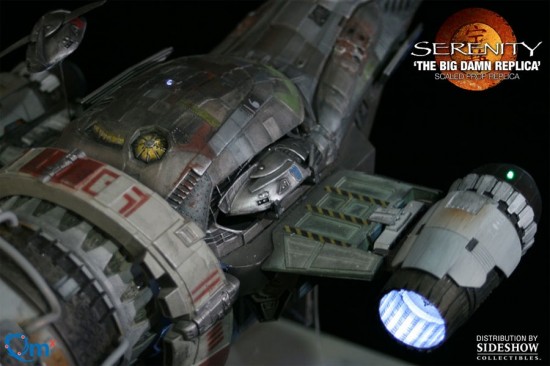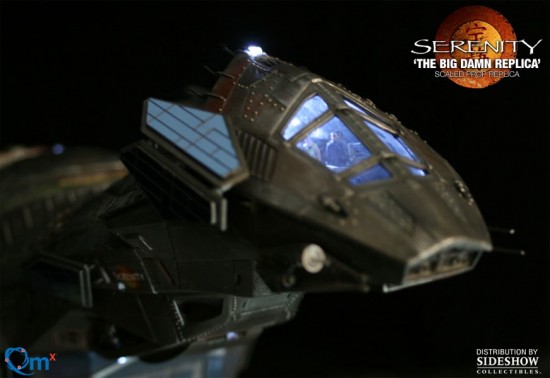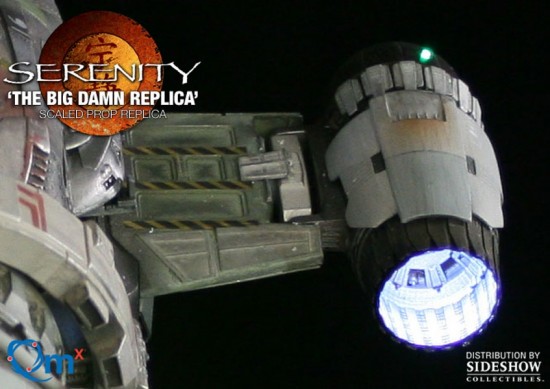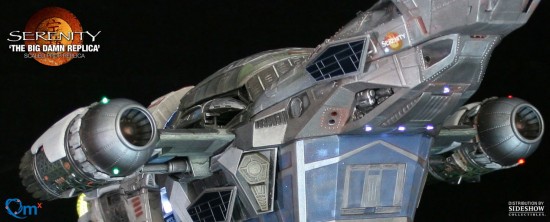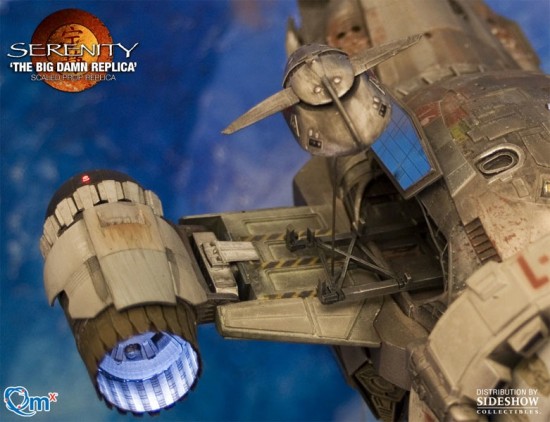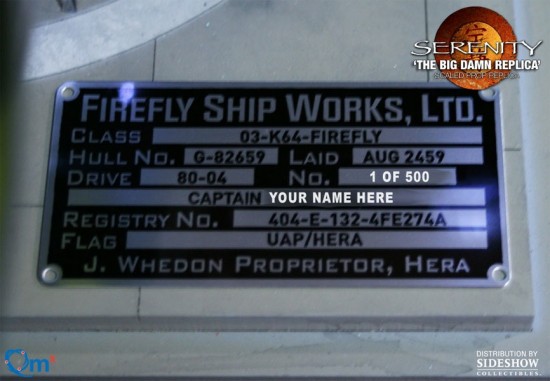 Cool Stuff is a daily feature of slashfilm.com. Know of any geekarific creations or cool products which should be featured on Cool Stuff? E-Mail us at orfilms@gmail.com.