Postcards From China: Poster For John Woo's Next, Teaser Trailer For Jackie Chan's Latest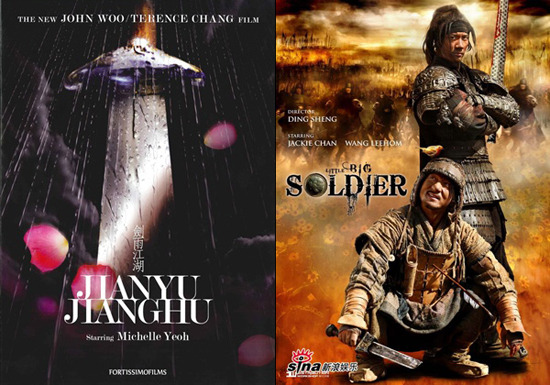 I'm in the middle of watching Red Cliff and I'm amazed that, for the first time in at least a decade, I'm excited by a John Woo movie. (Import DVDs for the win, and I'll probably still go see the half-length US edit out of curiosity.) So I'm happy to see that his next Chinese production seems to be going forward. Given that Woo has a habit of developing and announcing films that would never happen, there was good reason to be skeptical that we'd ever see Rain of Swords in a Pugilistic World, which would be an all-out wuxia film with Michelle Yeoh.
But now there's a sales poster and we have the synopsis as well. After the break, we've also got a short teaser for Little Big Soldier, Jackie Chan's latest Chinese film. His Chinese stuff hasn't been great — it's no match for his classic output — but it's miles better than the garbage he's been in stateside for the past many years.
Since this is just a sales poster, we still may never see Rain of Swords in a Pugilistic World (man, I love that full title) but I'm hopeful. It's wonderful to see something with Woo's name that I can really dig into. The long synopsis follows, courtesy of Twitch.
[EDIT: Woo is co-directing the film with Su Chao-bin, who wrote the script, and cameras are currently rolling.]
Under that, also from Twitch, find the Little Big Soldier teaser. (There was a sales trailer that cropped up a while ago that has mostly been erased from YouTube, etc.) That's the story of a lowly footsoldier (Jackie Chan) and a general (Wang Leehom) from opposing armies who are the lone survivors of a massive battle. Jackie takes the general prisoner and plans to turn him in to earn the chance to go back to a normal life.
The teaser is in serious low resolution, but you can plainly see some of Jackie's trademark mugging. In a film like this I'd hope to see him being a little less overtly comic, but maybe that's how things will shake out in the end. I still hold out hope that Jackie will make one last great Chinese film. The Myth wasn't it, though it was much more enjoyable than I would have expected.
Rain of Swords in a Pugilistic World:428AD, Bodhi, a Southern India prince became a Buddhist monk and set off for China, earning a hallowed reputation as a mystical martial artist. Following his death, his remains mysteriously disappeared.Hundreds of years later, Zhang, a high-ranking court official, is assassinated by Drizzle. Zhang's son Jingxiu, whilst mourning his father's death, is assailed by a group assassins. They leave him for dead, but somehow he survives and escapes their clutches.Drizzle, a talented warrior herself, finds herself in possession of Bodhi's remains, and begins her quest to return them to their rightful resting place at Yunhe Temple. The Black Stone, a team of deadly assassins who employed Drizzle, are also after the remains and the powerful secret they hold. To hide from The Black Stone, Drizzle undergoes drastic facial surgery and changes her name to Zeng Jing (Michelle Yeoh). She flees to Beijing, where she meets and falls in love with Jiang, soon to become her husband.After a confrontation in Beijing, Zeng Jing's identity is uncovered and both she and Jiang must flee for their lives. As Zeng Jing kills off members of the gang while they are on the run, she quickly realises Jiang is actually Jingxiu, and he is seeking to avenge his father's death. This leads to a lethal triangle and a fight to death between our hero Zeng Jing, Jiang and The Black Stone.The only question remains who will be the last ones standing to uncover the secret of Bodhi's remains?Little Big Soldier teaser:
if(document.getElementById("obj1f866af11db04864bca16236377b518f")) document.getElementById("obj1f866af11db04864bca16236377b518f").setAttribute("flashvars", "file=0ba3be0501fd4376bfe6a1783d2d1b5f&permalink="+encodeURIComponent(location.href)); if(document.getElementById("emb1f866af11db04864bca16236377b518f")) document.getElementById("emb1f866af11db04864bca16236377b518f").setAttribute("flashvars", "file=0ba3be0501fd4376bfe6a1783d2d1b5f&permalink="+encodeURIComponent(location.href));
// –>