Thor "Redefines What A Super Hero Movie Can Be" Says Marvel's Joe Quesada; Which Version Of Thor Will We See?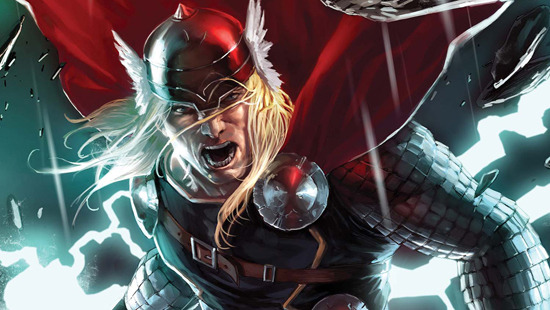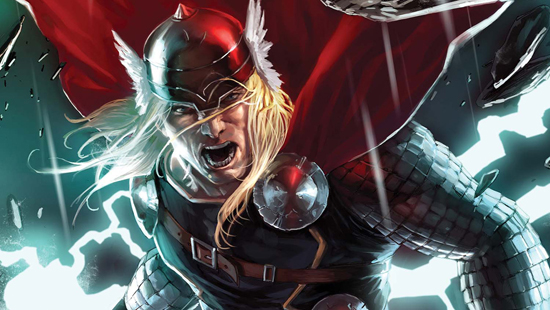 I don't even vaguely trust Marvel editor in chief Joe Quesada to be objective about a Marvel Studios project. So when he goes all ebullient about how game-changing Kenneth Branagh's Thor is going to be, I don't take it very seriously. But I do wonder to what extent this will be different from the glut of superhero films we've seen to date.
There's a specific tone and structure to superhero films from which we rarely see movies diverge, especially when they're introducing a character. I can imagine a lot of ways in which Branagh might break these informal rules, based on both his own background and the rich mythological legacy of Thor as a character, and I hope to see him engage them all. But for now, all we've got is Quesada's statement, which is after the break.
Here's a big chunk 'o text from Quesada's conversation with Comic Book Resources:
...the one thing I can say – and I've said as much to Marvel Studios head Kevin Feige – is that people are going to go into this movie with a preconceived idea about what it will be. If you're a comics fan, you'll have a preconceived notion of what you're going to get. If you're a non-comics fan, you'll have another notion of what the movie is all about. And what's really amazing is that both groups will walk away going, "I've never seen anything like this before within the super hero genre." It's so cool, and I don't want to use the word unusual, but it is unusual in the sense that it redefines what a super hero movie can be. It's not the expected story or settings.
What's the selling point of the whole thing, when we really get down to it? According to Quesada, it is director Kenneth Branagh:
I'm sitting there listening to Branagh act out his version of the scene with gusto and passion and I had to stop him and say, "If you said to me right now, 'Then Thor kills 100 puppies in an animal shelter' I'd say it was fantastic."
Meanwhile, we know what role Kat Dennings has in the film — Variety says she'll be Darcy, a co-worker of Natalie Portman's Jane Foster. That Variety report stirred up some questions, however, based on the logline used in the article, which describes the character as "a partly disabled med student who discovers his Norse god alter ego, the hammer-swinging Thor." Earlier this year, Marvel president Kevin Feige said that Donald Blake, the classic version of that disabled human, wouldn't be in the movie.
Antennae at AICN perked up when Variety ran that logline, and the site checked with a source it calls "100% tested and solid" who says that Blake is not in the movie at all. (AICN also ran some big spoilers for one script draft which have since been removed.) It's possible, then, that Variety merely cobbled together a logline based on the classic Marvel version of the character, in which Thor is confined to the crippled body of Don Blake in order to learn humility.
By the way, AICN also mentioned, in the now redacted spoilers, that Stellan Skarsgard plays Jane Foster's Norwegian professor. Which is, I think, the first time anyone has specifically mentioned the nature of Skarsgard's role.