VOTD: The Horribly Slow Murderer With The Extremely Inefficient Weapon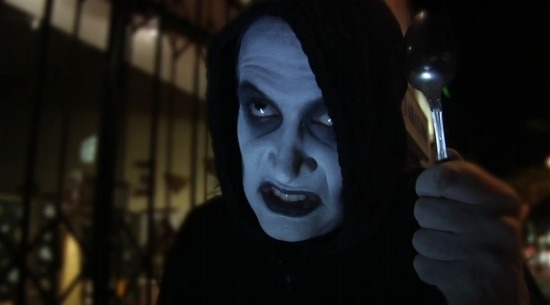 Winner of 12 film festival awards, Richard Gale's short film The Horribly Slow Murderer With the Extremely Inefficient Weapon tells the epic story of one man's encounter with what could be the most relentless murderer of all time. Based on an idea for a short comedy sketch, the concept was expanded into a mini-epic... a faux-movie trailer with a 10-minute running time, for a feature film with an alleged running time of over nine hours. Starring Paul Clemens (The Beast Within), Brian Rohan (Criticized), Fay Kato, Melissa Paladino and Mike Kacey.
Due to the vast number of locations and sequences, the short film required 22 days of shooting (more shooting days than on his feature film The Proposal!) Accomplished with a small cast and crew, the film takes place all over the world, but was shot entirely in Southern California, and by utilizing a greenscreen set up in the director's living room. The most distant location was the Mojave National Preserve, site of the Kelso Dunes, the largest sand dunes in California, with over 4 miles of uninterrupted sand.
Watch the short film after the jump.