Casting Notes: Carla Bruni In Woody Allen's Next; Guy Pearce In The Hungry Rabbit Jumps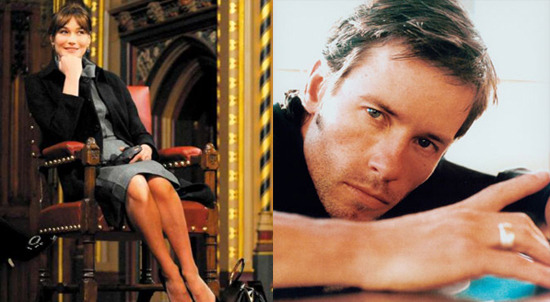 Casting news will be thin until next week; Hollywood basically rolls up the sidewalks when a holiday like Thanksgiving comes around. Don't expect much news. But we've got a weird note and a good one to get today going.
Woody Allen is working at a breakneck pace. There's You Will Meet a Tall Dark Stranger, his latest London-set film, which is already in post-production. He's already thinking about his follow-up, which is said to be a romantic drama set in Paris. Back in June he met French president Nicolas Sarkozy and his wife Carla Bruni-Sarkozy, and shortly after that he offered Bruni a role in his next film. Now she says she's accepted, though in classic style for anyone taking a role in an upcoming Allen film, she doesn't know what she'll be playing. "He offered me a role in his next movie," Bruni-Sarkozy told Canal Plus. "I don't know for what character, but I said yes. I'm not an actress at all. Maybe I will be terrible. But, in my life, I cannot let such a chance go." [Bloomberg]
Meanwhile, a Production Weekly tweet is all we've got to go on for info about Guy Pearce joining The Hungry Rabbit Jumps, the revenge thriller that got Nicolas Cage as a star back in September. The film is about a man (Cage) who wife is brutalised in a crime, after which he gets involved with an underground vigilante organization. Roger Donaldson (Thirteen Days, The Bounty) is directing from a script by Robert Tannen. We don't know Pearce's role at this point.
The shoot is scheduled to begin, says Production Weekly, in two weeks in New Orleans. After finally seeing Herzog's Bad Lieutenant, which also brought Cage to New Orleans, to great effect, I'm more than mildly curious about this one.