Shrek Forever After Will Be The Last Shrek Sequel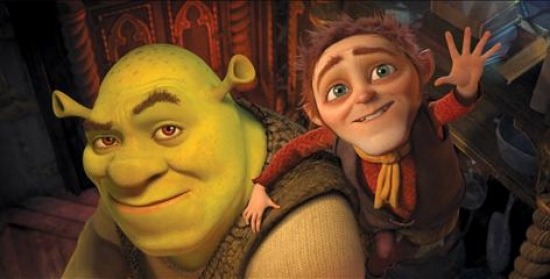 DreamWorks Animation has premiered the first photos from Shrek Forever After in Wednesday's edition of USA Today. One of them can be seen above, the other (of Donkey), can be seen in the linked article. There are a bunch of new tidbits revealed in the article, including the story details, information of when we can expect the first trailer and new casting. We've rounded up all the tiny details, after the jump.
Shrek Forever After will be the last Shrek sequel and will conclude the story, hence the film's title — which isn't just a play on the number 4. Of course, this isn't including spinoff films like Puss in Boots). And who are they kidding? Dreamworks will probably eventually make another Shrek film — the franchise is too popular not to.
The first trailer will premiere on December 18th 2009 attached to prints of James Cameron's Avatar. This makes sense since Shrek Forever After is a 3D film, and Avatar will provide the biggest theatrical 3D audience to date.
The story is a mashup of The Brothers Grimm and It's a Wonderful Life: "Shrek is feeling over-domesticated. He has lost his roar." "To regain his ogre mojo, he strikes a deal with Rumpelstiltskin," but "the pact goes awry and Shrek must confront what life would be like in Far Far Away if he had never existed. That translates into Donkey being forced into cart-pulling duty, fat and lazy Puss in Boots trading his sword for a pink bow and the underhanded Rumpelstiltskin ruling the kingdom."
Kathy Griffin and Kristin Schaal (Flight of the Conchords) are witches who hunt ogres.
Jon Hamm (Mad Men) voices the best-looking ogre you've ever seen, the leader of an underground resistance group.
Retitled from Shrek Goes Fourth, Shrek Forever After is directed by Mike Mitchell (Duce Bigelow, Surviving Christmas, Sky High), and features the original all-star cast of Mike Myers, Eddie Murphy, Cameron Diaz and Antonio Banderas.  Shrek Forever After hits theaters on May 21st, 2010.