Zombieland Sequel In 3D?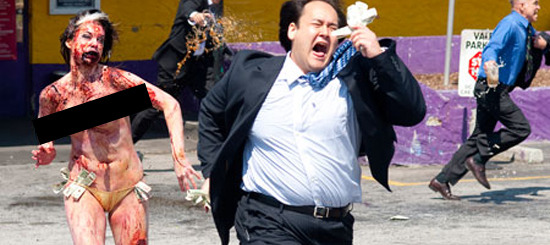 Sony hasn't yet announced the development of a Zombieland sequel, but with a worldwide budget of over $85 million, it is likely only a matter of time. Moviehole has an interview with Zombieland director Ruben Fleischer, who revealed that not only is Sony interested in a sequel, but if they can "crack" the story for a sequel, it will probably be shot in 3D. Fleischer believes that "the genre really lends itself to [3-D]", and is convinced the technology is now there. And who wouldn't want to see a fun 3D zombie film?
As for the sequel, who knows when it might get off the ground. Fleischer has a bunch of potential projects lined up, and the screenplay hasn't even been written, although there are plenty of ideas. As you probably know by now, Zombieland was conceived as a television pilot, and was rewritten to fill a feature film. Screenwriters Rhett Reese and Paul Wernick told io9 in October that they already planned a "23 episode season" out, "So divided by two that's about 12 movies in our head swimming around." ... "And we'll take what we intended to be episode three of the television show and start movie number two."