This Week In DVD & Blu-Ray: Funny People, Angels & Demons, Gomorrah, And More
This Week in DVD & Blu-ray is a column that compiles all the latest info regarding new DVD and Blu-ray releases, sales, and exclusive deals from stores including Target, Best Buy and Fry's.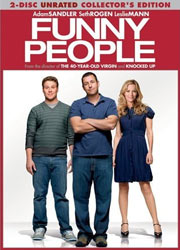 FUNNY PEOPLE
(DVD available as single-disc and 2-Disc Unrated Edition)
Funny People is the type of film that can only be made on the studio's dime once the director has already proven themselves as a profitable entity. There's no way Judd Apatow would've been able to get a green light on this film in its current state if it weren't for the countless successful comedies he's produced, as well as the two critically-acclaimed, $100+ million grossing efforts he's written and directed. As the third entry in his directorial filmography, Funny People was met with a lukewarm critical response and didn't even earn back its budget. That's a shame. This movie deserves to find an audience. I'd even argue that it's a superior film to either The 40-Year-Old Virgin and Knocked Up (which I also adore, mind you). Granted, it's also a much different film. Whereas those films took the more familiar Hollywood formula route and injected it with enough heart and hilarity to overcome whatever potential issues might've stemmed from their predictable nature, Funny People disregards the formula (almost) entirely and opts for a more personal, honest approach. There are funny moments to be sure, but at its core, this is a character study about a famous comedian and the choices he's made, contrasted against an up-and-coming comedian and the choices he has yet to make. Understandably, not everyone will find themselves able to relate to the plight of a man who has more money than we will ever know. There have also been complaints made about the film's lengthy running time and lack of a consistent conflict—both of which become readily apparent in the third act. These are only some of the reasons for which I admire the film. It doesn't feel the need to adhere to some derivative narrative structure when there's a much more interesting emotional struggle already at play, and it's willing to acknowledge that not everything in life plays out in a comfortable three-act format. By far his most mature and truthful work to date, Judd Apatow's Funny People finds the perfect balance between dramatic and funny, and is guaranteed to find a spot on my Top 10 of '09 list.
Blu-ray? Yes.
Notable Extras: 2-disc DVD – Theatrical and unrated cuts of the film, deleted/extended scenes, an extended gag reel, actual home videos of Adam Sandler's prank phone calls, and a Line-O-Rama. Blu-ray – Includes everything on the DVD, as well as U-Control ("Behind the Scenes Picture in Picture Commentary").
*Does not include 2-Disc Edition, which costs $22.99 at each of the listed stores (including Amazon).

ANGELS & DEMONS
(DVD available as single-disc and 2-Disc Extended Edition)
[Semi-spoilers ahead] The first hour of Angels & Demons is spent racing from scene to scene while Tom Hanks fails to save any of the people he's racing to save. Amidst these sequences celebrating Langdon's uselessness—which continues to be put on full display throughout the rest of the film as well—we see him stare pensively in different directions before saying something like, "I know where it is!" and explaining how he managed to connect all of the fictional dots. You can tell it's exciting because the camera swoops around a lot. Later on, the movie advances from being merely dull to at least being somewhat absurdly entertaining. The only thing more face-in-palm embarrassing than how comically preposterous the plot reveals itself to be is that, despite the ridiculousness, it still manages to be utterly predictable. It's almost worth watching for the laugh factor alone. Almost.
Blu-ray? Yes.
Notable Extras: Single-disc DVD – Includes the theatrical cut of the film only, along with 4 featurettes ("Rome Was Not Built In A Day", "Writing Angels & Demons", "Characters In Search Of The True Story", "CERN: Pushing the Frontiers of Knowledge". 2-disc DVD – Includes the extended edition only, as well as all extras on the single-disc DVD, a Hans Zimmer Music Studio, and 3 more featurettes ("Handling Props", "Angels & Demons: The Full Story", "This is an Ambigram"). Blu-ray – Includes the theatrical and extended cuts, as well as all extras on the DVDs, plus an exclusive Path of Illumination feature, and a digital copy of the extended film.
*Does not include 2-Disc Edition, which costs $19.77 at Fry's, $21.49 at Amazon, and $22.99 at Target and Best Buy.
EXCLUSIVE DEAL:
What? Blu-ray and 2-Disc DVD includes Angels & Demons audio book.
Where? Best Buy.
EXCLUSIVE DEAL:
What? Blu-ray Collector's Set ($29.99) with leather journal. Also includes Angels & Demons audio book.
Where? Best Buy.
EXCLUSIVE DEAL:
What? 2-Disc DVD comes with collectible storybook packaging.
Where? Target.
EXCLUSIVE DEAL:
What? Blu-ray is exclusive Blu-ray+DVD combo pack.
Where? Target.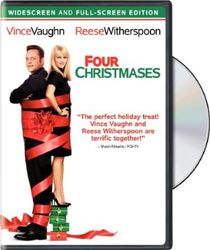 FOUR CHRISTMASES
I like to think of this movie as a complete reversal of Revolutionary Road. The movie begins with a couple who actually appear to have a healthy, open relationship, free from the constraints of societal expectations. As the film goes on though, they engage in an endless barrage of disastrously unfunny, sitcom-ish scenarios with their wacky/obnoxious families, and the experiences make the female half of the relationship realize that she should conform to those traditions, in turn carrying on the legacy of their fucked up families and thus helping to maintain the status quo. It's a happy ending for all: another independent, free-thinking couple bites the dust. (Admittedly, this analysis is a rather blatant distortion of the truth, but it's the only way I could find discussing something as banal as Four Christmases the slightest bit interesting.)
Blu-ray? Yes.
Notable Extras: DVD – No extras. Blu-ray – Featurettes ("Behind The Story", "Four Christmases: Holiday Moments", "HBO First Look – Four Christmases: Behind The Madness", "Four Christmases: Favorite Christmas Memories"), deleted scenes, and outtakes.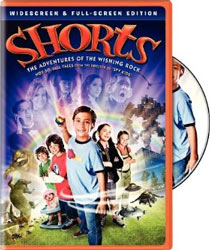 SHORTS
With the production of Sin City 2 continually being delayed but edging ever closer to becoming a reality, Shorts is obviously not the Robert Rodriguez film that most moviegoers were hoping to see. Good news: you don't have to. This movie was not made with teenagers or adults in minds. If you're 5 or 6 though, I would imagine that it's a lot of fun. Its hyperactive silliness, manic energy and somewhat inventive storytelling go a long way to making this into something I could easily imagine being a childhood favorite. Anybody that's discerning enough to pick apart the atrocious dialogue and excessive over-acting is probably outside of the film's age range. Though most of the children actors seem to have been cast for their ability to mug goofily for the camera, newcomer Jolie Vanier stands out as the young female bully Helvetica Black. Keep an eye out for her; she's going places.
Blu-ray? Yes.
Notable Extras: DVD & Blu-ray – A Ten Minute Film School: Short Shorts making of featurette, and a Ten Minute Cooking School: Chocolate Chip Volcano Cookies.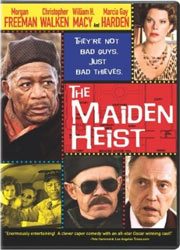 THE MAIDEN HEIST
After reading a number of fascinating articles about how The Maiden Heist, a $20 million film starring three Oscar winners, managed to become a straight-to-DVD release, my desire to see the movie elevated beyond mild interest to outright compulsion. Having now seen the film, I have it to say, what's more surprising than its release is that it got made in the first place. This isn't a terrible film, but it's certainly not a compelling one. The story is bland and simplistic, and the characters are interesting due only to the actors playing them. I suspect most of that $20 million budget went to the stars, because it's certainly not reflected on screen. Elaborating beyond that might suggest the movie offers anything else worth elaborating on; I assure you, it doesn't.
Blu-ray? No.
Notable Extras: Director/writer/producer commentary, In the Presence of Art: Making The Maiden Heist featurette, deleted scenes, and a blooper reel.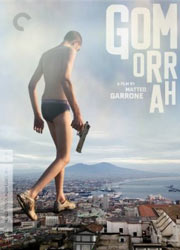 GOMORRAH (CRITERION COLLECTION)
It appears that Gomorrah—which explores the inner workings of organized crime in modern day Italy—is the only other film this week outside of Funny People that's actually worth watching, which makes it a shame that I wasn't able to view it in time for its home video release. I'll try to talk about it on next week's /Filmcast if I get a chance to check it out, but until then, I'll let the 91% rating the film has on Rotten Tomatoes do the talking for me. The trailer can be found here.
Blu-ray? Yes.
Notable Extras: DVD & Blu-ray – A 60-minute "Five Stories" documentary on the making of Gomorrah, new video interviews with Garrone and actor Toni Servillo, interviews with writer Roberto Saviano and actors Gianfelice Imparato, and deleted scenes. Also included: a booklet featuring an essay by critic Chuck Stephens.
Other noteworthy DVD (and Blu-ray) releases this week...
Vengeance Trilogy (Sympathy for Mr. Vengeance/Oldboy/Lady Vengeance) – Imagine That – Snow White and the Seven Dwarfs – Far Cry
Other noteworthy Blu-ray-specific releases this week...
Ink – The Sopranos (Season 1) – The Monster Squad (20th Anniversary Edition) – Cujo (25th Anniversary Edition) – My Bloody Valentine (Special Edition) – Ichi the Killer – Frailty

NOTE: Some deals may be in-store only.

$12.99 – The Office (Season 1 – 4), 30 Rock (Season 1 – 2), House (Season 1 – 4), Heroes (Season 2)
$8.99 DVD or $14.99 Blu-ray – Orphan, Drag Me to Hell, Taken, Coraline, The Wrestler, Slumdog Millionaire, Observe & Report, Land of the Lost, Quantum of Solace, Australia, Valkyrie, The Day the Earth Stood Still, Fighting, Marley & Me, 17 Again, and more...
$4.99 – The Kingdom, Black Hawk Down, Lawrence of Arabia, Knocked Up, Field of Dreams, Music and Lyrics, and more...