Chuck Returning Early In January, Takes Over Heroes Time Slot, Gets Six More Episodes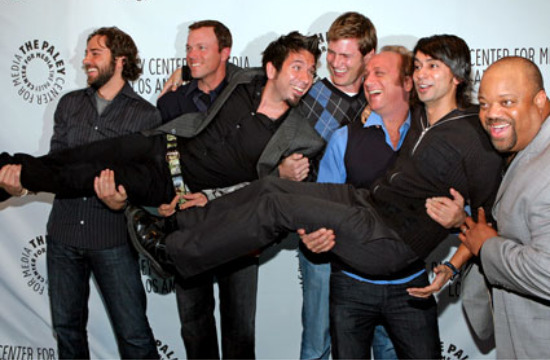 Good news Chuck fans! Pretty much everything great that could be announced for the series prior to its season three return has happened today. The original plan was for the show to return in March, but we've learned that Chuck will be returning on Sunday, January 10, with two episodes back-to-back. The series will then resume its regular time slot on Monday, January 11 at 8pm EST, taking over Heroes' previous throne. Heroes will be shifted to Mondays at 9pm.
And if that's not enough to get you excited, we've also learned that NBC has ordered six episodes beyond the initial 13 episode run—bringing Chuck season three to a healthy 19 episodes.
Right now, we're going to stick with the 13 that we had planned. When we got the order for six more episodes, we restructured the story somewhat, but we're still operating along the lines that the six additional episodes will be Chuck season 3.2. We're not going to pad the original story out. We're going to tell more story.
We've also got word on the the guest stars for this season via press release:
Angie Harmon (NBC's Law & Order), who will play Sydney, an enemy operative; Brandon Routh (Superman Returns), who is set to play CIA Agent Daniel Shaw; Robert Patrick (Terminator 2: Judgment Day) will play Colonel Keller, a soldier and spy from Casey's past; Kristin Kreuk (Smallville), who will portray Hannah — a potential love interest for Chuck; Armand Assante (Judge Dredd) as dictator Premier Goya, who is the target of an assassin; Steve Austin (WWE Smackdown!) will portray Hugo Panzer, who becomes entangled in Chuck's first solo mission; and Vinnie Jones (Snatch) will play Carl Stromberg, an arms dealer.
Ultimately, this is all a great sign for Chuck and its fans, because it shows that NBC clearly has a lot of faith in the series. It should be particularly cherished by the network now that Heroes has fallen from grace, and they really don't have much else in the way of good hour-longs right now. The guest stars look interesting, and should also do well to drum up interest from new viewers.
If you've been on the fence about the series, I highly recommend spending these next few months before the premiere to catch up. Chuck has a great pilot, but it takes a while to find its legs in the first season. Once it does, you'll be hooked. Season 2 was pretty much great across the board, and featured Chevy Chase as a Steve Jobs-esque villain. What more could you want?!