/Film UK: Edgar Wright Vs. The Times, Ken Loach's Route Irish, Honeymooner And More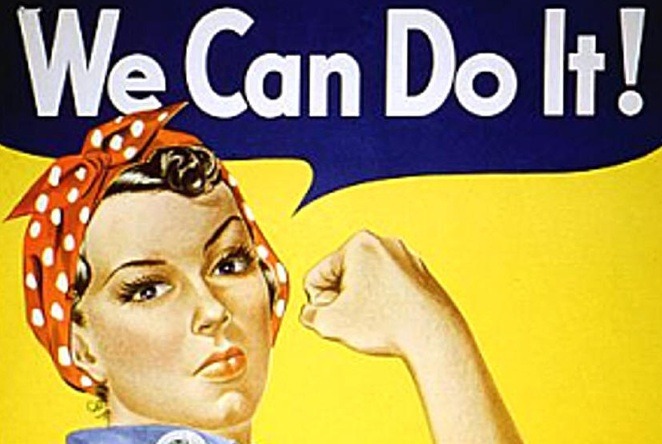 Coming to you weekly from my vantage point in good old Blighty, it's Slashfilm UK. Anglos and Anglophiles rejoice as every Friday I'll be bringing you a round up news, links and coverage specific to the motion picture comings and goings here in the UK. Sometimes we'll be talking about films that have already played in the US, other times it will be films that won't make it to the US for a good while yet, and from time to time you'll read about films that will never make it to the US at all.
Coming up after the break are images from Chris Morris' terrorism comedy Four Lions, reviews of Southern Softies and The Sarah Connor Chronicles, details on a gorgeous sounding Suspiria Blu-ray and a whole lot more.
Belle and Sebastian frontman Stuart Murdoch has already released the soundtrack album to his debut film God Help the Girl, despite not quite finishing the screenplay yet. Murdoch's latest e-mail to fans tells us:
The script for the film is now also in a state of (near) completion (film scripts are never really ever finished) and things are moving slowly towards going into production. Most likely there will be a Belle and Sebastian record first during 2010, so filming should get properly underway in 2011.
UK visitors to YouTube will now see a channel called Shows. What does clicking on it get you? Lots and lots and lots of full episodes of TV, all for free. Literally thousands of shows. There are 30 episodes of classic (ie. pre-Russell T. Davies) Dr. Who, 52 episodes of Speed Racer, 18 episodes of The IT Crowd, 30 episodes of Peep Show and even Derren Brown's phenomenal special, The Heist which was just about the most exciting thing I ever saw on TV. It's all ad-supported of course. We've got our very own Hulu at last.
The first set of official stills from Chris Morris' so-called "terrorism comedy" Four Lions have been released, and here they are.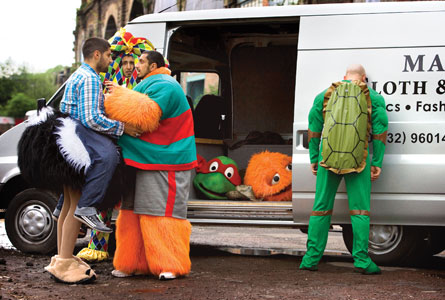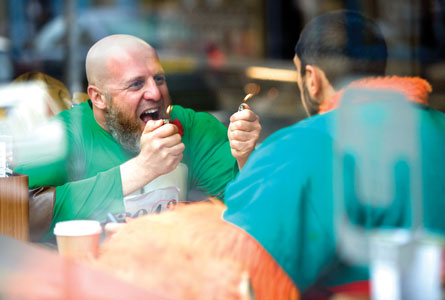 The UK Film Council have announced plans to combine their existing funds into one, the £15 million Film Production Fund "focused on the pursuit of creative excellence and puts more emphasis on first- and second-time filmmakers". If you want your comments to factor into their plans, they've set up an online questionnaire.
The Britspotting festival of British and Irish film, inexplicably held in Berlin, has come to a close for another year. The jury awarded the best picture prized to Michael Whyte's No Greater Love, a documentary about a Notting Hill monastery where "nuns lead a cloistered life dedicated to prayer and contemplation, rarely leaving the monastery except to visit a doctor or dentist. Silence is maintained throughout the day with the exception of two periods of recreation".
New statutory measures proposed in The Queen's Speech would mean that Channel 4 must, by law, invest in film. Screen Daily have some comments from the UK Film Council and Film 4's Tessa Ross.
Kidulthood director Menaj Huda is prepping the horror film Comedown. Screen Daily describe it thus:
[The film] follows six teenagers who become the target of a local psychopath after setting up a pirate radio station aerial in the condemned tower block where he lives.
The director of Kidulthood sequel Adulthood, Noel Clarke, has been hard at work on his own new film, a heist thriller with the title 4.3.2.1 and a cameo from none other than Kevin Smith. The official synopsis says the film is about "three days in the lives of four girls who are unknowingly connected by a major diamond robbery". Clarke this week tweeted an image from the editing room.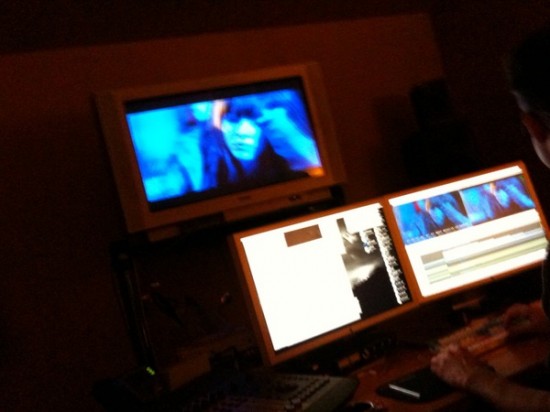 90.1% of respondents clicking on a Guardian poll agreed with Robert Carlyle that UK multiplexes should reserve a screen for British films. Just one, Robert? That would leave an awful lot of Brit flicks just as homeless as they are now.
The BBC have pledged to have HD Freeview coverage for 50% of the population by the summer, with 98.5% set by the end of the digital switchover.
What appears to be the first image from Ken Loach's Route Irish has appeared in a Screen Daily report on the film's French Funding.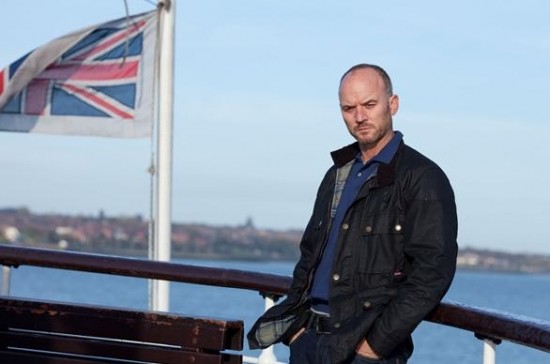 Tesco have struck up some odd deals, according to Retail Week. They'll be the exclusive UK vendors of the Dreamworks Animation Christmas special Merry Madagascar and, when it reaches DVD next spring, Richard Linklater's Me and Orson Welles. Apparently there's more Dreamworks specials to come throughout the year.
Col Spector's Honeymooner will star Daisy Haggard, who I'm surprised hasn't been in truckloads of features already, Gerard Kearns from Shameless and Chris Coghill. According to yes, Screen Daily once again, the film is shooting now. Here's their mini-synopsis:
Fran Goldman learns some new rules of love having been dumped by his fiancee four weeks before the wedding.
And here's the synopsis they've mysteriously taken down:
Fran Goldman offered his fiancée everything, but four weeks before their wedding she called it off. Deciding to stay in London rather than honeymoon on his own, Fran remains convinced that she'll change her mind. But when he bumps into her with her new boyfriend, he has no choice but to try to move on.
A UK Blu-ray of Dario Argento's Suspiria is now formally set for January 18th. As well as a hopefully eye-popping transfer, this disc will offer us the following special features:
Fear At 400 Degrees: The Cine-Excess Of Suspiria documentary featuring director Dario Agento and composer Claudio Simonett
Audio commentary by leading Dario Argento experts Alan Jones and Kim Newman
Suspiria Perspectives featuring Claudio Simonetti, Norman J. Warren and Patricia McCormack.
Here's the extended trailer that Cine Excess prepared for this release:
In The Loop's Chris Addison will be in the next series of Skins, while his "other" sitcom, Lab Rats, has not been recommissioned. He tells The Guardian that his Skins character will be a "Cameronian control freak – an uptight, smug bully who, it seems to me, is less interested in teaching than in 'fixing' youth". That's David Cameron, of course, not James.
Marking the 80th anniversary of Tintin, not to mention increased interest in view of the upcoming Speilberg and Jackson film, Dom Joly is making a documentary about the boy reporter. Broadcast report that a 60 minute cut of the doc will be shopped internationally.
The Times reprinted a butchered version of Edgar Wright's once sincere and touching tribute to Edward Woodward without either asking, paying or caring much what they made Wright or Woodward look like. Wright took them on via Twitter, and they've been left with an awful lot of egg on their faces. I particularly enjoyed The Guardian's brisk wrap-up of the event, which quoted a number of Wright's tweets at once. Thankfully, Wright now thinks that The Times are going to make a donation to Woodward's memorial fund while the paper have issued what they call "a clarification", though even that seems to be at least a little faulty at the moment.
A wonderful new clip from Neil Jordan's Ondine has arrived at Making Of, and you can see it below. The official synopsis for this film reminds us that in this story, "like all fairy tales, enchantment and darkness go hand in hand". Jordan's next should be an adaptation of Neil Gaiman's The Graveyard Book.
Good Luck Anthony Belcher's Jim Field Smith and George Kay have sold a pitch to Paramount. The Hollywood Reporter are telling us it will be a family adventure film a bit like Night at the Museum.
London will get the Avatar world premiere on December 10th, according to Nikki Finke. Great!
Bryan Lee O'Malley has explained the British publication of his Scott Pilgrim comics and shared the cover artwork for one book:
Today's the day that John Shuttleworth's Southern Softies receives it's UK cinema release. Though it's unlikely to sway any determined Shuttleworth haters (they're out there, I'm afraid) it could well round up a bunch of new fans from the undecided.
Ostensibly a documentary, in the sense that Borat is ostensibly a documentary, Southern Softies is about Northern keyboardist and singer-songwriter John Shuttleworth travelling to the Channel Isles to test his theory that people get softer and wimpier the further south you travel. Meanwhile, a series of hilariously minor incidents and microscopic non-tragedies ensue. It's a particularly British kind of comedy, I think, and probably doesn't even make much sense to the middle classes who've never met, or for that matter been, a person quite like Shuttleworth.
Some of the best material in the film sees the conventions of basic-grade documentaries get upended by Shuttleworth's naive mix of keenness and inadequacy, from the trick of editing in reaction shots or "noddies" filmed out of sequence through to using walkie talkies to cue supposedly spontaneous action.
Despite some pretty big laughs, this film is just about as avuncular as a film can get so be warned – this is no Bruno, but something much, much, much more gentle.
Shuttleworth's alter ego Graham Fellows will be doing a series of Q&A appearances to support the film over the next couple of days, the details of which are on his official site.
Another UK release this week was the second season set of The Sarah Connor Chronicles. This time last week I'd never seen a full episode of the show, but I've been busy trying to cram in as much as I can and was actually quite surprised, if not exactly relieved that the first season was so short. There was definitely a gear change from season one to two, not least because I was upgrading my viewing from DVD to Blu-ray, but because the show seemed suddenly able to let the supporting cast breathe more. I was never really sold on Thomas Dekker as John Connor (Connor is forever Furlong to me, I'm afraid) and Lena Headey had perhaps a little too much baggage from her British TV roles for me to accept her as the same Sarah Connor I'd known from the movies, but there are definitely some really great performances amongst the rest of the cast. Summer Glau's Cameron is probably the biggest show stealer, and I think that was the buzz I'd already picked up on.
I have to say that the HD rendering of the show on Blu-ray is really quite brilliant too. All respect to cinematographer Stephen Collins, of course, but there must also be some acknowledgment of the transfer that has been executed here.
I've still got hours of Sarah Connor Chronicles to watch, but I'm actually looking forward to seeing what goes down. I've just seen the one where Cameron thinks she's Allison, the resistance fighter from the future and was pleased to see the show try something quite different to it's typical fast-action paradigm. Will this invention keep up throughout the second season? I'm hoping so.
Josh Friedman has now moved on from this show to running the proposed reboot of Charlie's Angels. Will Ms. Glau be getting a callback? It would certainly make sense.
Entrants to last week's competitions should keep an eye on their e-mail inboxes today because I'll be contacting the winners very soon.
Stevern Soderbergh's The Informant! launches in UK cinemas today. Here's our quad poster: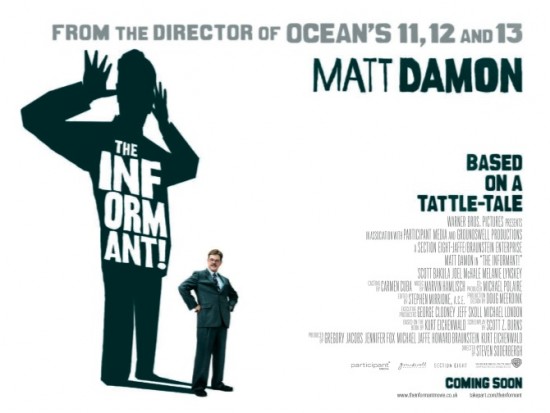 Here's the newly unveiled UK trailer for Mr. Right, a Britcom with James Lance and Jeremy Edwards that will hit cinemas next week, on Friday 27th. The film appears to have been sitting on the shelf for a few years... because it's not up to snuff? Or because of it's subject matter...?
I think I'll close up every week from now on with some box office from the previous weekend. The data will come from the UK Film Council who provide a handy spreadsheet that I'll cull some interesting info from for you, and then screen capture. Sound like a plan? Here's one now: