Eddie Murphy Attached To Produce, Possibly Star In R-Rated Buddy Comedy The Misadventures Of Fluffy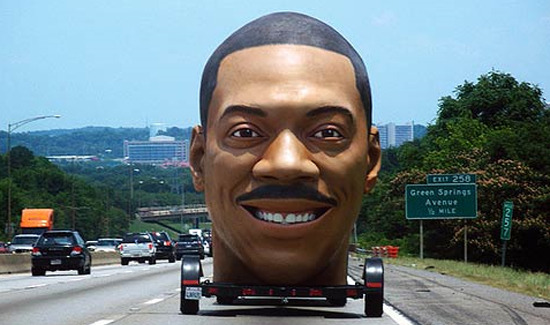 The last great hope for a resurgence in the career of Eddie Murphy seemed to be the Richard Pryor biopic. While Murphy playing Pryor is basically too obvious to happen (he arguably owes his entire career to Pryor's influence) doing so could have brought the actor up out of the career sewer in which he's been flailing around for some time. It's one thing to make money-grubbing films like Meet Dave and Imagine That, but when those movies don't actually make all that much cash, it might be time to re-think things. But Muphy bailed on that project, and in so doing killed most of the hope that he might make a movie worth watching any time soon.
Now, with the announcement that Murphy will produce and just maybe star in a new R-rated buddy comedy set in New York City, it's time for the classic talk (just one funny R-rated film could save his career!) to begin again.
THR reports that Murphy is attached to produce The Misadventures of Fluffy, a pitch from Sam Pitman and Adam Cole-Kelly described as "a road trip pic through New York featuring talking animals, and with an element of social comedy reminiscent of Murphy's 1980's hit Trading Places." Paramount bought the story, Pitman and Cole-Kelly will write the script and Murphy will produce. In part because he's producing, there's talk that Murphy could also star, but it's early yet, and once the first draft is in he might very well opt out.
A vague connection with Dr. Doolittle is easy to assume; I can't blame anyone for figuring that this will be more like that series than 48 Hours if the current Eddie Murphy is interested. But I read the logline and think instead of a story like Sam & Max. Not every talking animal story pitch has to be terrible. Most of them are, yes, but not as an absolute.
Unfortunately, I don't think the pitch was based on this webpage, which is too bad. An R-rated comedy effort from Murphy with a little furry/anime influence would be just the thing he needs.