Justin Theroux Scripts Space Invader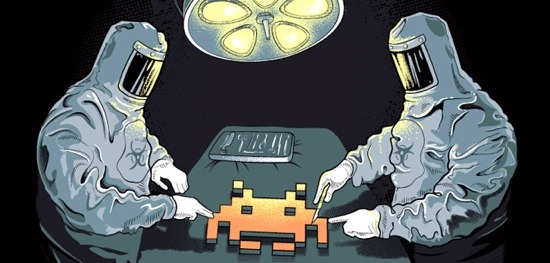 Justin Theroux has been hired to pen a draft of the astronaut romantic comedy Space Invader. Theroux is an actor turned screenwriter whose writing credits include Tropic Thunder and the upcoming Iron Man 2. Mike Lisbe and Nate Reger sold the project to 20th Century Fox and penned the original draft. The concept is actually kind of funny, and has nothing to do with the famous retro video game (alien pictured above). Details after the jump.
Here is some information on the plot from a scriptshadow review of that early draft:
Doug, the space shuttle janitor, watches helplessly as his astronaut girlfriend heads off on a 3 month International Space Station mission with Stamp Majors, all-American astronaut superstar and philanthropist (think a cross between a real life version of Buzz Lightyear, and the character Owen Wilson plays in Meet The Parents). He begins to think that the two are getting it on and decides to...um...intervene. Really liked this one. It's pretty broad but there are some great touches. We've all been in that position where our boyfriend/girlfriend is going to be in close quarters with some attractive dude/chick for a weekend trip or something and in the back of our minds are thinking, "Should I go there?" Of course we never do (well, ahem, most of the time we don't) but in this case Doug takes it to the extreme, and decides to actually fly his way up to the International Space Station to make sure his girlfriend doesn't bang Stamp .
You might remember reading about this project in 2007/2008, as Fido director Andrew Currie was set to helm the production for Fox Atomic, with Will Arnett set to star. Arnett is still attached.
source: THR