Trailer Trio: Unmade Beds, Across The Hall And Slayers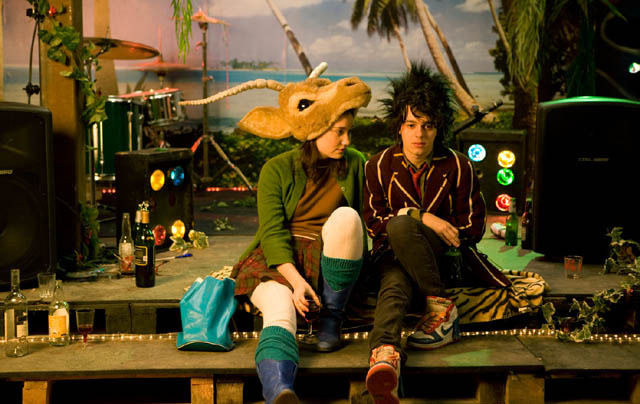 I'm stepping on Christopher Stipp's toes a little bit here; he's been doing a great job with his column This Week in Trailers on Fridays, but here it's only Tuesday and we've already got a trio of indie clips to show off. So rather than wait for the roundup I'll present this varied package of trailers now, and free up space for Christopher to talk about other stuff at the end of the week.
So, after the break, we've got a trailer for the Sundance film Unmade Beds, a thriller called Across the Hall which marks the feature return of Brittany Murphy (and is an expansion of an existing short film) and a fundraising clip for a Goonies-like project called Slayers.
First up, there's finally a trailer for Unmade Beds, a film that Peter saw at Sundance. There he liked the film's ideas, style and music, but wasn't taken with the unstructured narrative. The plot features Axl, a young man who finds his long-lost father but has trouble revealing his identity to the older man, and Vera, dealing with a recent break-up, who starts up a game of personal truth with an interesting stranger. Looking at the trailer I can see what Peter liked about the style and music, and the overall structure looks like it's more up my alley than his. I've heard a lot about this film and now I'm more curious to check it out. [Quiet Earth]
We've previously featured the short film Across the Hall, from director Alex Merkin. He's expanded the short into a feature starring Brittany Murphy, Mike Vogel and Danny Pino. You can check out the short via the link above, or have a look at the feature trailer. I like the vibe of this trailer, which takes a more interesting than usual approach to selling what looks like may be a too-routine thriller. The short was good; I hope the feature measures up. [Apple]
Finally, there's this fundraising trailer for a film called Slayers, which seems to promise something between Monster Squad and The Goonies. I can't say I like this one much; the kids aren't great and towards the end of the clip the 'monsters' are worse. But since this is meant to drum up funds and interest, perhaps the eventual feature version (should it ever come to fruition) will look and play a lot better. [Quiet Earth]