This Week In DVD & Blu-Ray: Star Trek, Bruno, It's Always Sunny In PA: A Very Sunny X-Mas, And More
We may receive a commission on purchases made from links.
This Week in DVD & Blu-ray is a column that compiles all the latest info regarding new DVD and Blu-ray releases, sales, and exclusive deals from stores including Target, Best Buy and Fry's.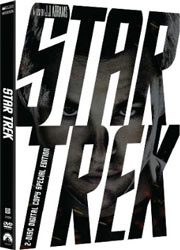 STAR TREK
(Available as single-disc DVD, 2-Disc Edition DVD, and 3-Disc Edition Blu-ray)
There's a reason why this film found success beyond its limited Trekkie fan base: it's not a Star Trek film. Admitted by J.J. Abrams himself, this reboot of the series is more Star Wars than Trek, and that's a large part of its appeal. Capturing the rewarding essence and simplicity of the hero's journey much in the same way that Star Wars did, Abrams injects this re-envisioning of the series with a non-stop energy that's nothing short of addicting, and makes it easy to overlook some of the shortcomings of the story. Diehard Trek fans will likely be disappointed by the tremendous departure in tone, pace, and overall style, as well as the complete disregard for any thematic significance, but in fairness, the most recent Star Trek efforts have been depressingly bad, and this was really the kick start the franchise needed to make it relevant again. While it may not be the Star Trek movie some fans were hoping for, it does manage to maintain the mythology and characters that have been established during the series, and it does so in a way that makes them fresh, exciting, and even funny. Also backed by breathtaking visuals, thrilling action sequences, and a pitch-perfect cast, this is easily one of the most fun popcorn flicks to be released in years.
Blu-ray? Yes.
Notable Extras: 2-disc DVD – Commentary by director J.J. Abrams, writers Robert Orci and Alex Kurtzman, producer Damon Lindelof and executive producer Bryan Burk, deleted scenes, four featurettes ("To Boldly Go", "Casting", "Aliens", "Score"), a gag reel, and a digital copy. Blu-ray – Includes everything on the DVD, as well as additional featurettes on the Starships, Gene Roddenberry's Vision, Ben Burtt and the Sounds of Star Trek, and a Starfleet Vessel Simulator.
*Does not include 2-Disc Edition, which costs $19.99 at Fry's and Amazon, and $22.99 at each of the other listed stores.
EXCLUSIVE DEAL:
What? EXCLUSIVE USS ENTERPRISE CASE: 2-disc deluxe DVD ($26.99) and 3-disc deluxe Blu-ray ($29.99) each with limited-edition packaging that transforms into a replica of the USS Enterprise.
Where? Target.
EXCLUSIVE DEAL:
What? Limited Edition Blu-ray Gift Set. Includes 3-Disc Edition Blu-ray and four replica Starfleet Division Badges as worn by the USS Enterprise Command Crew ($39.99). The set is also applicable for the 'Doorbuster Deal' (listed below).
Where? Best Buy.
EXCLUSIVE DEAL:
What? DOORBUSTER DEALS: $3 off Blu-ray and $2 off DVD for the first 2 hours of business. (EDITOR'S NOTE: Even with this deal applied, Fry's prices still beat out Best Buy's. If you don't have a Fry's near you, there's always the option to take the Fry's newspaper ad to Best Buy for price matching. So unless you're planning to pick up Best Buy's Exclusive Limited Edition Blu-ray Gift Set, you're better off not worrying about having to arrive at the store during opening hours.)
Where? Best Buy.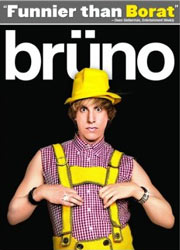 BRUNO
Consistently hilarious though it may be, Bruno is an obvious step down from Borat in the laughs department. Whereas Borat was notable for its satirical depiction of America's ignorance and xenophobia, the intended target for Bruno's satire seems to be the audience itself, with much of the film essentially playing as more of a gag on those that are easily offended, reveling in America's prudish and anti-homosexual sensibilities by filling the screen with absurdly stereotyped and/or grotesque sexual imagery. The problem with this though, is that if you're not easily offended, and you're not prude, and you're not homophobic, and you're not watching the film with anybody who fits those descriptions, there is no tangible way to appreciate the effects of that satire. Not all of the film is like this, and there's still a great deal of material exposing the insanity and stupidity of the human race, but even then, it's evident that the Bruno character is so immediately outlandish and intrusive that many of the non-acting individuals onscreen tend to freeze up and operate in a more reserved manner. In all fairness, if Borat hadn't set the bar so high, these issues wouldn't be considered much of a detriment. Sacha Baron Cohen has a strong enough comedic presence and a quick enough wit to keep things moving smoothly, and there are plenty of gut-busting moments of uncomfortable hilarity. It probably won't find a place on my shelf next to Borat, but I'd happily watch it a few more times.
Blu-ray? Yes.
Notable Extras: DVD – Enhanced commentary for selected scenes with Sacha Baron Cohen and director Larry Charles, an hour of alternative, deleted and extended scenes not shown in theaters, and an Interview with Hollywood Agent Lloyd Robinson. Blu-ray – Includes everything on the DVD, as well as video commentary with Sacha Baron Cohen and director Larry Charles.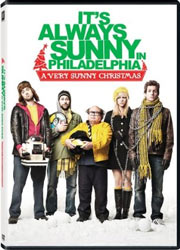 IT'S ALWAYS SUNNY IN PHILADELPHIA: A VERY SUNNY CHRISTMAS
Boasting enough moments of classic It's Always Sunny hilarity to make for a thoroughly satisfying would-be 2-part episode, the 43-minute A Very Sunny Christmas nonetheless suffers under the weight of its straight-to-DVD pretenses, which suggest a decidedly more legitimate film release—and it has a matching price tag to boot. Given that the supposed "mini-movie" will not be aired alongside the rest of the season (or at all, as of right now), and it won't be included in the forthcoming Season 5 box set, it's hard to not be at least a little frustrated that the only way to come into (legal) possession of this potential series classic is to shell out almost the same amount that it would cost to purchase a full season release. Aside from the inclusion of a few F-bombs, some blood-infused violence, and a climactic '60s throwback sequence that I'll refrain from spoiling, there is nothing here to distinguish this elongated episode from the rest of the series (especially considering that 2-part episodes are not new to the show). If it weren't for the inflated pricing though, that could hardly be considered a bad thing. As far as episodes of the show go, it ranks—or rather, would rank—among the series' best.
Blu-ray? Yes.
Notable Extras: DVD & Blu-ray – Deleted scenes, a behind the scenes featurette, and a Sunny Sing-A-Long.
EXCLUSIVE DEAL:
What? Free $10 Target GiftCard when you buy both A Very Sunny Christmas and any previous It's Always Sunny... season 1 – 4 DVD.
Where? Target.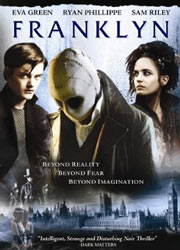 FRANKLYN
Bouncing back and forth between modern day London and an otherworldly, dystopian metropolis referred to as Meanwhile City, Franklyn presents four disconnected storylines with no explanation for their relation to one another, and trusts in the viewers to have the patience to let the film build on its themes and ideas until everything starts to fall into place. Because of this, it's hard to discuss the film without spoiling any of it, so I'll just say this: it's worth watching. With a modest budget of £6 million and a trailer that promises something vastly different than what the film delivers, this ambitious British indie drama isn't likely to have an easy time finding an audience, meaning it's up to you guys to help give it the home it so rightfully deserves. There will definitely be some who find it frustrating and dull and meandering, but I imagine that there will be just as many who find themselves wrapped up in the creative storytelling, somber tone and haunting visuals. And with that, I'll leave you with this quote from the film, which will hopefully be enough to pique the interests of a few readers: "If a god is willing to prevent evil but not able, then he is not omnipotent. If he is able but not willing, then he must be malevolent. If he is neither able nor willing... then why call him a god?"
Blu-ray? Yes.
Notable Extras: DVD & Blu-ray – A featurette, interviews, and deleted scenes.
HUMPDAY
The latest addition to the mumblecore indie film movement, Humpday takes what sounds like (were it not for America's aforementioned fear of overt displays of homosexuality) might've been a juvenile high-concept Hollywood premise—i.e., two straight guys drunkenly enter into a mutual challenge to star in a porno with one another—and turns it into a smart, funny, honest examination of male friendship and sexuality, among other things. Though the no-budget approach is a little jarring at first, it ultimately adds to the relaxed, naturalistic style. The film's very real characters often spend minutes casually conversing, and the believability of these scenes not only makes the film strangely engaging, but later makes the ensuing conflicts all the more funny. In most traditional comedies, there's nothing more forced and contrived than a "wacky" misunderstanding. Here, one such moment ends up being genuinely hilarious, due almost entirely to the convincing reality that's been established. It also helps that all of the performances hit just the right note, which is a rarity for independent films such as this.
Blu-ray? No.
Notable Extras: Commentaries, behind-the-scenes footage, and deleted scenes.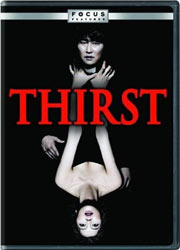 THIRST
With a domestic release of only 17 theaters, my desperate desire to witness Vengeance trilogy co-writer/director Chan-wook Park's latest stylish, inventive concoction of quirky gruesomeness & sexually-infused depravity has gone unheeded. For those who haven't heard of the film, the premise can be summarized thusly: a priest turns into a vampire. Without even having seen the film, I can promise you that Thirst is a distinctly different beast than the other recent entries in the currently overstuffed vampire movie genre. And if you doubt me, you clearly haven't seen Park's other films. The guy is as brilliant a storyteller as his stories are batshit crazy. If you're still in need of convincing to check the film out, glance over some of its reviews at Rotten Tomatoes. As disappointed as I am that I didn't get to see Thirst in preparation for this week's DVD round-up, I look forward to being able to share my thoughts on the film during next week's /Filmcast. Stay tuned.
Blu-ray? No.
Notable Extras: None.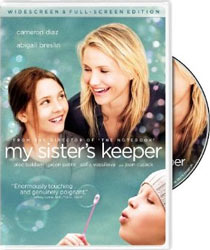 MY SISTER'S KEEPER
Pandering tear-jerker schmaltz doesn't appeal to me, so I haven't had much incentive to check out this tale of little girls, cancer, and (I'm assuming) lots of crying, directed by the master of overwrought melodrama, Nick Cassavetes. Have I judged too soon? Share your thoughts in the comments.
Blu-ray? Yes.
Notable Extras: DVD – Additional scenes. Blu-ray – Includes everything on the DVD, as well as 2 featurettes ("Behind the Scenes", "From Picoult to Screen").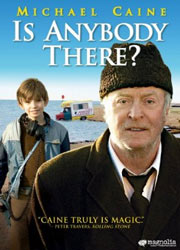 IS ANYBODY THERE?
Is Anybody There? seems like the type of by-the-numbers, mainstream-friendly, heartwarming drama that can be predicted from start to finish by the trailer alone. That said, the film stars Michael Caine, so I'll go ahead and stop pretending like I'm not going to see it based solely on that fact.
Blu-ray? Yes.
Notable Extras: DVD & Blu-ray – Interviews.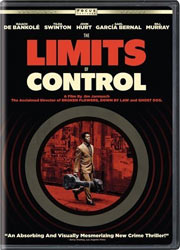 THE LIMITS OF CONTROL
Jim Jarmusch being the divisive filmmaker that he is, it's not surprising that reactions to his latest film might be mixed. What is surprising though, is that they're this mixed. Admittedly, there's only one reason why I want this movie to be good: this poster is bitchin', and I want an excuse to hang it in my room.
Blu-ray? No.
Notable Extras: 3 featurettes ("Behind Jim Jarmusch – Part 1", "Behind Jim Jarmusch – Part 2", "Untitled Landscapes").
Other noteworthy DVD (and Blu-ray) releases this week...
The Open Road [DVD / Blu-ray] – Gone with the Wind [Two-Disc Special Edition DVD / 70th Anniversary Ultimate Collector's Edition Blu-ray] – Evangelion 1.01: You Are (Not) Alone – Farscape (The Complete Series) – Andy Barker, P.I. (The Complete Series) – Downhill Racer (Criterion Collection)
Other noteworthy Blu-ray-specific releases this week...
Fight Club – Rome (The Complete Series) – The Professional – Galaxy Quest – Sex, Lies, and Videotape – Clerks – Chasing Amy – Jay and Silent Bob Strike Back – Kevin Smith 3-Movie Collection

NOTE: Some deals may be in-store only.

Exclusive: Retail of Gone with the Wind (Two-Disc Special Edition) Blu-ray ($34.99). This is the only available Blu-ray version of the 2-Disc DVD, which you can find listed in 'Other noteworthy DVD (and Blu-ray) releases this week...' above (alongside the '70th Anniversary Ultimate Collector's Edition' Blu-ray).
$14.99 – Entourage (Season 1 – 5), Nip/Tuck (Season 5, Part 1), and more...
$18.99 – Dexter (Season 3), How I Met Your Mother (Season 4), and more...

$14.99 – Terminator: The Sarah Connor Chronicles (Season 1), Supernatural (Season 1 – 3), Nip/Tuck (Season 1 – 5: Part 1), The Big Bang Theory (Season 1), and more...
$17.49 – Castle (Season 1)
$19.99 – John Adams (Complete Series)