Cool Stuff: Scooby Doo Vs. Zombies T-Shirt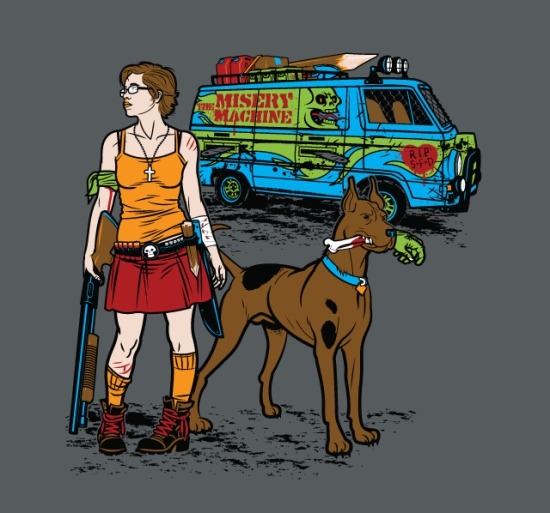 You might remember that we posted an image of a Zombified Scooby Doo in a past edition of Page 2. The image by Travis Pitts has now been made into a t-shirt by Threadless. The t-shirt is available now for $18 on Slate American Apparel tee.
Here is some information from the artist:
Sticking with my favorite theme of heroic girls (see: Robot Derby Girl, Diodes are a Girl's Best Friend) and injecting realism or plausibilty to silly pop culture icons (ex: Madness of Mission 6 = PAC-MAN), I knew I wanted to make a certain teen detective her canine companion into the sole survivors of a Monsterpocalypse for the threadless loves Horror contest. Everyone knows that it's always the timid, quiet, second-string female character that gets the dramatic arc and has the wits and skill to survive most horror movies. I struggled for days trying to come up with a semi-realistic interpretation of this toughened, nerdy survivor-type gal- until I remembered I was actually dating one, and asked her to model for it. She agreed -took a series of pics herself and held an umbrella in place of the shotgun. She wasn't sure about any of them but as soon as I saw the 3rd or 4th one I knew i had my pose.
Cool Stuff is a daily feature of slashfilm.com. Know of any geekarific creations or cool products which should be featured on Cool Stuff? E-Mail us at orfilms@gmail.com.