Only Two Of The Top 30 Grossing Films Of This Decade Are Original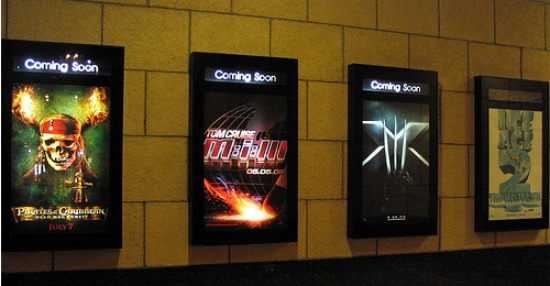 Wikipedia has a list of the highest grossing films of this decade so far, and kottke noticed that of the top 20 films at the box office, only one movie was not based on a past film or tv show (remake/sequel), or an adaptation of an established property (be it a comic, book, play, toy...etc).
Which is the only original feature film to make it into the the top 20 grossing films of this decade (so far)? Answer after the jump.
Finding Nemo, which lands at #15 with $864.6 million.
If you take a look at the top 30 films from this decade, there is only one other original film property among the bunch, that being...
DreamWorks Animation's Kung Fu Panda, #30 spot with $631.7 million.
In fact, out of the top 50 grossing films of this decade, there are only 9 movies based on original properties. And five of those nine films were created by Pixar Animation Studios. How sad...
Update: Or is it sad? Check out my follow-up post: Only Eight of This Decade's Best Picture Nominees Are Original
You can check out the full list below.
1 The Lord of the Rings: The Return of the King New Line Cinema $1,119,110,941 2003
2 Pirates of the Caribbean: Dead Man's Chest Disney $1,066,179,725 2006
3 The Dark Knight Warner Bros. $1,001,921,825 2008
4 Harry Potter and the Philosopher's Stone Warner Bros. $974,733,550 2001
5 Pirates of the Caribbean: At World's End Disney $960,996,492 2007
6 Harry Potter and the Order of the Phoenix Warner Bros. $938,212,738 2007
7 Harry Potter and the Half-Blood Prince Warner Bros. $929,022,922 2009
8 The Lord of the Rings: The Two Towers New Line Cinema $925,282,504 2002
9 Shrek 2 DreamWorks SKG $919,838,758 2004
10 Harry Potter and the Goblet of Fire Warner Bros. $895,921,036 2005
11 Spider-Man 3 Columbia $890,871,626 2007
12 Harry Potter and the Chamber of Secrets Warner Bros. $878,643,482 2002
13 Ice Age: Dawn of the Dinosaurs 20th Century Fox $878,615,229 2009
14 The Lord of the Rings: The Fellowship of the Ring New Line Cinema $870,761,744 2001
15 Finding Nemo Disney / Pixar $864,625,978 2003
16 Star Wars Episode III: Revenge of the Sith 20th Century Fox $848,754,768 2005
17 Transformers: Revenge of the Fallen Paramount $833,229,011 2009
18 Spider-Man Columbia $821,708,551 2002
19 Shrek the Third DreamWorks SKG $798,958,162 2007
20 Harry Potter and the Prisoner of Azkaban Warner Bros. $795,634,069 2004
21 Indiana Jones and the Kingdom of the Crystal Skull Paramount $786,636,033 2008
22 Spider-Man 2 Columbia $783,766,341 2004
23 The Da Vinci Code Sony / Columbia $758,239,851 2006
24 The Chronicles of Narnia: The Lion, the Witch and the Wardrobe Disney $745,011,272 2005
25 The Matrix Reloaded Warner Bros. $742,128,461 2003
26 Transformers DreamWorks / Paramount $709,709,780 2007
27 Ice Age: The Meltdown 20th Century Fox $655,388,158 2006
28 Pirates of the Caribbean: The Curse of the Black Pearl Disney $654,264,015 2003
29 Star Wars Episode II: Attack of the Clones 20th Century Fox $649,398,328 2002
30 Kung Fu Panda DreamWorks SKG $631,736,484 2008
31 The Incredibles Disney / Pixar $631,442,092 2004
32 Hancock Columbia $624,386,746 2008
33 Ratatouille Disney / Pixar $623,707,397 2007
34 The Passion of the Christ Newmarket $611,899,420 2004
35 Mamma Mia! Universal $609,841,637 2008
36 Madagascar: Escape 2 Africa DreamWorks SKG $603,900,344 2008
37 Casino Royale MGM / Columbia $594,239,066 2006
38 War of the Worlds DreamWorks / Paramount $591,745,540 2005
39 Quantum of Solace MGM / Columbia $586,090,727 2008
40 I Am Legend Warner Bros. $585,349,010 2007
41 Iron Man Paramount $585,133,287 2008
42 Night at the Museum 20th Century Fox $574,480,450 2006
43 King Kong Universal $550,517,357 2005
44 Mission: Impossible II Paramount $546,388,105 2000
45 The Day After Tomorrow 20th Century Fox $544,272,402 2004
46 Madagascar DreamWorks SKG $532,680,671 2005
47 The Simpsons Movie 20th Century Fox $527,071,022 2007
48 Monsters, Inc. Disney / Pixar $525,366,597 2001
49 WALL-E Disney / Pixar $521,268,237 2008
50 Meet the Fockers Universal $516,642,939 2004
photo via flickr