/Film UK - Southern Softies, The Mighty Boosh, Tim Burton And More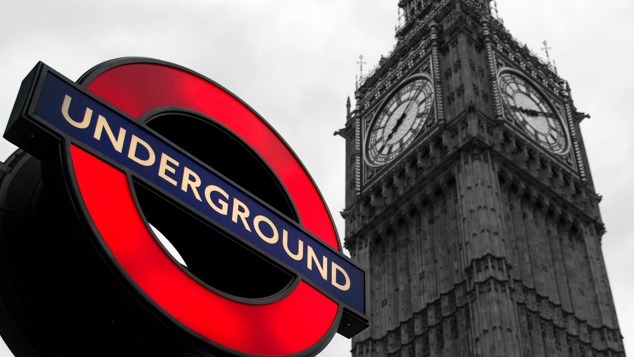 Coming to you weekly from my vantage point in good old Blighty, it's Slashfilm UK. Anglos and Anglophiles rejoice as every Friday I'll be bringing you a round up news, links and coverage specific to the motion picture comings and goings here in the UK. Sometimes we'll be talking about films that have already played in the US, other times it will be films that won't make it to the US for a good while yet, and from time to time you'll read about films that will never make it to the US at all.
Coming up after the break are some Southern Softies, the true value of Kate Winslet, a couple of Nick Frost things, Coen Bros. and The White Ribbon competitions and an awful lot more.
According to a Jarvis Cocker interview with Quietus, the European DVDs of The Fantastic Mr. Fox could feature an alternative audio track on which Cocker narrates the whole film. The interview also addresses the dodgy choice Wes Anderson made in making all of the villains in the film have English accents and all of the good guys have American.
Screen Daily report that Samuel Goldwyn have purchased the US rights to Harry Brown, the Michael Caine vs. the Hoodies picture that's just opened over here. Will it play the same way in the states? Probably not.
Our very own Mackinnon and Saunders have produced this stop-motion promo for the MoMA Tim Burton retrospective. See if you can guess who directed it.
Meanwhile, the BBC have started streaming two clips from Enid, starring said director's missus/muse Helena Bonham Carter. The film, about children's author Enid Blyton, premieres on BBC4 this Monday.
Richard Curtis' The Boat That Rocked has been retitled Pirate Radio for the US. When Yahoo asked why it didn't get that name over here, her replied "You couldn't have called it Pirate Radio in the UK. It would be like calling it Post Office". What's so wrong with that? I've checked on imdb and can't find a film with that title yet – who's going to take dibs on it?
Chortle got confirmation that Noel Fielding has canceled his live tour for next year so that he and Julian Barratt can actually finish writing the Mighty Boosh movie.
While a few seconds of Dame Shirley Bassey's No Good About Goodbye were written with the intent of becoming part of a James Bond theme tune, MI6 News (not the MI6, obviously) have reported that it was scrapped and never submitted rather than rejected. The song is by Bond vets David Arnold and Don Black. Spotify Premium users can now listen to the track and listen out for Bond-y bits, while Spotify Skinflints like me will have to wait a few days.
It would seem that Total Film are to name Shaun of the Dead as their comedy film of the decade. Off the top of my head, I think they might well be right. Here's the holy trinity together again, and dressed like titanic Time Bandits (ahem). Picture courtesy of Edgar Wright's blog.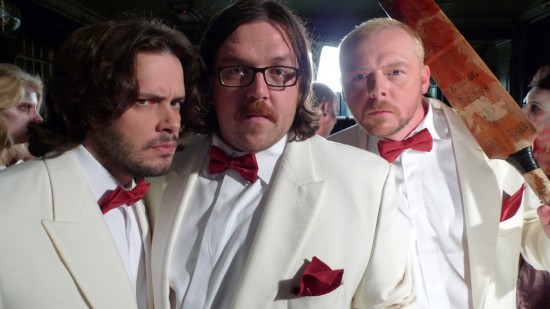 The UK DVD and BD of Antichrist has been announced for 11th January 2010. No news yet on region coding, but here's the list of special features:
Feature Commentary with Director Lars von Trier and Professor Murray Smith
Interviews with Charlotte Gainsbourg and Willem Dafoe
The Visual Style of Antichrist
The Make-Up Effects and Props of Antichrist
Confessions about Anxiety
The Sound and Music of Antichrist
Chaos Reigns at the Cannes Film Festival
Of course it will be fully uncut. A Blu-ray I think I'll enjoy more than the film itself, maybe – Lars Von Trier gives great commentary.
Here's the quite ridiculously daft trailer for Southern Softies, the new John Shuttleworth movie. Just in case you've never seen 500 Bus Stops or It's Nice Up North, I guess I should explain that Shuttleworth is one alter ego of comedian/musician Graham Fellows. I'll give you my review of the film next week...
The BBC Press Office tell me that Nick Frost, Vincent Kartheiser, Emma Pearson and Jerry Hall have been cast in their adaption of Martin Amis' Money. Casting for the roles of Spunk Davis and Lorne Guyland is yet to be announced, but I wouldn't be surprised to see the roles go to well-known Hollywood types on the wane.
Talking of the BBC, Stephen Poliakoff has been giving them a bit of a drubbing. His new film Glorious 39 contains a fair bit of lying artistic license instead of strict historical accuracy, and he was telling The Radio Times (quoted in Broadcast) that Auntie Beeb wouldn't have put up with it:
There is no such thing as a single, correct version of history and if dramatists are honestly trying to achieve a deeper poetic truth about their subject, that should be the guiding light.
The Criterion Collection edition of Terry Gilliam's Fear and Loathing in Las Vegas is far better than anything the UK market ever received, though this might be about to change. A new BBFC listing reveals that Universal are setting up a new edition for British customers, and that deleted scenes will be included at least. There's no announcement yet, not any trace of the release on any of the usual retailer's sites.
A PR stunt for Bruno saw lots of look-not-that-alikes shaking their stuffed fluffies all over London. Here's a happy snap.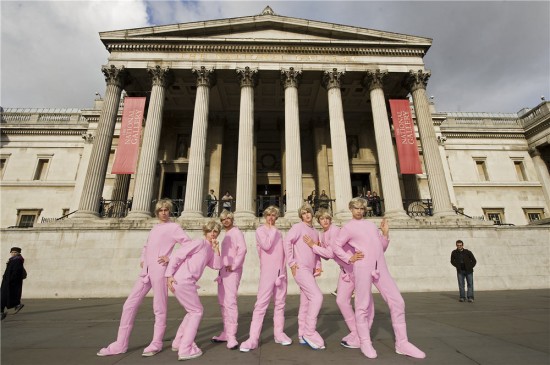 As well as Bruno clones, the apocalypse is coming to London and it's going to get even less comfortable. Screen Daily have announced that Lawrence Gough will direct The Drought from a script by Colin O'Donnelly, a story about a couple on a journey to find some wet stuff, stay suitably moist and save their daughter's life. What's odd is that Screen Daily don't mention JG Ballard's novel The Drought, aka The Burning World, thought it seems pretty darn likely to be the source.
Submissions for the 64th Edinburgh Film Festival are now open.
If you'd like to win a poster for the Coens' A Serious Man that has been signed by Joel and Ethan Coen, then you have take part in a little tweet off. Follow me @brendonconnelly and answer the three Coen questions I tweet over the weekend. The winner will be selected at random from those who get all three correct. Here's a look at the poster in it's pure, ungraffitied form.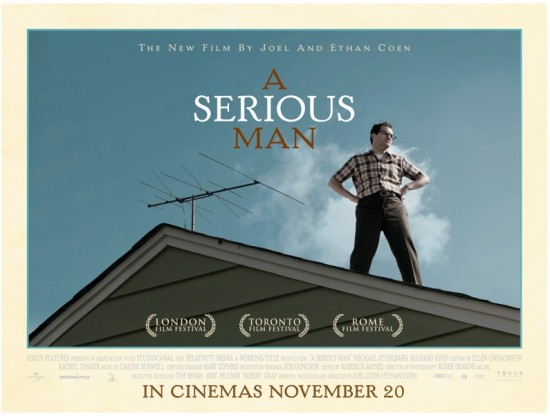 As you can see, the film finally hits UK screens next Friday, the 20th. Why must I wait?
Today, however, sees the release of Michael Haneke's Cannes-conquering The White Ribbon. I posted an exclusive clip just yesterday. If you'd like a pair of tickets to see the film at the BFI Southbank at any time during it's run, just drop me a line and tell me which Clouzot film I have compared The White Ribbon to. First correct answer wins the tickets.
The UK Film Council have run some kind of algorithm on all of their Kate Winslet data and determined she's worth £60 million to Britain. Listen up, 20th Century Fox – you could have had 8 and one third Ms. Winslets for the price of a single Avatar. According to The Guardian, her own biggest payday was £6 million for Finding Neverland.
Channel 4 tonight premiere PhoneShop, a comedy pilot that was script edited by Ricky Gervais. According to The Independent, it's already been given the go ahead for a six episode series.
If you're playing that Sherlock Holmes ARG I told you about last week, you'll probably find Society Spy quite helpful. If not, you'll probably find it absurdly confusing.
Entrants to last week's Sasha Gray/Girlfriend Experience competition should check their e-mail now. If you haven't heard from me, sit tight because there will be another draw if any of the winners decide they can't make it along. And don't forget that the film goes on release here in the UK on December 4th.