Page 3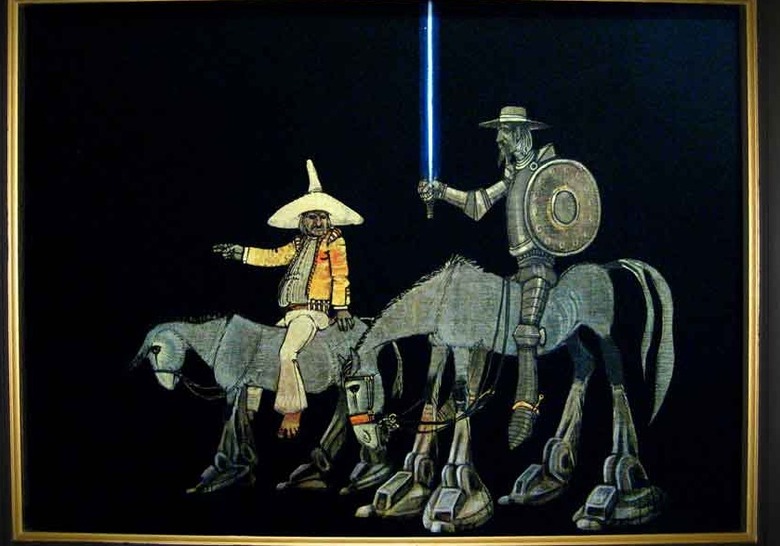 This image of Obi Don Quixote comes from Damopaints' Flickr. It was apparently created by painting over a print he purchased in a charity shop. He's done a few variants.
Page 3 is the eccentric little brother of Page 2 and compiles even more stories which, for whatever reason, didn't make the front page of /Film. There's a whole heap of different items after the break – video clips, posters, pictures, odd snippets of news. For some reason, there's a fair amount of particularly silly stuff this time.
Martin "Marty" Scorsese is to be given the Cecil B. Demille lifetime acheivement award at the Golden Globes come January, as per The Hollywood Reporter.
Over at Movieline they have a video of Joseph Gordon-Levitt and Zooey Deschanel improvising a new scene for 500 Days of Summer in order to illustrate their appreciation of the film's screenwriters.
The Villager has taken a look at an accordion playing Boba Fett impersonator, as seen below.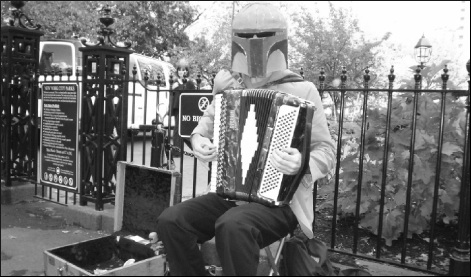 In a somehow similar vein, here's a Hollywood Boulevard Spider-Man impersonator getting arrested, courtesy of the LA Times.
According Fleshbot (who you can link to via i09, but I'll leave it out here as being most definitely NSFW), Sasha Gray is starring in a six-hour stage performance of Case, a modern-day adaptation of William Gibson's sci-fi benchmark Neuromancer. As Gibson himself tweeted, Gray seems better suited to an adaptation of his Virtual Light than to a turn as Neuromancer's Molly.
MTV have some details of the upcoming Gattaca TV series. The Valids and Invalids from the movie seem to be getting reorganised into an analog for the Civil Rights struggle of the 60s, all within a police procedural set-up. The two "buddy cops" at the heart of the story are to be one a Valid, the other an Invalid.Noomi Rapace has been gathering a huge amount of buzz for her playing in the Millennium films The Girl With the Dragon Tattoo and The Girl Who Played With Fire. She's now acted in a film called Svinalangorna for director Pernilla August, who Variety remind us played Anakin's mom in that awful Phantom Menace thing.Michael Rooker is teaching Rainn Wilson how to fire a gun for his part in James Gunn's Super. Here's some video evidence.Fangoria report that Lionsgate will be releasing Michael Bassett's well-received Solomon Kane in the US while Michael Cuesta's modern day Poe adaptation Tell Tale has gone to Genius Products. Basset himself, however, disputes the Lionsgate story. Both have been gathering good word so far, either could be a break out hit.
Remember that new Bonnie & Clyde film that's going to star Hilary Duff? Screen International have now added Taryn Manning, Thora Birch, Rance Howard, Richard Tyson and Cloris Leachman to that cast list. Yowsers. Am I in a cheese-dream?
According to Arrow in the Head, the Howling Reborn reboot is a "Twilight/Gossip Girl wannabe with some Lost Boys thrown in for good measure". Apparently, there's an opening scene that riffs on Joe Dante and John Sayles' original before twisting it all up in a dodgy-sounding teen-friendly pretzel of meh.
Dance comedy Jump was written by Stephen Chow, who also produced the film but did not direct. Here's the trailer. There's at least one sight gag that has Chow written all over it.
The only way to see new Pixar short film George and AJ is if you buy Up from the iTunes store. But we've all gone for the Blu-ray! What a swizz! Something tells me mass piracy looms just over the horizon. Pixar Talk report that the film, written and directed by Josh Cooley, is about how the Shady Oaks caretakers deal with the aftermath of Carl's "escape". While many of the voice actors from the film reprise their roles, Carl is apparently played by one Steve Purcell. Also note, it plays out as storyboards, not full animation, so it seems to be a souped-up deleted scene more than a whole new short. Maybe it was a spin-off short that was pitched but passed over for Dug's Special Mission?
Madatoms have created some Mad Men/X-Men mash-ups. So far, only parts one and two have been published, from which I have taken the following excerpt.

For the historical romance Taj, Ben Kingsley is to play Shah Jahan, architect of the Taj Mahal, alongside his real life wife Daniela Lavender as the Persian Princess Kandahari Begum. Variety tell us that no director has attached to the project as yet – I wonder if Richard Attenborough is on Kingsley's shopping list?
Saw VII 3D has been given a release date on October 22, 2010 (I saw this first at Dread Central, I think). Will you be there?
Even more gory and questionable than the Saw films was Nick Palumbo's Murder Set Pieces. His next film, Corpse, now has an official site. The film seems to revolve around an apocalypse in which a frightening old man subjects a series of innocent children to hideous atrocities.
Tim Burton, Bruce Timm and Jeffrey Katzenberg have been named as the 2009 recipients of the Winsor McKay award, a gong for the toon community. Read the full press release at Toon Zone.
Having already been made into a superb anime film, The Girl Who Leapt Through Time is about to loop back on us in live-action form. Here's the teaser trailer, via Nippon Cinema.
To celebrate the 40th anniversary of John Cassavete's Shadows, Slate have taken a look at the film's impact and legacy. It was definitely a milestone, if an imperfectly sculpted one. Perhaps people think that's part of the point...?
Michael Caine wants to make sure we don't count our chickens before they've hatched. Batman 3, as IGN call it, might not happen after all and if it does, Caine says, it won't be for a while.Heather Matarazzo is going to play a character who seems to be based upon Jessica Simpson. Very odd – and intriguing. Even more amusing is that Jennifer Coolidge, who really needs some better roles, will be playing the character's mother. And that's the not the only story from Pride Source...
...they're also reporting that Madonna has met with Toby Kebbell and Mark Strong for roles in WE, her Wallis Simpson drama.
Annie Leibovitz has shot a series of photos for the new Vogue with the stars of Nine. Style had the following video of the shoot.
Quentin Tarantino is starring in a new Japanese commercial for SoftBank cellphones. Here's a little description of the campaign from Examiner:
The series, which reportedly started in 2007, has for main characters: "Me" (a Softbank shop saleswoman played by popular singer/actress Aya Ueto), "Dad" (played by a 'talking' dog), "Mom", and Older Brother (played by African American actor Dante Carter).
The full ad doesn't seem to be online yet, but you'll get a glimpse in a YouTube video that, unfortunately, can't be embedded.
There's an odd new Tumblr bog of photoshopped movie posters, each of them now including none other than Bret Ratner. Weird. My favourite is below. (Found via JoBlo)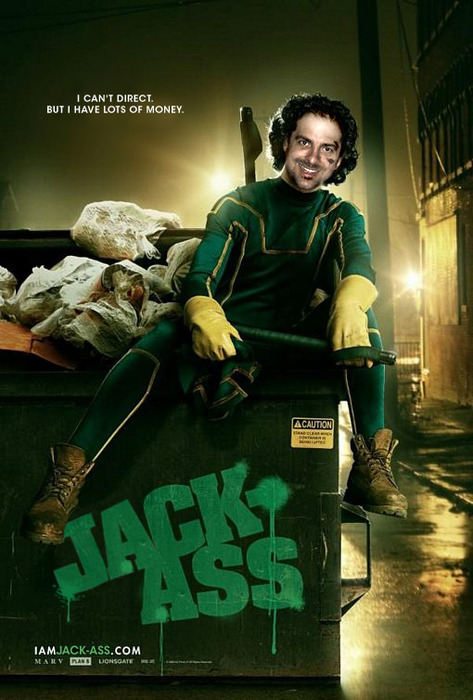 Nobody has registered www.iamjack-ass.com yet, by the way. Get on it!