Outfit Behind Michael Jackson's This Is It To Create 3D Theatrical Concerts Featuring Dave Matthews And Gogol Bordello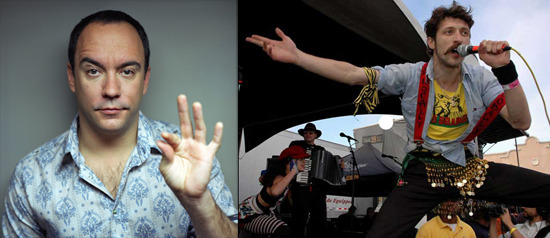 Michael Jackson's This Is It didn't quite do the business that producers at AEG Live expected. They pre-pegged the film as a Dark Knight-sized hit, earning $250m right out of the gate. But the film is still doing exceptionally well; while it is only at $61m domestic it has earned more than twice that internationally, to put it at a global $200m take. (So says Reuters.) So the company is jumping into the filmed concert biz full-scale. The company's next concert film, a 3D production featuring Dave Matthews and Gogol Bordello is already in the can, and more are planned.
Variety reports on Larger Than Life...in 3D Featuring the Dave Matthews Band, Ben Harper and Gogol Bordello, which was shot at the Austin City Limits festival last month, and will be released for a one-week engagement in three to four hundred theatres on December 11. AEG Live and project partner Action 3D have already shot 56 other artists at various festivals, and wants to gather footage of 150 additional performers next year.
The producers are comparing their efforts to U2 3D, which I haven't seen. (I'm not a U2 fan at all, but have been told it's one of the best 3D efforts yet; I'm sorry I missed it.) But Variety notes that U2's movie was compiled over a year, while this features one day of shooting Dave Matthews and others.
Part of the reason I skipped U2 3D is that I don't understand the appeal of projects like this. But I've been fortunate enough to live places where I can see small, intimate shows; seeing a huge arena concert is distant enough, but a filmed version? Not really for me.
And having seen Gogol Bordello (the singer for which, Eugene Hutz, you may remember from Everything Is Illuinated), which is a wild, sweaty and magnificent gypsy dance party on stage, I can't imagine a filmed version, even in 3D, capturing that energy. But at this point these films all fall under the umbrella topic of bringing people back into theatres, and I'm all for that.
(Then again, one of my favorite aspects of seeing shows in small venues is being able to see musicians interacting as they perform, and these 3D documents may be great for getting that across. So I might be converted...)