Twenty Films Submitted For Best Animated Oscar, Resulting In Five Nominees Instead Of Three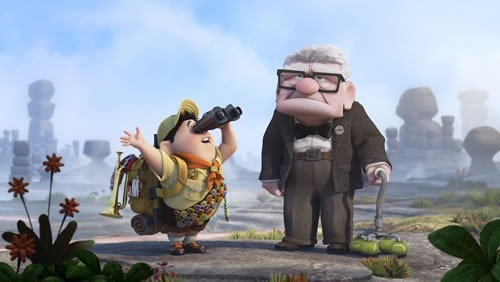 The best animated feature Oscar is a category that has been limited in the past few years to only three nominees. At least sixteen films must be submitted each year to push the category to include five nominated films. This year, for the first time since the category was created in 2001, the Academy has twenty submissions for the category, and with the list in hand the race for Best Animated Film just got interesting.
I'm not an Oscar guy, so I'm not going to waste your time here with empty prognostications about what films out of this roster of twenty might actually be nominated, and which should win. (Though Up seems like a clear front-runner in both cases.) But looking at the list below, what you'll see is that there are more than five pictures that could be nominated to make a very interesting race. Again, that might be a moot point, thanks to the presence of Pixar's Up.
Variety has the list of submitted films, which goes as follows:
Alvin and the Chipmunks: The Squeakquel
Astro Boy
Battle for Terra
Cloudy with a Chance of Meatballs
Coraline
Disney's A Christmas Carol
The Dolphin – Story of a Dreamer
Fantastic Mr. Fox
Ice Age: Dawn of the Dinosaurs
Mary and Max
The Missing Lynx
Monsters vs. Aliens
9
Planet 51
Ponyo
The Princess and the Frog
The Secret of Kells
Tinker Bell and the Lost Treasure
A Town Called Panic
Up
A couple of these films might seem like unknowns. The Secret of Kells is what looks to be an interesting hand-drawn film about "a ninth-century boy who rebels against his guardian's orders and helps to illuminate a famous Irish manuscript." The film has drawn great reviews at festivals and overseas. The trailer is below.
And The Missing Lynx is a Spanish-made CGI film about "an endangered feline trying to evade a big-game hunter." The trailer is also embedded below.
Without having seen a few of the yet to be released films on the list, there's still a very good shortlist of five nominees that jumps out. A year in which Coraline, Fantastic Mr. Fox, Mary & Max, Ponyo and Up are in the running is a very good one. Fans of A Town Called Panic will want to see that among the nominees, and I can see why. There's still a qualifying run in LA that must take place for that film and a few others, but barring any problems there, the race should be a good one.