Cool Stuff: Garden Jawa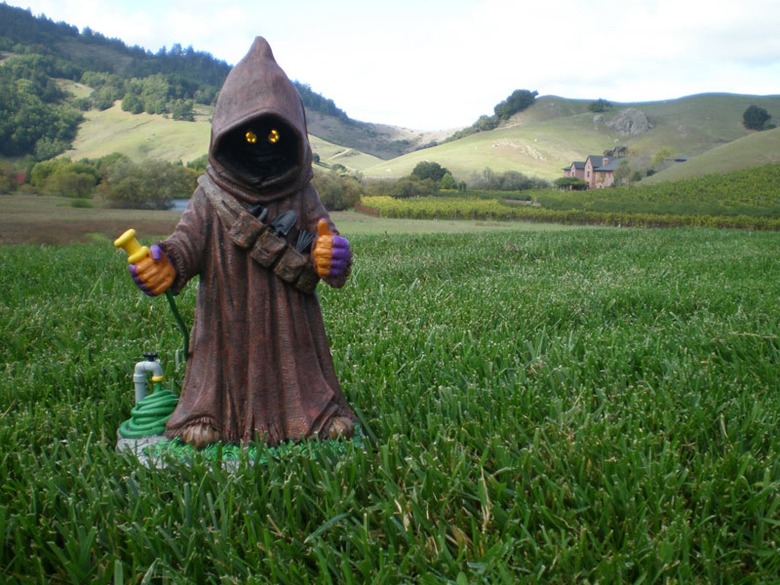 I live in San Francisco, so I don't have a backyard or frontyard even, never mind a garden. But if I did have a garden, I would definitely own a Garden Jawa. LucasFilm is exclusively producing a small number of these to be available on StarWarsShop. It is now available for preorder for $34.99.
Measuring close to a foot tall and crafted in durable all-weather resin, the Garden Jawa protects your tomatoes, zucchini, and daffodils from the dark side, armed with a garden tool bandolier, a garden hose, and a thumbs-up attitude. Reflective amber-colored eyes peek out from underneath his hood, challenging any unwelcome visitors looking to feast on his turf.  True to nature, the Garden Jawa is still up to the well-known mischievous antics we know from the movies. Case in point: If you've caught StarWars.com's Flickr sets lately, you may have caught this little guy sneaking into Skywalker Ranch to snag some pics in front of the Main House. We've also caught him snooping around Lucasfilm's Presidio campus, reclaiming a bit of green from the dry California summer months.
These guys seem to be making their way across the interwebs fast so be sure to preorder yours today before they're all gone. The Garden Jawa is scheduled to ship on December 9th 2009. More photos after the jump.
See more photos on the Star Wars Blog Flickr page.
Cool Stuff is a daily feature of slashfilm.com. Know of any geekarific creations or cool products which should be featured on Cool Stuff? E-Mail us at orfilms@gmail.com.