Photos: Sofia Coppola's Somewhere, Noah Baumbach's Greenberg, And The American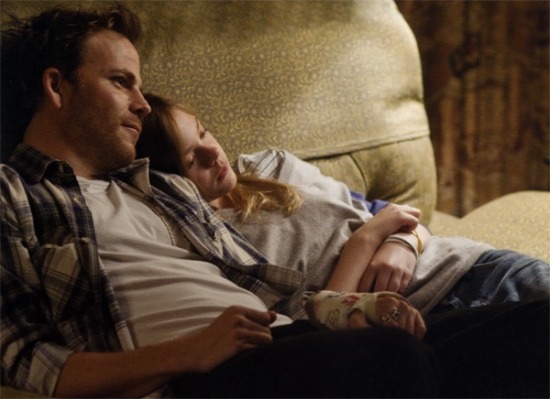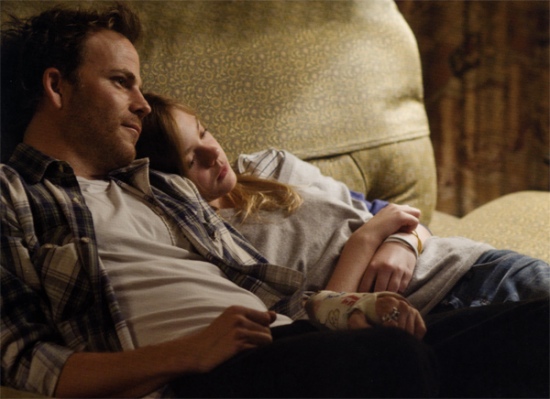 Our friends at Collider scored a shitload of early promotional images and posters from the American Film Market. You can head on over to Collider to see all of the images, but I thought I'd profile a few of the projects that I'm more looking forward to. After the jump you will find photos of Sofia Coppola's Somewhere starring Stephen Dorff and Elle Fanning, Noah Baumbach's Greenberg starring Ben Stiller and The American starring George Clooney,
Sofia Coppola's (Lost in Translation) new film Somewhere tells the story of Johnny Marco (Stephen Dorff), "a bad-boy A-List actor stumbling through a life of excess while living at Hollywood's legendary Chateau Marmont Hotel.  His days are a haze of drinks, girls, fast cars and fawning fans.  Cocooned in this celebrity-induced artificial world, Johnny has lost all sense of his true self.  Until, that is, his 11-year-old daughter Cleo (Elle Fanning) unexpectedly shows up and unwittingly begins to anchor him.  Johnny's fragile connection to real life slowly revives in her presence. So when the time comes fro Cleo to leave, his sense of loss is palpable, but the gift of hope she has also brought him leads to a beautiful, poetic denouement imbued with all of Coppola's remarkable powers to conjure mood and atmosphere."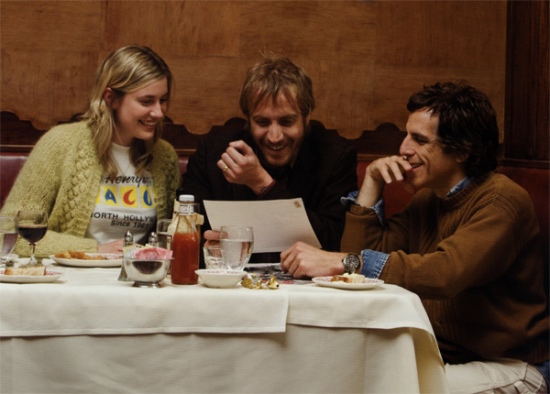 Noah Baumbach's (The Squid and the Whale) new dramedy Greenberg stars Ben Stiller as Roger Greenberg, "a dysfunctional 40-year-old at a crossroads in his life.  Roger wants to "do nothing" for a while, so he agrees to housesit for his younger and more successful brother, giving him a free place to stay in L.A.  While in town, he tries to reconnect with his old friends and band mates but times have changed, and old friends aren't necessarily still best friends.  Greenberg starts spending time with his brother's personal assistant Florence (Great Gerwig), an aspiring singer and herself something of a lost soul too.  During a series of embarrassingly awkward romantic encounters, we sense that perhaps even someone as irascible as Greenberg may have found somebody who is prepared to appreciate him for himself – if he would only stop critiquing Florence's techniques in bed.  Over the course of several weeks, we watch an uncertain and wonderfully vulnerable courtship play out, and learn how funny, and terribly unpredictable, love in the modern world can be."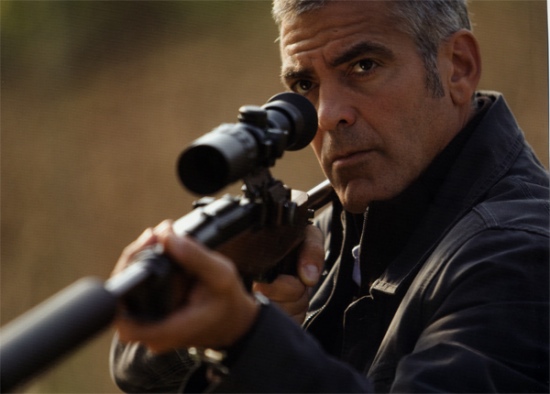 Anton Corbijn's (Control) The American stars George Clooney as "an artful assassin with a lengthy track record, constantly on the move and always watching his back.  When an assignment goes wrong and a lover ends up dead, he vows that the next job will be his last.  This final obligation takes him to a picturesque town nestled amongst lush Italian hills, its historical piazzas bursting with life.  But to Jack, every location is a trap and every person a potential threat.  Still, he surprises himself, enjoying confessional conversations over Armagnac with an insightful priest and slipping into an affair with a local beauty.  But by letting his guard down, Jack may be tempting fate.  A dangerous shadow-dweller shows every sign of closing in, and the mysterious woman who has hired him may not be all that she seems.  As an increasingly wary Jack contemplates life, love and death in Italy, the film escalates into a climactic showdown through the cobbled maze of age-old alleyways.  This sexy, suspenseful and intricate story blends intrigue and passionate romance within a searing morality tale to finally reveal the heart of this deeply private man."
Check out a lot more images on Collider, including ALL GOOD THINGS (Ryan Gosling and Kirsten Dunst), PIRHANA 3D, SHANGHAI, and THE FIGHTER: AFM 1, AFM 2, AFM 3.