Frank Marshall Producing Remake Of Canadian Hit Comedy Fathers And Guns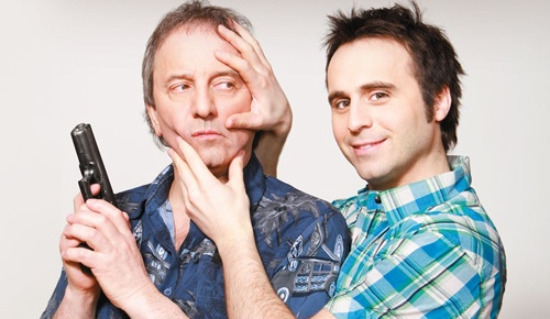 Legendary producing couple Frank Marshall and Kathleen Kennedy have set their sights on remaking this summer's French-Canadian hit, Fathers and Guns (released as De Pere en flic). The plot concerns a father and son, both cops, who seemingly hate each other. Of course, they get assigned to work an investigation at a group therapy camp for fathers and sons—hilarity ensues. Sony Pictures has already picked up the project due to Marshall and Kennedy's involvement, but there's no writer or director assigned yet.
It beat out "Bruno" on opening weekend, took in two-thirds of the summer's ticket sales in French-language films in Quebec and out-grossed Hollywood fare by more than a 50% margin. It is now the highest-grossing French-language film ever released in Quebec and Canada.
The concept is simple enough that it wouldn't be too difficult to find pretty much any writer and director for this project, but ideally I would love to see Shane Black tackle it, if only because this is totally his territory. Black basically started the buddy cop film trend with Lethal Weapon, and he proved he's still got talent with the recent Kiss Kiss, Bang Bang. The only future project he seems to have lined up is Lethal Weapon 5 (seriously), and that won't be going anywhere for a few years. I'd rather the guy tackle a remake rather than fall into obscurity once again.
The material certainly wouldn't be too difficult for Black, and it would put him in good producer company so that he doesn't spend another several years letting his talents go to waste. And let's face it, he's among the few directors that knows this genre, and would do something good with it.
[Via First Showing]