2009 People's Choice Awards Nominees Announced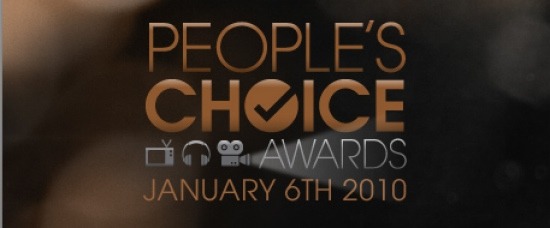 I know it's one of the more pointless award shows of the year, but since it kinda, sorta but not really signals the beginning of award season nominations, I thought I'd post a rundown of the nominees announced for the 2009 People's Choice Awards. As you can guess from the title, the fans vote for this award show, this year casting more than 18 million votes. Check out the full listing of nominees after the jump.
TV drama:
CSI: Crime Scene Investigation
TV comedy:
TV dramatic actor:
TV dramatic actress:
TV comedic actor:
TV comedic actress:
TV obsession:
The Secret Life of the American Teenager
TV talk show:
TV sci-fi/fantasy:
TV competition show:
So You Think You Can Dance
Animal show:
New TV drama:
New TV comedy:
Movie actor:
Movie actress:
Action star:
Comedic star:
Breakout movie actress:
Breakout movie actor:
On-screen team:
Daniel Radcliffe, Rupert Grint and Emma Watson, "Harry Potter and the Half-Blood Prince";
Sandra Bullock and Ryan Reynolds, "The Proposal";
Robert Pattinson, Kristen Stewart and Taylor Lautner, "The Twilight Saga";
Shia LaBeouf and Megan Fox, "Transformers: Revenge of the Fallen";
Hugh Jackman, Liev Schreiber, Ryan Reynolds, will.i.am, Dominic Monaghan and Daniel Henney, "X-Men Origins: Wolverine"
Family movie:
Hannah Montana: The Movie
Ice Age: Dawn of the Dinosaurs
Night at the Museum: Battle of the Smithsonian
Where the Wild Things Are
Independent movie:
Tyler Perry's Madea Goes to Jail
Franchise:
Comedy movie:
He's Just Not That Into You
Favorite movie:
Harry Potter and the Half-Blood Prince
Male artist:
Female artist:
Country artist:
Breakout Music Artist:
Hip-hop artist:
Rock band:
Music collaboration:
Cobra Starship & Leighton Meester, "Good Girls Go Bad";
Jason Mraz & Colbie Caillat, "Lucky";
Jay-Z, Rihanna & Kanye West, "Run This Town";
T.I. & Rihanna, "Live Your Life";
The Lonely Island & T-Pain, "I'm on a Boat"
R&B artist:
Pop artist:
Web celeb: