Martin Lawrence And Jamie Foxx To Star As Skank Robbers (The Return Of Sheneneh!?)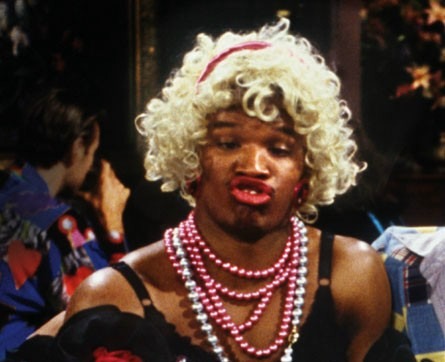 Before Liz Lemon and Peggy Olson struggled with single life in the big city, two strong, unrelated, independent women named Wanda Wayne and Sheneneh Jenkins ruled the cable airwaves (and the crack game). And I'm not sure what zillionth worm hole Richard Kelly opened up last weekend with The Box, but apparently these characters are making a fast-tracked comeback, and in movie theaters nationwide no less.
In case you missed a recent BET Awards, Martin Lawrence and Jamie Foxx reprised Sheneneh and Wanda—'90s characters that originally appeared on Martin and In Living Color, respectively—to create a trailer for a mock action comedy called Skank Robbers. Response was so positive and loud that Screen Gems and the actors are now making it a reality. The title stays! "Oh no youuu dinnnnit!" The Tyler Perry-skewering trailer and clips and info await.
It's evident from the trailer that in her current incarnation, Sheneheh has become a few cells wiser and more eloquent compared to in her teens-and-20s heyday. But it's depressing to see that Wanda is as mentally challenged and cross-eyed as ever, which does not bode well for the girls' plan to "make it on their own, one bank robbery at a time." And with Foxx officially on script duties, I doubt the faux-trailer's update will differ too much from the probable, critic-exploding blockbuster. Here are the biographical details...
From a Martin fansite: "Sheneneh is a girl that lives across the hall from Martin. Sheneneh always has a smart remark for Pam or Gina. 'I will scatter your crooked teeth all up and down this hallway!' But there is a good side to Sheneneh too. She was there at the last minute when Gina messed up her hair on her wedding day. Sheneneh is a talented hair dresser and manicurist."
From Wikipedia: "Jamie Foxx portrays Wanda Wayne, the ugliest woman in the world...so ugly, in fact, that no one wanted to be in the same room as her (in one episode, Dracula exposed himself to sunlight to get away from her). She supposedly is the long lost member of the group En Vogue but left because she was taking all of the men. One of these helpless individuals is often Tommy Davidson. In the final season of In Living Color, Wanda had a child out of wedlock and searched for the father of a child (which ended in a cliffhanger). Trademark phrase: 'I'm gon' rock yo world' and 'I'm red' to go!'"
I was curious to know who would win in a hypothetical catfight, and according to this enlightened message board...
I'd place my bets on Wanda winning the majority in hand-to-hand fight. Mostly because Jamie Foxx has several pounds on Martin Lawrence, is taller and bigger, and more resourceful. Shenaynay is CRAZIER though, and more ghetto. She flips out more easily, and may prove quite unpredictable. She just as willing to fight dirty as Wanda, if not even more so.
It's surprising how many people old and young seem to forget (or fail to acknowledge) the influence and talent pool generated by the aforementioned Fox shows that birthed these characters. Tracy Morgan's first role on television was as the unforgettable, mentally disturbed Hustle Man on Martin; and the show also employed Napoleon Dynamite's Jon Gries, and the great Garrett Morris, one of the original not-ready-for-primetime players on Saturday Night Live, not to mention its earliest black cast member. On the flip, in its first seasons ILC rivaled SNL in ballsy irreverence and introduced a generation of kids to Foxx, the Wayans Family (will their similarly grotesque White Chicks Skank Robbers?), Jim Carrey and the Fly Girls.
We'll end this not-so-fly news with a video of Sheneneh's greatest hits and prescient penchant for knock-off, bedazzled Chanel...