Page 2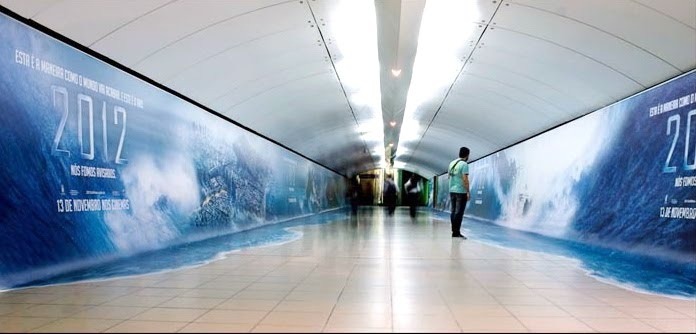 Page 2 is a compilation of stories and news tidbits, which for whatever reason, didn't make the front page of /Film. After the jump we've included 45 different items, fun images, videos, casting tidbits, articles of interest and more. It's like a mystery grab bag of movie web related goodness.
Copyranter found this photo of a Rio de Janeiro subway advertisement for 2012.
Robert Zemeckis explains to MTV why he's never directed a superhero movie: "I'm a superhero fan, although I actually have never been offered one. I've never really brought one to someone and said I really want to do this superhero [movie]. Obviously, I love the form, as movies really are the extension of comic books."
Former 24 stars Sarah Wynter and Reiko Aylesworth will join the third season of FX's Rose Byrne-Glenn Close legal drama Damages. [thr]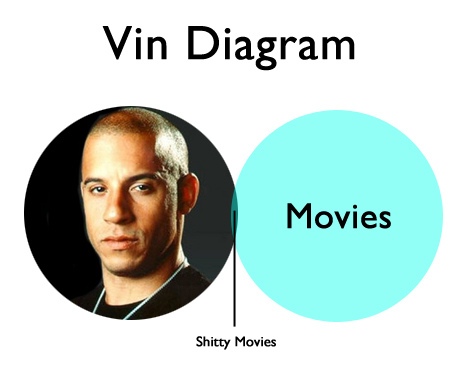 This "Vin Diagram" ven diagram shows Vin Diesel's relationship to movies. [super]
Cinematographer Roger Deakins will be the recipient of the International Press Academy's 2009 Nikola Tesla Award in recognition of visionary achievement in filmmaking technology. [thr]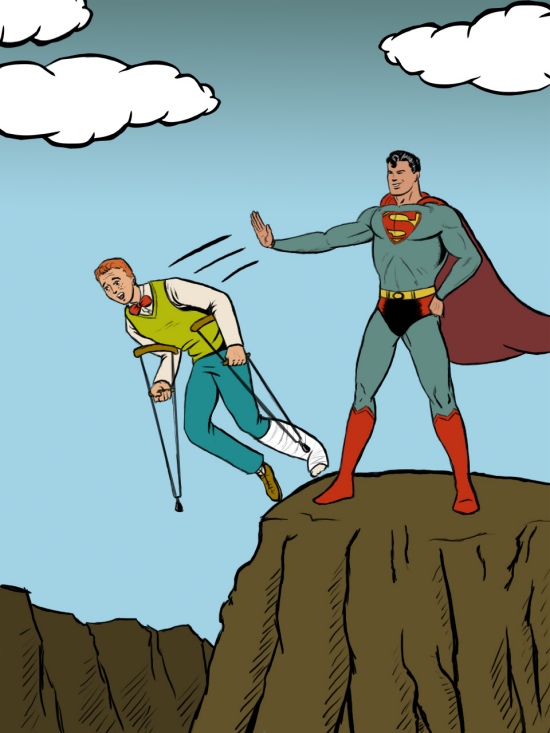 This drawing of Superman pushing Jimmy Olsen off a cliff was found on digg with the headline"Superman is still a dick."
In the same concept, I found this photo of Batman abandoning Robin over at MyconfinedSpace.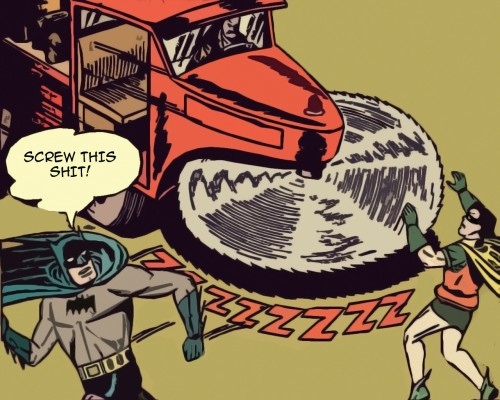 Did you know that six young actors ranging in age from 7–16 together played 24 of the background roles in A Christmas Carol? Read nine other fun facts about the film over at Jim Carrey online.
Fox 2000 and New Regency have teamed and hired Katherine Fugate (Army Wives) to adapt Liane Moriarty's novel What Alice Forgot.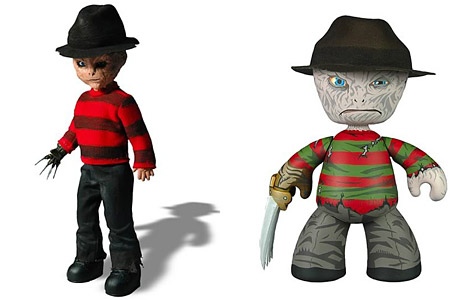 The new Freddy Krueger can be seen in some leaked shots of the new A Nightmare on Elm Street tie-in toys. [cinematical]
Even though Leonardo DiCaprio had been named as Martin Scorsese's first choice to play Frank Sinatra, Scorsese says he hasn't yet begun casting: "When I see the new script soon, and meet with Tina Sinatra, we'll start to think about it," Scorsese told me last night. "He has to age from a teenager to his 70s, so we may have to have a few people play him. I don't know." [showbiz 411]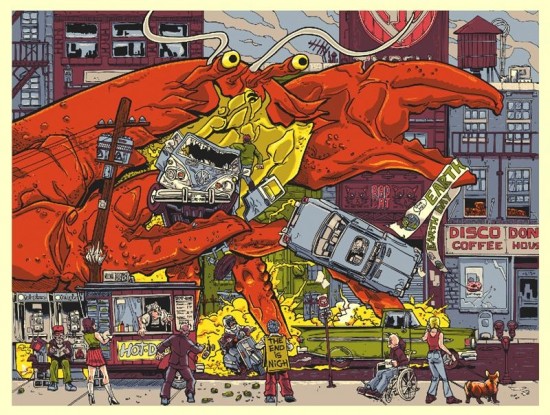 Tim Doyle has created this awesome art print featuring a giant crab destroying a city.
Hideo Nakata, who directed the original Japanese version of The Ring and the American sequel The Ring Two, has been hired to direct Zanuck Independent's supernatural thriller Voice From the Stone. [thr]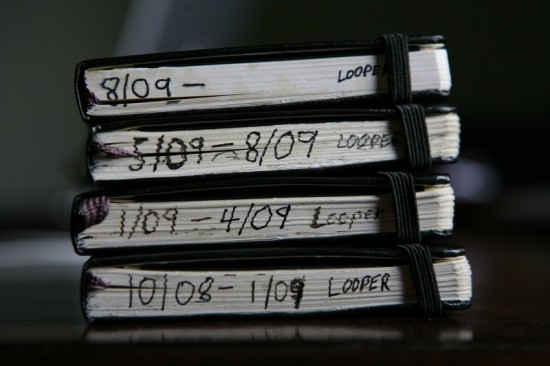 Writer/director Rian Johnson shows off what he's spent his last year doing: writing his sci-fi film Looper.
Entertainment Weekly lost 11 staffers on Wednesday, including 4 editorial. [thompson]
Rebecca Morse shows what would happen if Tim Burton's Sweeney Todd met Edward Scissorhands, both characters played by Johnny Depp.
Anthony Hopkins and Annette Bening have signed on to star with Andy Garcia in Hemingway and Fuentes, which Garcia will direct from a script he wrote with Hilary Hemingway, the granddaughter of Ernest Hemingway. [variety]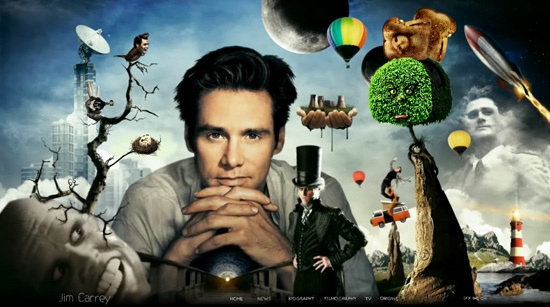 Jim Carrey has launched an official website: JimCarrey.com. [via: cine]
As expected, the troll of professional movie critics Armond White has given the Film Festival award winner and Academy Award-contender PRecious a bad review: "Not since The Birth of a Nation has a mainstream movie demeaned the idea of black American life as much as Precious. Full of brazenly racist clichés (Precious steals and eats an entire bucket of fried chicken), it is a sociological horror show. Offering racist hysteria masquerading as social sensitivity, it's been acclaimed on the international festival circuit that usually disdains movies about black Americans as somehow inartistic and unworthy."
NotAMoviePoster has the poster which was not used for the Irish indie film Kisses (which I saw at the 2008 Telluride Film Festival and liked quite a bit.. seek it out).
Image Entertainment has acquired North American rights to Accidents Happen, a dark comedy starring Geena Davis. [variety]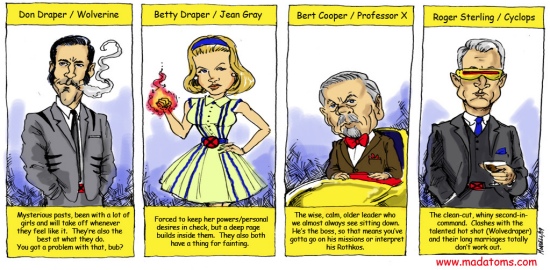 Madatoms shows what happens when you mashup Mad Men and X-Men.
Anyone who has seen the movie Anti-Christ will definitely get this Fantastic Mr. Fox parody poster found at incontention: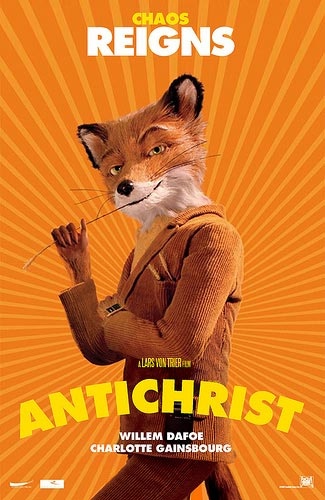 In fact, I actually dressed up as the fox from AntiChrist, complete with my Chaos Reigns t-shirt at Harry Knowles' Halloween party this year. Photo thanks to Paul Gandersman: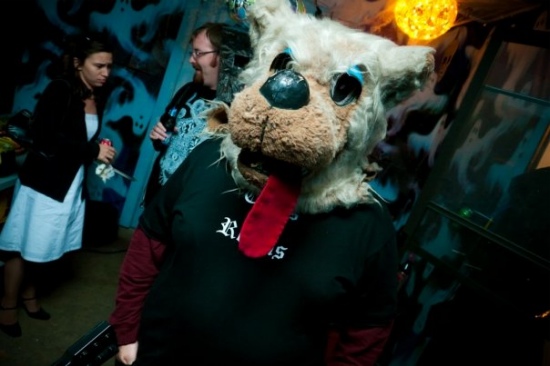 A lot of great movies are now available for free streaming on Hulu. Here is a roundup: Ronin, For A Few Dollars More, Hang 'Em High, The Good, the Bad, and the Ugly, A Fistful of Dollars, Steal this Film,
Milla Jovovich is now on twitter: @MillaJovovich.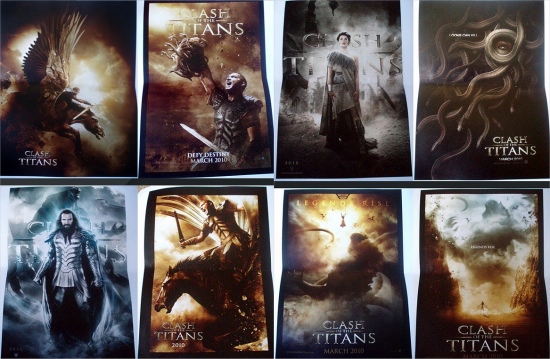 Someone has taken photos of the posters for Warner Bros' Clash of the Titans remake and posted them on imageshack. [Bloodydisgusting].
Fox is developing a CIA-themed project from writer Harris Wilkinson (Stir of Echoes: The Homecoming). [CS]
Tom Whalen's submission for the philadelphia cartoonist society's upcoming "creature double feature" show at brave new worlds comics in olde city, philadelphia was this poster for The Invisible Man.
Sheldon Dorf, who founded the world famous Comic-Con International Comic Con, died this week at age 76. [thr]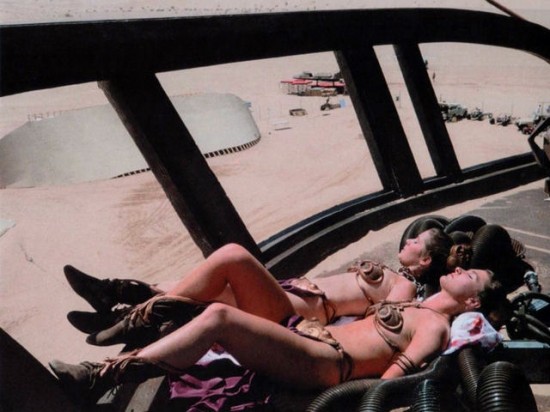 Carrie Fisher's slave Leia bikini doubles catch some rays in between takes on filming Return of the Jedi. [fukung]
AintItCoolNews has announced the chosen people who will attend Butnumathon 11 or "BNAT1138". I was lucky enough to get in. I've been reading about Harry's event for 11 years now, and am excited to experience it for myself.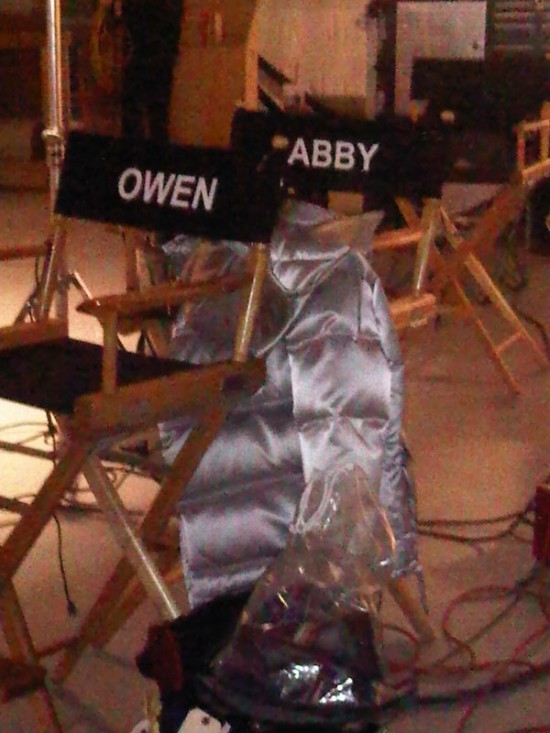 The first photo from the set of Let Me In, the American remake of Let the Right One In was posted on the production's Twitter account.
Wizards of Waverly Place star Jennifer Stone has been cast in the lead role in the Disney Channel's Harriet the Spy direct-to-television movie. [variety]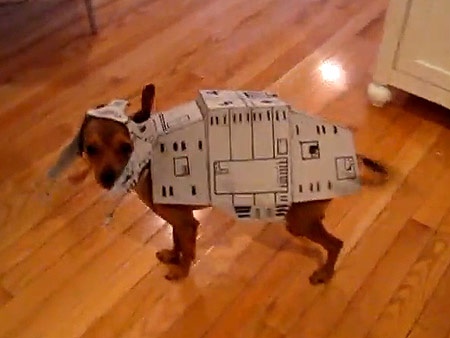 The official star wars blog discovered this photo of a dog's AT-AT Halloween costume.
Peter Jackson's The Lovely Bones has been rated PG-13 for "mature thematic material involving disturbing content and images, and some languages". [THR]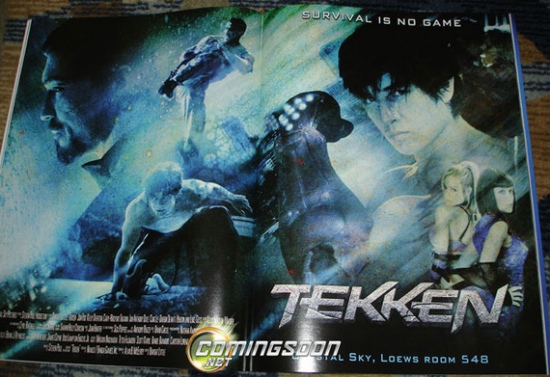 ComingSoon has gotten their hands on some early promotional art for the movie adaptation of the video game TEKKEN.
20th Century Fox Home Entertainment has launched WelcometoFC.com to promote the upcoming Fight Club 10th Anniversary Edition Blu-ray Disc.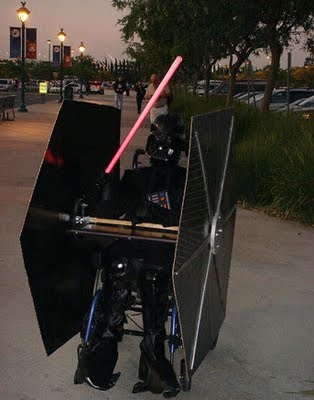 Darth Vader in a wheel chair Tie Fighter was spotted on Halloween. [super]
Cracked lists Six Movie Plots Made Possible by Bafflingly Bad Decisions, and The Matrix takes the top slot.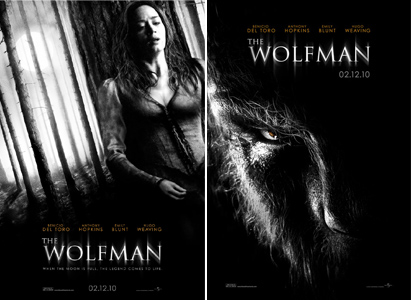 Cinematical and AICN have new posters for The Wolfman.
David Goyer claims that the Green Arrow prison break movie Super Max is not being threatened by the Supermax horror film with a similar premise. [MTV]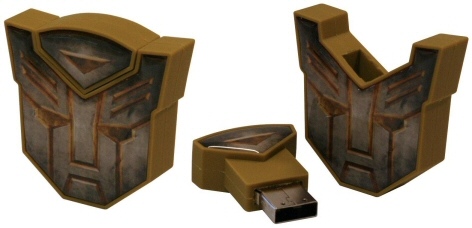 Paramount Pictures is selling a 4GB Transformers USB drive loaded with a digital copy of Revenge of the Fallen. [play]
Marvel Entertainment has reported a 60% drop in earnings in the 3rd quarter of 2009, which is as to be expected with the lower film revenue. [shh]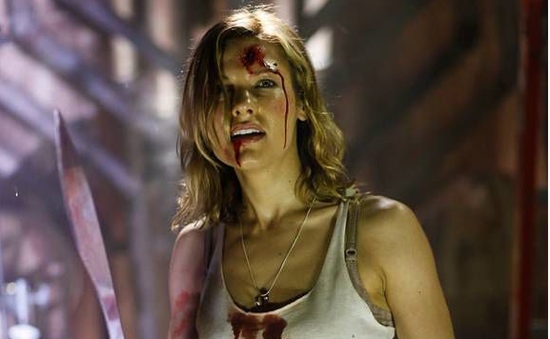 BloodyDisgusting has the first photo of Kiele Sanchez from the set of Sony Stage 6's 30 Days of Night: Dark Days, which is currently lensing in Vancouver, Canada.