A Single Man Movie Trailer (Tom Ford Teams With Mad Men's Production Designer)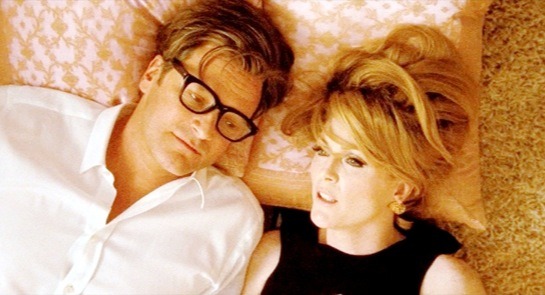 When Harvey Weinstein picked up the $2 million rights to A Single Man, he's said to have personally guaranteed director (and former Gucci creative director) Tom Ford an Oscar for Best Director or Best Picture. And though a statuette for either category seems unlikely given '09's 'stiff competition, especially in light of the Coen Bros.' fantastic A Serious Man, a nom(s) remains quite possible. Critical response and hip international buzz is equally strong. Today, the official trailer has surfaced, and oddly enough, its classy use of repetitive-as-to-be-thrilling music and imagery sans plot is similar to the ballsy trailer for the Coens' opus. And not unlike the recent poster (below) for A Single Man, its trailer playfully or curiously omits the lead character's sexual preference.
Ford adapted the screenplay alongside David Scearce (his first screenplay credit as well) from the same-named 1964 novel by the late, provocative British author Christopher Isherwood. Like the novel, the main character as played to "breakout" notices by Colin Firth (Bridget Jones franchise), is a gay college professor whose BF (Matthew Goode aka Ozymandias in Watchmen) passes away in front of him; the plot follows a day in a life of masked grief throughout a Southern California set in the 1960s. The film is said to be sprinkled with time-specific details like the theatrical run of Psycho and the Cuban Missile Crisis. Julianne Moore, who is a natural compliment for Ford's style, stars as a London friend and neighbor of Firth's character, though the marketing clearly implies a less platonic relationship.
Early reviews haven't specifically compared the film to a style exercise—in contrast, the containment of dark emotions is really the underlying theme—but similarities to the obsessively precise, period aesthetic of Mad Men have been noted by several. There is actually a direct connection: A Single Man's production designer Dan Bishop has worked as Mad Men's PD for all three seasons, all of which are set in the early '60s. Fun fact: Man Mad's Don Draper, actor Jon Hamm, has an uncredited voice role in the film.
One might even note the equally style-conscious, unrelated production design featured in A Serious Man, which is set in 1967, Minnesota. And thematically and randomly, I guess, an accurate if inappropriate tagline for Ford's Man could indeed be the Soundgarden lyric, "Looking California, Feeling Minnesota." So, if a literary adaptation marking the directorial debut of Ford evoking Jim Jarmusch's meditative appreciation of the odd and ordinary and death and life sounds enticing: check it out.